Section Branding
Header Content
The debate over East Cobb cityhood is a clash of change versus status quo
Primary Content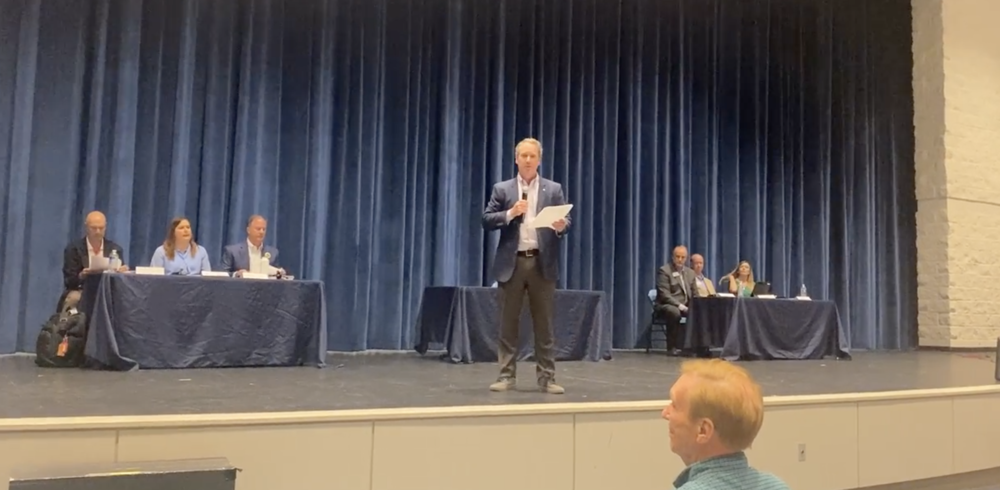 Political tensions bubbled up but remained respectful as both sides of the East Cobb cityhood movement debated Wednesday night before a crowd of more than 200 residents at Pope High School.
The core contention in the debate, which was sponsored by the Rotary Club of East Cobb, is change versus status quo.
East Cobb is one of three unincorporated areas of Cobb County where voters will vote on cityhood referendums on the May 24 primary ballot. The other communities are Lost Mountain and Vinings. Early voting began May 2.
Proponents cite local representation as to their chief reason for becoming a city.
"(Currently) you vote for one commissioner and one chairperson (on the Cobb County Commission)," said Scott Sweeney, a member of a pro-cityhood group. "That is 40% representation of the entire county."
Sweeney told the audience that cityhood would provide an opportunity to elect council members, giving them "100% of the people who will be representing you in this community." 
Proponents pushed back, arguing the community could ask the Georgia Legislature to increase the number of county commission seats to allow for more representation without creating more governmental oversight.
"We've been successful for decades without this added layer of government," said Mindy Seger of the East Cobb Alliance, an anti-cityhood group. "The reality is that this proposal will increase your cost via taxes, fees, and fines. That's how cities are funded."
Both sides went back and forth over whether taxes would increase, whether high-density development would occur, and what services the proposed city would create.
"If you want to slow down out-of-control county spending, you need a city to fight like the other cities have," said Craig Chapin, who favors cityhood.
Opponents also argue the vote is coming too fast. 
During the recent legislative session, the bill's sponsors amended it for the East Cobb, Lost Mountain and Vinings referendums to be included on the May 24 primary ballot rather than holding the vote until the November election.
Secondary Content
Bottom Content