Section Branding
Header Content
Bitcoin mines come to rural Georgia communities. They're bringing opportunities — and tensions
Primary Content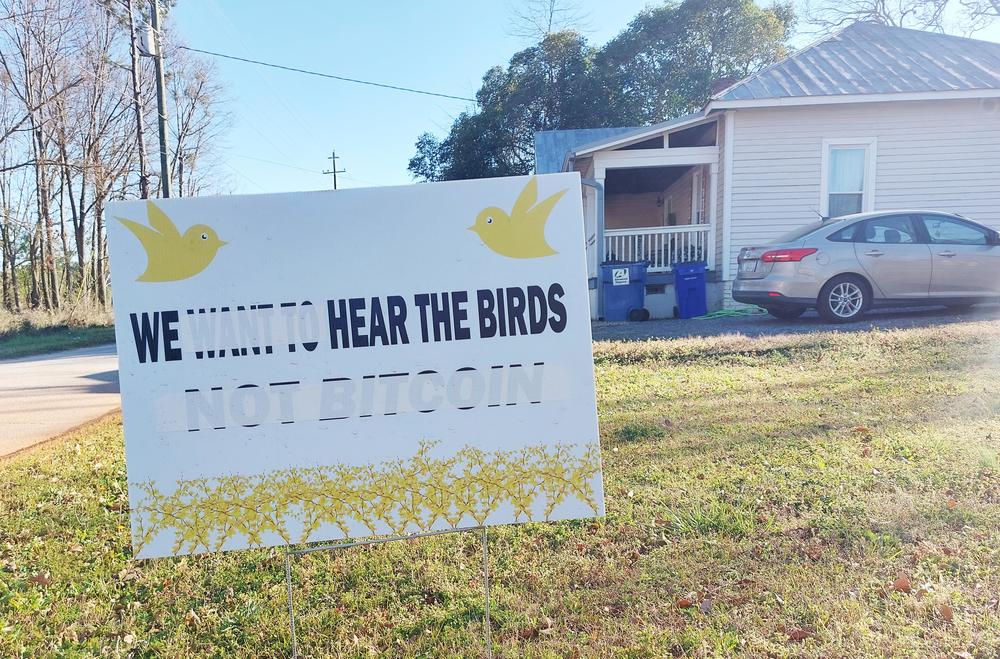 Back in February, people crammed into a city council meeting in the town of Forsyth in Middle Georgia. 
Residents were intent on one thing: stopping a Bitcoin mine from opening up shop only 200 feet from residents' homes.
"I don't believe a thing he says," local resident Corbin Dodd said. "Please find other sources of tax revenue that won't harm our community. But this will hurt us." 
A Bitcoin company called Wattum Management set their sights on an unused lot on Burner Street, hoping to place seven trailers worth of computer servers there.  
Those computers would run all day and all night trying to solve really complex math equations. These math problems help keep the books for cryptocurrencies like Bitcoin through verifying transactions in their block-chained ledgers.  
But the fans that keep these really powerful computers from overheating can be loud, causing many neighbors to worry about the impact of having a Bitcoin mine right next door.
"When we're talking about that much noise, it is absolutely a public nuisance," Dodd said. "It can sound like a jet engine."
Concerns about noise levels caused many residents to mobilize, creating the grassroot "Birds, Not Bitcoin" movement. They put up signs across the city saying that "We want to hear the birds, not Bitcoin." 
But over the past year, more and more rural communities have gotten involved in crypto mining. 
In June 2021, the Chinese government banned crypto mining without any explanation. Before that happened, China mined around three quarters of all cryptocurrency.
That caused many Bitcoin miners in China to ship their computers to the U.S. without a place to put them. Because of that, these companies started calling small towns across the nation.
However, some of these sites have led to serious dislike of the noisy mines from their nearby neighbors.
Two hours away from Forsyth, a Bitcoin mining facility in Adel, Georgia, has captured the ire of local residents for its nonstop addition to the town's soundscape. That mine can sound like a loud helicopter running all day and all night, residents say.
In Limestone, Tennessee, residents also complain about a nearby Bitcoin mine that sounds like an idling plane running all day, too, according to the Washington Post.
But in Forsyth, Wattum Executive Director Persky said the company is sensitive to local residents' concerns and wants to be a good neighbor. 
"With any industry, there are some bad apples," Persky said. "We want to show that we are a good actor in this space."
Persky said that the company's tests suggest that their facility would not be too loud. According to him, their facility would clock in at around 45 decibels — that's about as loud as a regular suburban neighborhood.
Residents weren't convinced. They thought if Wattum were to open their mine, they wouldn't have any incentive to listen to residents' concerns.
"They don't care about us; they only care about the Bitcoin," Dodd said. "Just imagine that noise ringing in your ears all night, every night. It doesn't stop."
Approximately 90 minutes from Forsyth, the town of Sandersville welcomed a cryptocurrency mine largely with open arms. 
Jayson Johnson, executive director of the Development Authority of Washington County, talked to no fewer than three cryptocurrency companies before settling on Australian company Mawson Infrastructure, which built a $365 million cryptocurrency mine in the town of just over 5,500 people. 
"It's diversifying our tax base," Johnson said. "That's a big boost to your tax base that we wouldn't have had." 
The operation is housed in an industrial park far away from local residents. Because of this, noise isn't as much of a concern. 
"It's not a noise level that is outside the norm in an industrial park," Johnson said. "It certainly would be a noise level that wouldn't be unacceptable in a residential area."
The city of Sandersville also makes money through selling electricity, since it's the power provider for the Mawson's mine. Any profits from that power sale can be funneled back into the community, Johnson said. 
"I think the selling of the power is hugely beneficial," Johnson said. "Because of this industry — this new industry that didn't exist here two years ago — that will allow the city to make more and more investments in our community."
Forsyth would have also sold electricity to the Wattum Bitcoin mine if it opened up. It's what made the project appealing to Forsyth city councilman Greg Goolsby.
"Obviously, you sell power, you're going to benefit from it," Goolsby said. "Is it a good business plan? It's an awesome business plan. Unfortunately, I just think it's a bad location."
Ultimately, the Forsyth city council voted unanimously to not rezone the lot where Wattum wanted to mine.
Libbie King in Forsyth was glad that her city council members listened to their citizens, even though there was money on the table.
"They kept the residents in mind," King said. "They were able to think about the people who live here, not just the money that could potentially be brought in." 
After the city council vote, some signs in Forsyth that used to say "we want to hear the birds, not Bitcoin" have changed. Now, white tape has been added, changing the message to "we hear the birds, not Bitcoin." 
It'll stay that way. Perksy, Wattum's executive director, says they are moving past Forsyth and turning their attention to locations elsewhere.
Secondary Content
Bottom Content