Section Branding
Header Content
In Georgia's oldest city, historic preservation meets affordable housing
Primary Content
With boarded-up windows, "no trespassing" signs, and a padlock securing the front door, it would be easy to write off this vacant house on Savannah's West 39th Street as an eyesore.
But while this home may have seen better days, its best days are perhaps still to come — in about four or five months, to be more precise.
"We demoed all the old rotten wood up top — on the soffit in the eave — and we started doing the demo in the back of the house," says general contractor Freddie Lucas as he walks through the side yard.
Lucas and his crew are carrying out an extensive top-to-bottom rehab of this 19th-century house that, once complete in late summer or early fall, will serve as the pilot project of a new effort to combat Savannah's rising home prices.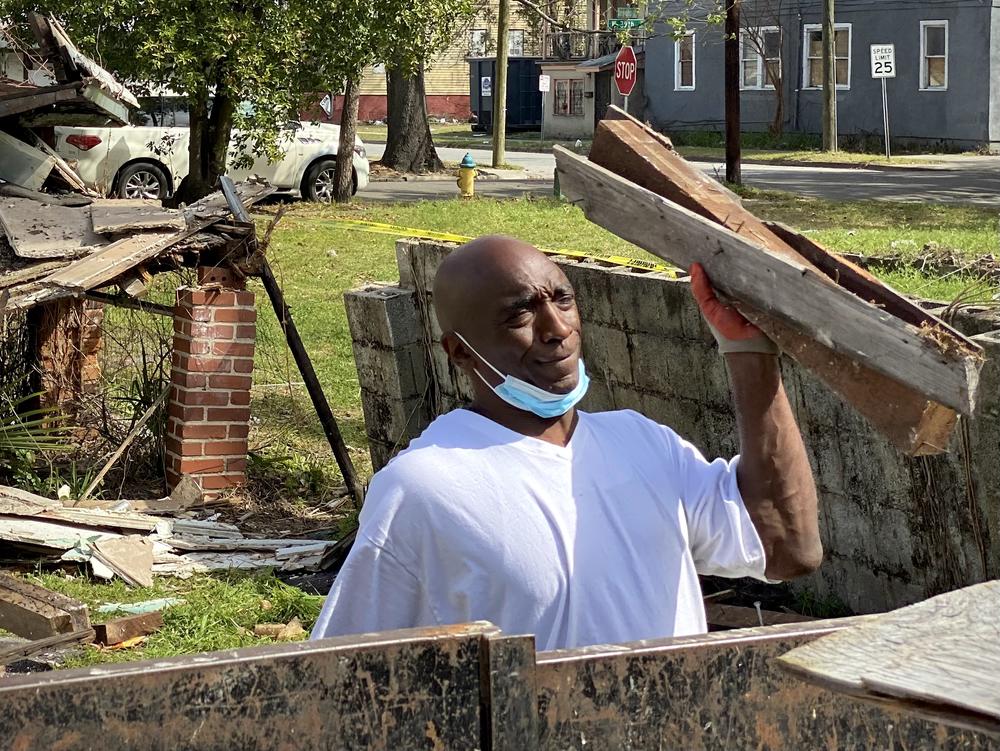 "All of that [construction] is leading up to the very specific goal of selling and marketing the house as affordable housing," says Ryan Arvay, director of historic preservation at Historic Savannah Foundation. Two years ago, HSF was donated the property, which was most recently appraised by the Chatham County Tax Commissioner's Office at $17,400.
But although that property value is sure to increase after Lucas and his team finish their work, the nonprofit's goal here isn't to "flip" the house to the highest bidder, but rather to sell it to a first-time homebuyer at a price they can afford.
"We want to be sensitive to the long-term residents who have lived in that neighborhood for a generation or more," says Arvay, referring to Cuyler-Brownville, the historically Black neighborhood where the house is located.
Being close to Savannah's high-priced downtown as well as the rapidly gentrifying Starland District neighborhood, Cuyler-Brownville sits in a precarious spot on the map — in an already-precarious Georgia real estate market. The average home price in the state has risen by more than $100,000 since the pandemic began just two years ago, according to data from the Federal Housing Finance Agency.
"We did not want to see people displaced," Arvay says. "We did not want to perpetuate gentrification. And so we knew that the only way to go in and start restoring and saving buildings was to do it through a more sensitive approach."
Typically, when HSF acquires an endangered property, Arvay says that the organization sells it to a "preservation-minded" buyer who has the money to carry out the rehab themselves. But here in Cuyler-Brownville, HSF is holding on to the house while footing the bill for its rehab.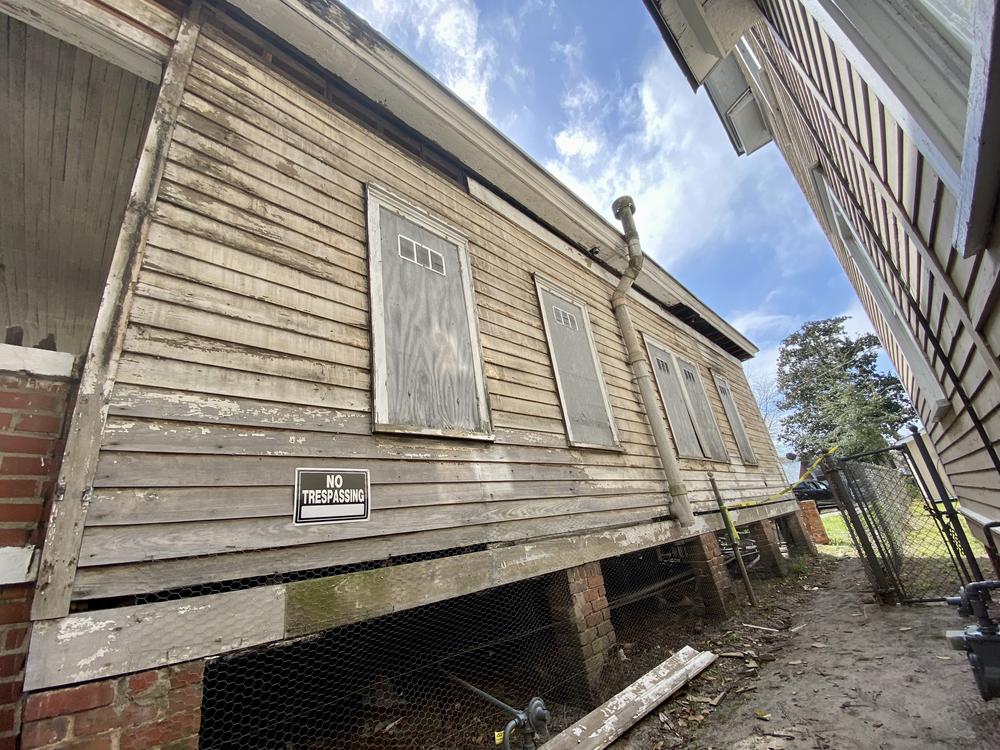 As for that rehab, it's not so much out with the old, in with the new; rather, it's about restoring the property to its original historic character.
Perhaps nowhere is this more evident than in a pier of old bricks toward the back of the house — "Savannah gray bricks," as they're known in preservation circles. The building material was made before the Civil War, by enslaved people at a plantation along the Savannah River.
"So, we gonna take them off, clean them up, and put them back on — keep the historical look," says Lucas, motioning to one of several piers on the property. "You got a lot of old houses in this area that need to just be restored and bring it back."
A lot of old houses means a lot of opportunity to expand the housing supply in Savannah. This is what Arvay calls "naturally occurring" affordable housing.
"So, instead of having to raise capital and buy land to build new units, we already have an initial investment of time and resources and energy in these buildings that we don't want to see wasted," Arvay says. "So, we are using preservation as just one more tool to help provide affordable housing."
Another tool: the city's down payment assistance program, through which HSF will sell the house to a qualified low-income, first-time homebuyer. On top of that, the 1,000-square-foot property will come with a covenant that prohibits the purchaser from turning around and immediately reselling the house at an inflated rate.
All of this is reassuring to Lucas, who doesn't want to see his hard work ending up in the hands of a house-flipper or investment company. The Savannah native wants to see this neighborhood grow for people, not profits.
"You're giving back to this community," Lucas says. "I used to play in this neighborhood. Used to play ball. We used to go to the gym down the street. I went to school with a lot of the people that stay in this area."
Whoever ends up buying the house and joining the neighborhood will also be giving back, since HSF will use the money from the sale to repeat the whole process, breathing new life into another old home.
"These smaller homes — these simpler, vernacular homes that are throughout the Cuyler-Brownville neighborhood and other neighborhoods in Savannah — can be done affordably, and we can still protect the character and make them a good, quality place to live," Arvay says. "And we hope to prove that over and over and over again using this model."
Secondary Content
Bottom Content