Section Branding
Header Content
Advocates cheer bump in funding for disability services but hope for more
Primary Content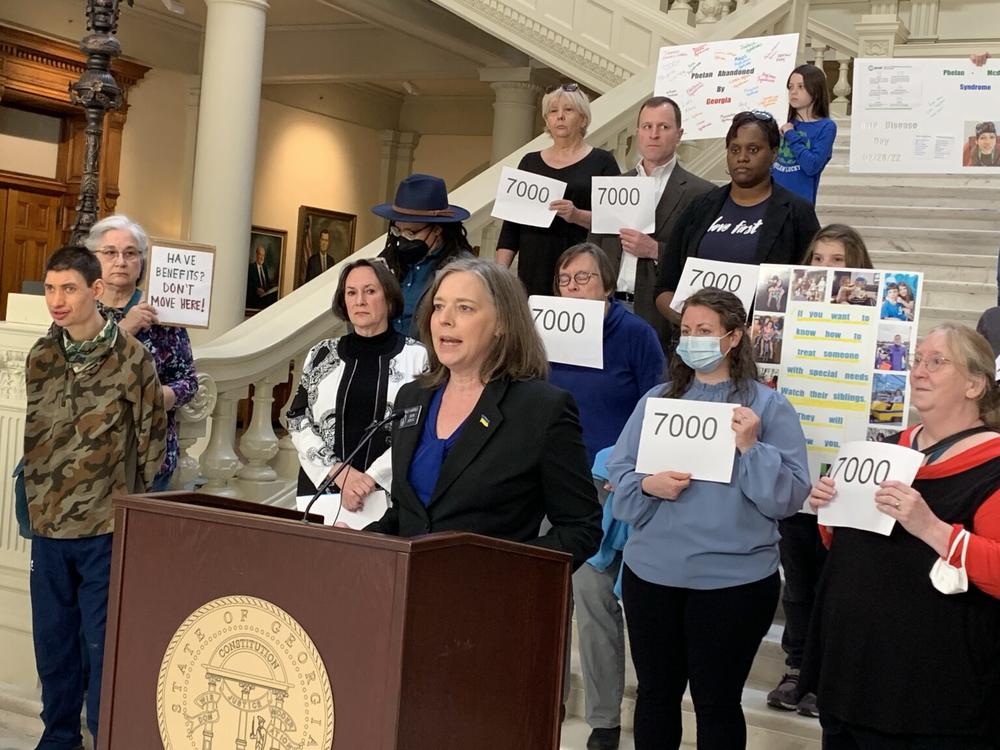 State lawmakers will boost funding for services for people with disabilities in next year's budget, though thousands will remain on a wait list.
Pressure had been mounting on lawmakers to increase funding for disability services as state revenues grow. But a national staffing shortage among the workers who assist people with intellectual and developmental disabilities has complicated that new push for more state resources.
Advocates, family members and others held a press conference at the state Capitol in late February demanding lawmakers step up funding for the 7,000 people who have already qualified for services.
Those services are provided through a state-run program, known as the New Options Waiver (NOW) and Comprehensive Supports Waiver (COMP) through Medicaid, that is designed to help people with disabilities avoid institutionalization. The waivers are funded largely by federal dollars.
"We are here, and we are here to be heard," Atlanta Democratic Sen. Sally Harrell said at the February press conference. "A humane and civilized society cares for its most vulnerable citizens, and as long as Georgia has a waiting list for NOW and COMP waivers, Georgia has failed to live up to this basic standard."
Harrell and others have voiced frustration over GOP plans to cut the state's income tax rate and send back $1.6 billion in surplus revenues to taxpayers when so many people are awaiting services. When Gov. Brian Kemp first proposed the tax refund, he argued it was the right thing to do when "government takes in more money than it needs."
Lawmakers have been funding about 100 additional waivers each year, and very year, advocates call on lawmakers to do more to address the wait list.
Kemp had originally proposed 100 new waivers for the new $30.2 billion budget year that starts this July. Lawmakers have since upped spending to cover an additional 513 waivers at a cost of $10.3 million.
A revised spending plan is set for a Senate vote Friday but will need to go back to the House, and the governor will need to sign off in the end.
Sen. Blake Tillery, a Vidalia Republican who chairs the Senate budget committee, said 513 additional people receiving services would the most the state's provider network could support right now. Tillery called the increase "a big deal."
"I know it matters to a lot of you, and I got your letters," Tillery said this week. "It took a lot of math to get there."
Advocates are celebrating the increased funding. Eric Jacobson, the long-time executive director of the Georgia Council on Developmental Disabilities, struggled to recall the last time lawmakers funded so many waivers.
"Obviously, it's not enough. When you think about the big picture of having over 7,000 people on the waiting list, 513 is just a small dent," Jacobson said Thursday. "However, we have to celebrate the fact that the governor put in 100, and we're now up to 513.
"We recognize that without provider rate increases, increases directed towards direct support professionals, it makes it much more difficult to address larger numbers of people coming off the waitlist," he added.
To help increase the wages of those workers, Harrell has also proposed a bill that would require the state Department of Community Health to perform a provider rate study every three years starting in 2024. The last one was done in 2015.
Direct support professionals, who can make about $10 an hour, are leaving for better paying jobs at big-box retailers, fast food restaurants and other employers.
Harrell's bill easily cleared the Senate this month and is moving through the House now. The session is set to end on Monday, April 4.
"What this bill does is make sure that once those families who receive those waivers get them that when they go out to find services that they are able to get the care that they need," Harrell told House lawmakers Thursday.
In the meantime, Jacobson says he hopes the newly covered people will be able to find the services they need.
"Even if somebody gets a waiver, if they can't find the people to help them get through life, then it doesn't do any good to have a waiver," Jacobson said. "We have got to have the workers in order to support the people. We've got to have the money in order to pay the people."
This story comes to GPB through a reporting partnership with Georgia Recorder.
Secondary Content
Bottom Content