Section Branding
Header Content
Black birder wants to change perceptions of who belongs in nature
Primary Content
Corina Newsome is excited for spring's arrival in Georgia.
An ornithologist, bird-watcher and one of the co-organizers of Black Birders Week, she'll be watching for the first ruby-throated hummingbirds to return to the state after wintering in South America.
Georgia Audubon hired Newsome to lead the organization's community engagement efforts last year.
A rock star in the birding world, Newsome's 66,000 Instagram and 84,000 Twitter followers show us the power of her story: how a young Black woman from Philadelphia came to travel Georgia backroads and preach the gospel of engaging diverse communities in the enjoyment of nature.
Roots
Newsome traces her interest in birds to an undergraduate class at Malone University in Canton, Ohio.
Before that, she had a general love of nature. As a child, she pored over her grandmother's National Geographic magazines, watched PBS nature programs and decided to become a scientist who studies animals of some kind.
Those animals weren't particularly birds until she had to take a college class in ornithology.
"My professor put a picture of the blue jay on the screen and I yelled in class," she said. "I was like, 'What is that? All those blues! All those colors!'  And the next time I went outside, they were everywhere."
Birders call the blue jay Newsome's "spark bird": the bird that started her love of birding.
Graduate studies then took her to Georgia Southern University in Statesboro, her base of operations for learning about coastal birds and Georgia Audubon.
While she was there, something happened many states north that would change her life.
Black Birders Week
On May 25, 2020, two worlds would collide in New York City's Central Park and start a movement that propelled Newsome into magazines and social media.
A Black man, Christian Cooper, was bird-watching in the park's more heavily wooded area. A white woman, Amy Cooper, was walking her dog, unleashed, in an area where leashes are required.
The former asked the latter to leash her dog. But instead of doing so, Amy Cooper called the police in a recorded encounter that would reverberate around the world on the same day that George Floyd was murdered in Minneapolis.
In her 911 call, Amy Cooper said, "There is an African American man — I am in Central Park — he is recording me and threatening myself and my dog. Please send the cops immediately!"
Newsome and many other Black people saw it as an example of how the police are "weaponized" against them.
"A bunch of us who are Black people who love birds saw that video and said 'We have to do something to highlight the realities of Black people who enjoy exploring outside,'" she said.
Black Birders Week started off that moment.
It grew into a national organization centered around seven days in late spring to uplift Black professionals in science, especially birding, with a series of events and conversations nationwide.
Safe in nature
Newsome said that she has not had any racist experiences with law enforcement in her science background.
But she also said that she is "hyper-aware" of her surroundings when she goes into the backwoods and down the country roads of Georgia.
Her swampy field site in Brunswick was just a few blocks from where Ahmaud Arbery was killed in February 2020 by three white men who assumed the Black jogger was doing something wrong when he wasn't.
"I find that I overcompensate for the assumptions that I think that, in particular, white people will have about what I'm doing when I'm in these remote places where they are possibly not used to seeing Black people doing things that they're not used to seeing Black people doing," she said.
An example of overcompensation might be wearing her camera or binoculars in a more obvious way to show what she's doing.
It's this kind of behavior that many Black people share and part of the that reason Newsome's message and her social media handles took off.
On Twitter and Instagram, she's known as "Hood Naturalist."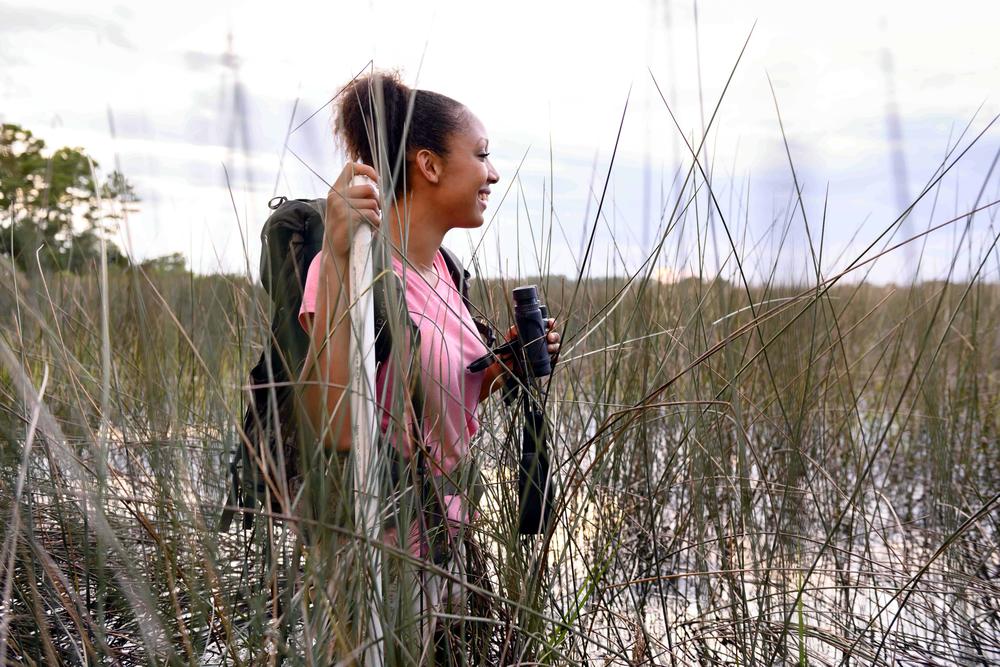 Birding in Georgia
As warm weather approaches, Newsome has some great ideas about where Georgians might enjoy birds.
Her favorite Georgia birding location is Harris Neck National Wildlife Refuge on the coast.
The site is well known as a birding paradise, especially for its wood stork rookery, or breeding ground.
"You get there in the middle of summer and it's just bursting with the sound of what sounds like dinosaurs," she said. "And truly, that's what they are."
But you don't have to make a day trip — or any trip at all — to enjoy birds.
In her role as community engagement manager for Georgia Audubon, Newsome especially loves introducing birds to kids in urban environments.
"One of the incredible things about birds in particular, compared to other types of animals, is that there are very few places where you can go in any given city, or in any place in the world, where there are no birds," she said. "And so birds are a really amazing vehicle to show people, 'Hey, there's life out here besides human beings that is beautiful, bursting with color, with beautiful songs."
So just spend some time in your own backyard or take a walk to a nearby park. This time of year, you might see white-eyed vireos, yellow-throated warblers, swallows or purple martins.
And one of these — or hundreds more — just might become your very own spark bird.
Secondary Content
Bottom Content