Section Branding
Header Content
New mentorship program at Savannah State aims to boost Black-owned business creation
Primary Content
GPB's Benjamin Payne reports on a new business coaching program and pitch competition at Savannah State University.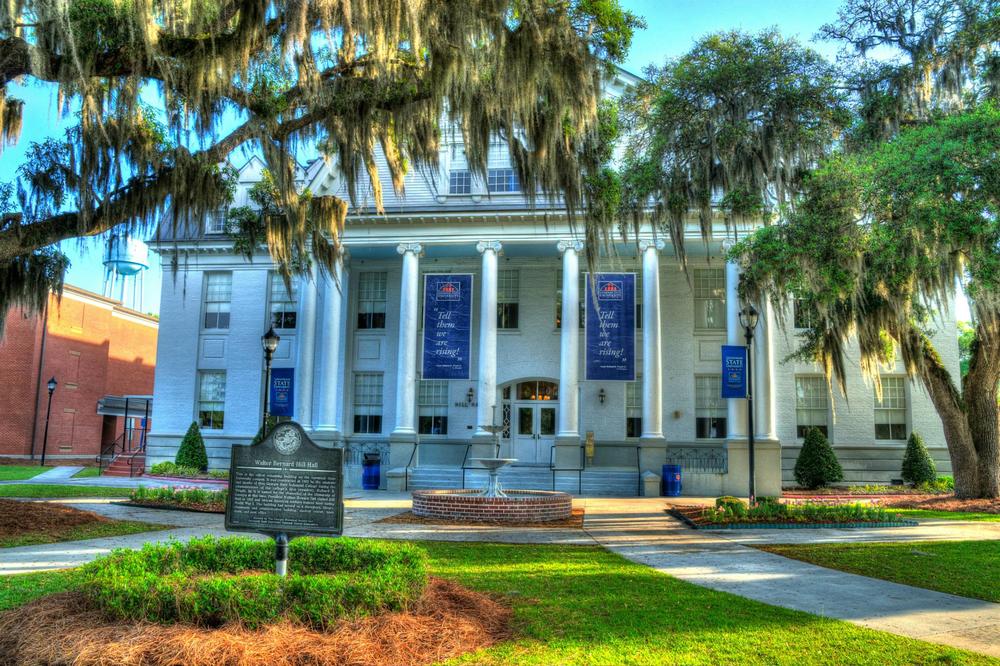 African Americans have historically been underrepresented among the entrepreneurial community, but a new partnership between Savannah State University and a network of volunteer business mentors hopes to help change that moving forward.
The university — Georgia's oldest public HBCU (historically Black colleges and universities) — announced this week that it will pair a group of aspiring entrepreneurs at the school with business professionals from the Savannah chapter of SCORE, a nationwide network of volunteer business mentors.
One of those mentors is Kewaan Drayton, a business founder several times over, who runs a film production company, performing arts group, and coffee shop all in his hometown of Savannah.
"What I've noticed from my own personal experience is just that a lot of African Americans in the realm of entrepreneurship — they don't seem to feel like they have the proper or knowledgeable people to go to that can relate to their specific situations and what it is that they're trying to do to grow or scale their businesses," Drayton said. "It's hard to find that in an African American community. My goal is to help change that now."
Over the course of the next few weeks, Drayton and five other professionals in the Savannah area will coach students on how to plan, launch and operate their own businesses, culminating in a pitch competition between up to six students in early April. The top three student participants will each receive $1,500 in seed money, drawn from a nearly $1 million grant secured by the university's Center for Innovation and Entrepreneurship (CIE).
"A lot of students who are minorities — sometimes they see themselves as boxed in to certain categories of business that they can go into," said Nicole Cannonier, a professor of management at Savannah State and faculty member of CIE. "They're seeing all the persons of color be successful in those areas, and so they've sort of limited themselves in that way. But one reason that we have the SCORE folks come out is because they have started several businesses of all kinds and were at all stages when they started."
According to the most recent estimates from the U.S. Census Bureau, only about 2.3% of the country's employer businesses (those that employ multiple people, as opposed to single-person ventures) are Black-owned.
African Americans are also the least represented racial group among first-time entrepreneurs: According to the Kauffman Foundation, 23 of the past 26 years saw the rate of new entrepreneurs lowest among people identifying as Black or African American.
Regardless of race, Drayton says that a major barrier to successful business creation is the mistaken notion among many would-be entrepreneurs that a vision or idea alone is enough to win over investors.
"It's not that way at all," he said. "Banks don't fund ideas. They fund momentum. So, I really focus on helping people get that momentum to help them become more appealing to people who can loan them the capital they need to get going — or even get to a point where they don't even need capital. They can just bootstrap it on their own and feel confident about it."
Instilling that confidence, Cannonier says, is a key goal of the new mentorship program for students.
"We want to build that up," Cannonier said. "We want them to see that that path to success is theirs to walk, just like anybody else's."
Secondary Content
Bottom Content