WATCH LIVE | GHSA Flag Football Division 1 Championship: Southeast Bulloch vs. North Oconee, At 2 P.M.
Section Branding
Header Content
Georgia House panel advances bill to broadly expand mental health services
Primary Content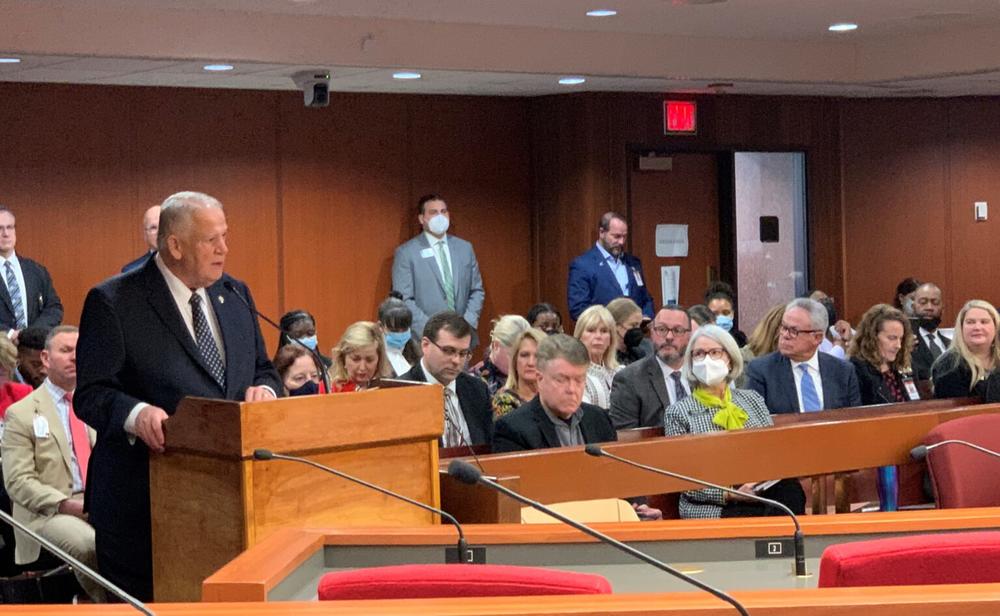 A House panel backed the speaker's wide-ranging mental health plan, but not before hearing from him directly first.
Speaker David Ralston's role as the first signer on the bill is mostly symbolic — he's called it his top priority for the session — but even so, the lead sponsor typically shepherds the bill through the legislative process. That's why Ralston made a rare appearance in a committee meeting room Wednesday.
"This is just the beginning of what I expect will be a multi-year conversation," Ralston said during his brief remarks. "We did not get in this place we are today overnight, and we will not get out overnight. But I can't think of a better big first step to take than this bill."
Georgia ranks 48th when it comes to access to mental health care, according to Mental Health America. And the COVID-19 pandemic has made more people aware of the gaps in the state's system, summoning bipartisan energy during an otherwise highly divisive election-year legislative session.
Ralston's involvement guarantees the bill will make its way over to the Senate, where changes are likely. Already, the state Senate has advanced competing proposals, including a bill that would require local community service boards to assist law enforcement officers with behavioral health crisis calls as several are already doing.
The proposal coming out of the House requires insurers to follow a federal behavioral health law, creates a service cancellable loan program designed to bolster the state's mental health workforce, and changes the criteria to have someone involuntarily committed for treatment.
It would also create an adult registry within an assisted outpatient treatment program, which is a form of involuntary commitment overseen by the state Department of Behavioral Health and Developmental Disabilities.
About $30 million is expected in next year's budget to fund the provisions of the bill, with the biggest chunk — $10 million — going to the loan program.
The measure advanced out of committee Wednesday, but not without some unease.
"My worry is that we're getting this huge, great bill and putting it on top of a broken system," said Rep. Shelly Hutchinson, a Snellville Democrat who owns a mental health center.
"Well, that's a valid observation," Ralston said in response. "But if it's broke already, I don't think this will break it anymore, and so I think if we're going to bring about big reform, we have to start big."
The measure loosens the criteria to have someone involuntarily committed for treatment, which triggered concerns the changes would lead to high hospitalization rates in the state.
Current law says someone must present "a substantial risk of imminent harm" to themselves or others, which has been criticized as being too subjective.  
"The standard of 'imminent immediate harm' is too great and we have to give more flexibility based on a broader criteria," said Rep. Mary Margaret Oliver, a Decatur Democrat who is co-sponsoring the bill.
The latest version now includes certain stipulations, including rules that less restrictive alternatives first be considered and the person must also decline voluntary treatment.
Rep. Todd Jones, a South Forsyth Republican and the other co-sponsor of the bill, said the new proposal offers "a hierarchical approach" to involuntary commitment.
"Let's face it, even when we think we're doing the right thing for the right reasons, you're still taking away a person's liberties," Jones told reporters Wednesday.
There is still debate surrounding the logistics and the cost of transporting patients from an emergency room to treatment and the surveillance of children, particularly those in foster care, with a history of behavioral health challenges.
But one notable area where the bill's backers have not budged: Requiring health insurers to treat mental health and substance use disorder benefits the same as physical care. A lobbyist representing the insurance companies said earlier they did not support that portion of the House bill.
The proposal is set to be heard in the rules committee this Friday, likely teeing it up for a vote next week.
"I do think the bill and the conversation that we're in impacts stigma in a positive way and it opens the door to more conversations that I hope will continue," said Rep. Katie Dempsey, a Rome Republican who chairs the budget subcommittee on social services. "I hope that it is uniting people as we move forward in this." 
This story comes to GPB through a reporting partnership with Georgia Recorder.
Secondary Content
Bottom Content