WATCH LIVE | GPB Sports' Flag Football - Semifinals, Games 1-6: Next It's St. Pius X vs. Lithia Springs At 12:30 P.M.
Section Branding
Header Content
Students protest critical race theory legislation at state Capitol
Primary Content
High school students are protesting bills in the Georgia General Assembly designed to limit what schools can teach around issues of race and racism. GPB's Amanda Andrews was there.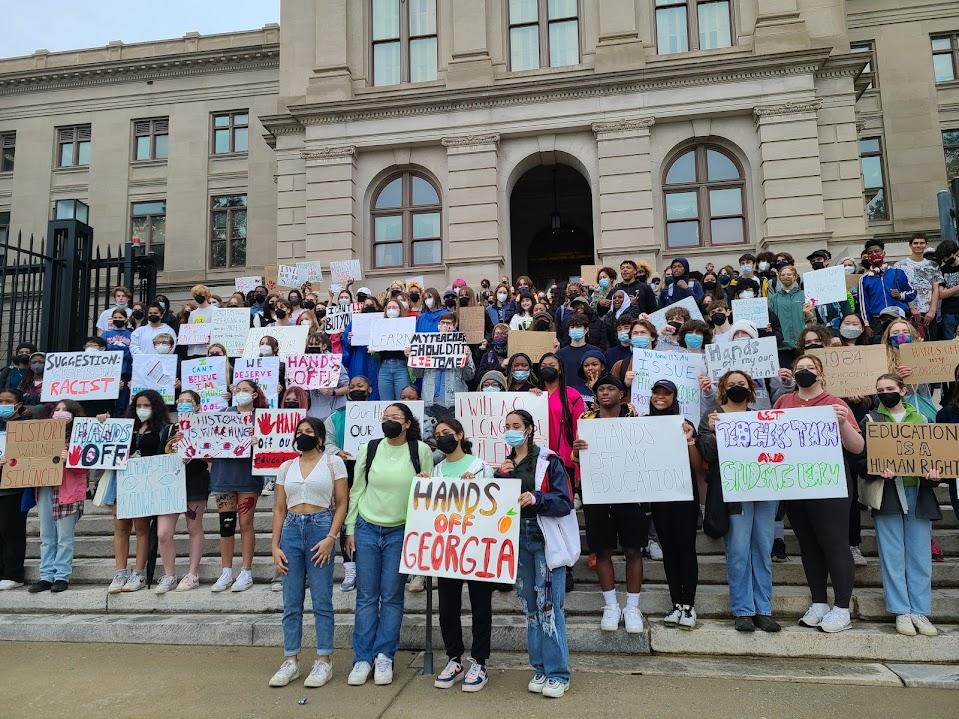 High school students gathered at the Georgia state Capitol on Friday morning to protest two bills in the General Assembly that would limit what schools can teach about race and racism.
Decatur High School seniors Ana Villavasso and Vinessa Taylor helped organize the protest only a few weeks ago after a teacher told them about the legislation.
Taylor said it would be wrong to stop young people from learning from society's past mistakes.
"Banning us and prohibiting us from learning about our true history, it's unhelpful for us to become citizens," Taylor said. "This affects K-12 and university. So, if this enacts, then a whole generation of children won't know anything about their true history."
Of the two bills in the Georgia legislature aimed at limiting discussions of historic racism, House Bill 1084 appears to be closest to passage.
Decatur students, including Villavasso and Taylor, are continuing to organize against the bills with a group they call Hands Off Georgia. Before the rally, the group shared a digital copy of the bill with annotations so students could better understand the measures.
Villavasso said her biggest takeaway was that the bill is about more than critical race theory.
"Let those representatives know that their place is not in a classroom, especially if they're not educators," Villavasso said. "We need American history. It's the history of people of color — not only Black history but all people of color."
Secondary Content
Bottom Content