Section Branding
Header Content
Highlights from testimony in hate crimes trial of Ahmaud Arbery's murderers
Primary Content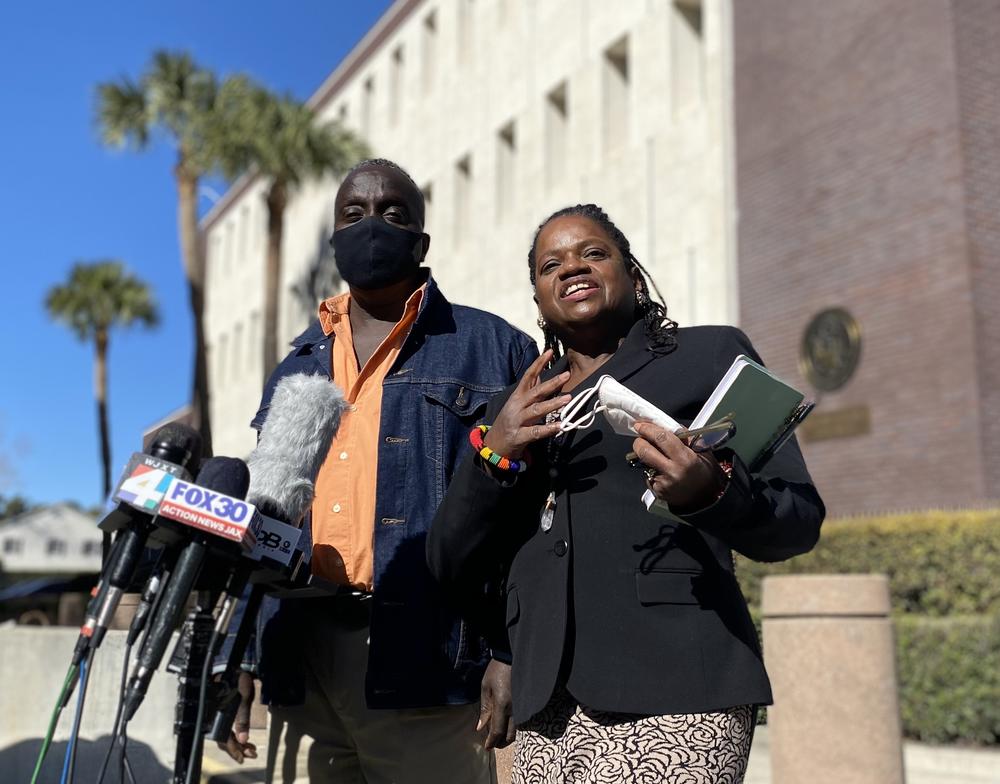 Federal prosecutors on Friday called their final witnesses to the stand in the hate crimes trial against the three white men who murdered Ahmaud Arbery — finishing off a week of proceedings that saw hours of sworn testimony heard by a jury of 12 in the Brunswick federal courthouse.
Because those jurors are not allowed to consider anything that they may have seen or heard from the earlier state murder trial — or anywhere else, for that matter, outside the confines of the federal courtroom — much of this past week's testimony was essentially a retelling of the basic facts of the killing that occurred on Feb. 23, 2020.
But along the way, federal prosecutors also called up people to testify who were not heard from in the state trial — which had been narrowly focused on the murder rather than its motive.
Here are some of those witnesses, with highlights from their testimony:
(Note: the following contains references to disturbing and racist language said in court.)
Amy Vaughan, an FBI intelligence analyst
Vaughan helped the FBI in the bureau's efforts to search the phones and social media accounts of the three defendants: Travis McMichael; his father, Greg McMichael; and William "Roddie" Bryan, all of whom have pleaded not guilty to charges of violating Arbery's civil rights, in which prosecutors allege that the men targeted the 25-year-old man because he was Black.
Because Greg McMichael's phone was encrypted, the FBI wasn't able to break into it. But as for the other two defendants, Vaughan shared multiple instances in which the men used racial slurs, including the N-word.
In one text message, Travis McMichael used that slur in saying that the reason he enjoyed his defense contractor job so much was that he didn't have to work with any Black people. He also often referred to what he saw as a need to use weapons against Black people.
Another exchange saw Bryan use the N-word to describe a Black man that his daughter was dating — a relationship that Bryan expressed disapproval of. Vaughan also testified that another anti-Black slur used by Bryan was one that she had never heard before, and so had to look it up.
Derek Thomas, a longtime friend of Travis McMichael
Thomas testified that he would occasionally send what he found to be funny videos on Instagram to Travis McMichael, who he'd known since high school. Two of those videos showed pranks involving Black people, whose actions angered McMichael.
Prosecutor Christopher Perras asked Thomas to read out loud a message that McMichael sent to Thomas in response to one of the videos.
Thomas hesitated: "Am I required by law to read this?" he asked.
Yes, Judge Lisa Godbey Wood replied.
Thomas then asked if he could spell out — rather than say in full — the N-word that was used in the message.
After Wood said that she would allow it, Thomas read the message, in which McMichael wrote that he wanted to "blow that f***ing n****r's head off."
Kim Ballesteros, a former neighbor of Greg McMichael
Ballesteros testified that she and her husband used to live across the street from the home of Greg McMichael, with whom they would occasionally have casual conversations with in their Satilla Shores neighborhood.
One of those conversations turned to the topic of tenants, as they both rented out residential property.
"He was talking about a tenant that he had," Ballesteros testified. "She was a large Black woman who did not pay her rent very well."
McMichael had a nickname for the tenant: "The walrus."
He went on to tell Ballesteros that he disabled the tenant's air conditioning during the summer.
"You should have seen how fast her big fat Black a** came with the rent check," McMichael said, according to Ballesteros.
"It was racist and uncomfortable," Ballesteros testified. "And I was, quite frankly, disappointed."
"KR," a woman who served in the Coast Guard alongside Travis McMichael
(Note: for the sake of this woman's privacy — as her testimony involved her sexual history — GPB News is using only her initials.)
KR testified that while she and Travis McMichael were stationed at a Coast Guard base in Mississippi, an NBA game came on the TV in the cafeteria. One of the players in the game was a Black man whom KR had previously dated.
She said that once McMichael learned of their relationship, he repeatedly called her a "[N-word]-lover."
Her voice quivering, KR then testified, "It took me aback a little bit, and I felt disrespected, for lack of a better word."
———
Because the burden of proof falls on the prosecution, defendants in federal criminal trials are not legally required to call up any witnesses to the stand — and, indeed, attorneys for Travis McMichael and Bryan both declined to do so. Only Greg McMichael's attorney, AJ Balbo, called up a single witness: a longtime resident of Satilla Shores who does not personally know the defendants.
Closing arguments are scheduled to begin Monday at 9:30 a.m.
Secondary Content
Bottom Content