Section Branding
Header Content
A team of one: Tattnall's only wrestler Grady Tisdale has his eye on a state title
Hero Image
Primary Content
When Grady Tisdale steps on the mat at Friday's GHSA State Wrestling Tournament in Macon, he will have plenty of fans cheering for him, but no teammates.
Tisdale, a senior at Tattnall Square Academy, is the school's only wrestler.
A team of one.
Tattnall never had a large wrestling team, but, at the end of Tisdale's sophomore year, his older brother Griffin and two other teammates graduated, and another teammate moved to South Carolina. That put the "I" in "team" for Tisdale.
"A lot of people practice with people," Tisdale said. "I'll text a friend, but if I can't find someone, I'll practice by myself or go out and run. I'm willing to put in work behind closed doors. I mean, I could push it off, but I can hardly sleep at night knowing I pushed something off. It's not in my blood to do that."
Even Tattnall's head wrestling coach cannot help him. John Abernathy was a long snapper for Mercer University and is now the head coach of Tattnall's football and track teams, as well as wrestling, though he freely admits there is a lot he does not know.
"If you go to a wrestling match, it is chaotic because there is always something happening," Abernathy said. "I'll just ask Grady questions, because obviously I'm not real sure what's going on. Sometimes I'll say 'How do you even know where you're supposed to be, when you're supposed to be there?' And he kind of helps me out a little bit. He coaches me a little bit more than I coach him, to be sure."
In seventh grade, Tisdale ran cross-country, but his parents encouraged him to add another sport. It was tossup between swimming and wrestling.
Wrestling won, and Tisdale started winning, too. He placed sixth in the state in the 1A 145-pound weight class in 2020 and fourth in the 1A 160-pound weight class in 2021.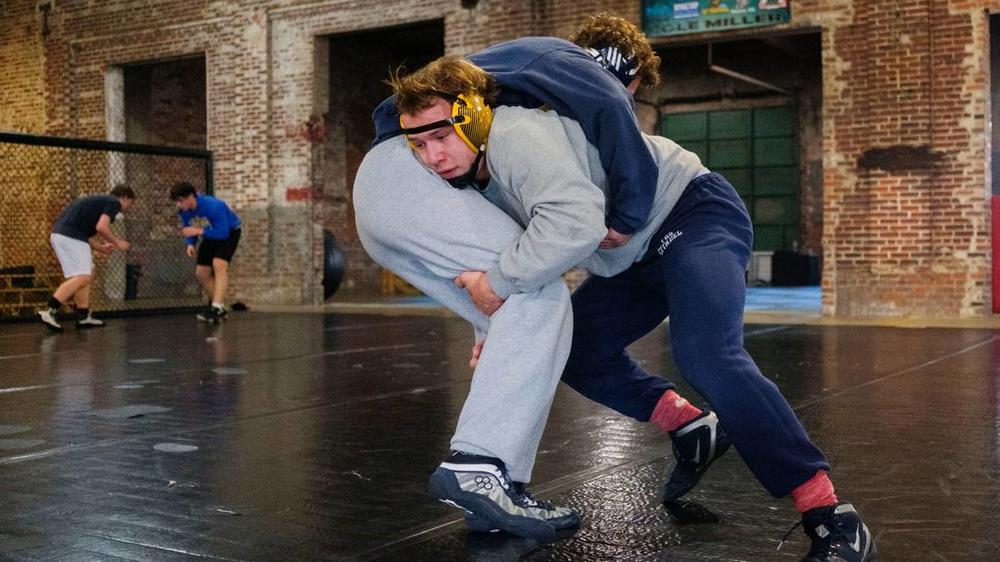 Last summer, he qualified to wrestle at one of the country's top tournaments, The U.S. Marine Corps 16U and Junior Nationals in Fargo, North Dakota. More than 6,000 of the nation's top high school wrestlers competed.
"I didn't do too hot," Tisdale said.
Analysts say Tisdale has a good chance of winning this year's Georgia state title at 170 pounds - 1A. He trains at Macon's Rush Mixed Martial Arts gym with Bubby Mitchell, a member of the Georgia MMA hall of fame and bronze level USA wrestling coach. Mitchell used to coach at Tattnall Square Academy, back when the team was small, but there was more than one wrestler.
"When I first got him, he was a little chunky 120-pounder. Now he's a very lean 175-pounder," said Mitchell, who is often Tisdale's sparring partner. "It's tough because I'm 38, and I'm multiple weight classes below."
Mitchell wrestled at 103 pounds.
"Thank God he's a senior," Mitchell said, "because if he would jump up another weight class, I'd just be out of the picture."
Tisdale graduates in May and is not sure if he will wrestle in college. He is considering going to technical school to become an electrical lineman.
But for this week, he's focused on winning the state tournament, which runs Thursday through Saturday at the Macon Coliseum.
Macon-based SoutheastWrestling.com has a full preview of the tournament, as well as tournament brackets and the schedule.
Tanya Ott is an assistant professor journalism and journalist in residence at Mercer University's Center for Collaborative Journalism. This story comes to GPB through a reporting partnership with The Telegraph.
Secondary Content
Bottom Content