Section Branding
Header Content
'He was a powerful presence.' Remembering Martin Luther King Jr.'s last visit to Macon
Primary Content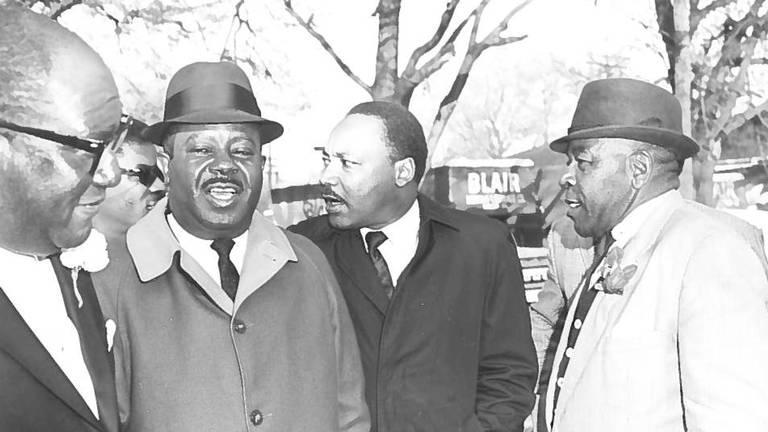 Editor's note: The story was originally published in the Telegraph on April 4, 1998 to commemorate the Rev. Dr. Martin Luther King Jr.'s final visit to Macon 30 years before. It's reprinted here it its entirety in honor of Martin Luther King Jr. Day.  
He came in a trench coat with not a wrinkle in it that hung to the tops of his shins. It was cold for the end of March, and he moved slowly for a man who wore a watch but was still close to five hours late.
 But his movements were those of precision, of a preacher who knows full well that the sermon is running long. The good people inside the New Zion Baptist Church, the few hundred of them, would soon see that he was in fact in a hurry, but they would never detect a rushed step. No, the Rev. Dr. Martin Luther King Jr. was with them, and it did not matter that he would be with them for just 15, maybe 30, minutes.
As it turned out, in the end, he would be with them, with anyone, for just 12 more days.
King's walk up the seven steps to New Zion would be his last walk in Macon. It came on one of the final Georgia stops of a blow-through-town campaign for the poor. It was 1968. It was March 23. Historic as it may have been, some of the people there do not remember that much about it.
They do recall that he had a suit on. It was light-gray maybe, pin-striped. When he talked to them from the pulpit, he sometimes stuck his hands in his pockets. His suit pants, their bottoms still crisp on a Saturday evening, showed the rippled wrinkles his hands had pressed into the pockets.
Bertha Peek remembers that suit. She touched it.
She is proud of it to this day, still tells her friends, and still brings it up. They laugh about it. She remembers that it was with her right hand that she reached out and touched the suit. "I had to reach through the crowd," says Peek, now 69.
The people inside the church at 310 Edgewood Ave. had been told to be patient in those five hours before their guest arrived. They had been told that King's airplane had developed "mechanical difficulties."
Outside, there were a Volkswagen and a Blair Moving & Storage van parked across the street. There was special dignitary parking reserved in front of the church.
It was marked by a car-tire rim with part of a tree limb sticking out of it.
Church members say their pastor normally used the thing to mark his own parking spot.
When King arrived, with temperatures in the mid-40s and him tucked down in that trench coat so you just could see the top of his white shirt, the place lit up.
"Everybody was standing and rejoicing," Peek recalls. "It was just excitement just to know that was him."
King went into the church with Dr. Ralph David Abernathy at his side, the latter with a copy of the day's Telegraph, which ran a front-page note announcing the rally, tucked under his left arm.
Someone in the crowd shouted, "Here comes Dr. King!"
Children were standing on pews, some folks waved placards and the throng was pretty much the largest in church history, if you don't count the huge bunch who showed up for the funeral of a former pastor some years before.
In the pulpit, while he talked about how he was going to tend to racial wrongs "with my own mouth and my own lips," King spoke into four microphones mounted on the lectern. There was a big Bible in front of him as thick as his fist. People would later say he looked worn out. He said as much himself, but in another way.
He said that he was "tired," tired of Black people "being the last hired and first fired, living in shacks and slum conditions with wall-to-wall rats and roaches, not earning enough to educate their children, being on the bottom of the economic level and working full-time jobs for part-time incomes."
King sometimes spoke with a tilted-back lean, the projecting angle of a man with no need to stoop over notes. "There was a sad tone to what he was saying," Horace D. Hart recalls.
"He kind of looked sad himself. He seemed like he was not as jolly and joyful as he usually was. Not as vibrant. Seemed he was concerned about something else."
A radio reporter for WBML remembers King's voice and that it was "booming" on that Saturday evening.
"He mesmerized the audience," says the reporter, Cosby Thomas, who now lives in North Carolina. "In those small churches, sound just reverberated off the walls."
When the speech was over, Thomas wrangled an interview. He sat with King in the back seat of a black Cadillac limo, parked just a block away from the street that would later be renamed in his honor.
"I'd love to tell you I remember what I asked him, but I don't remember the questions or the answers," Thomas says. "I could tell that I was a minor-fish reporter to him, but he was very polite. ... He was a powerful presence."
Bertha Peek, the one who touched King's suit, had taken off work from cooking that day at the Kwik Shop restaurant on Broadway. She saw the King limo wheel off as soon as the radio reporter got out.
Later on, she said, "It was really a hurting thing to know he was there, and then in such a short time he was dead, he was gone."
This story comes to GPB through a reporting partnership with The Telegraph.
Secondary Content
Bottom Content