Section Branding
Header Content
East Cobb first out of the gate in Georgia Legislature's 2022 cityhood charge
Primary Content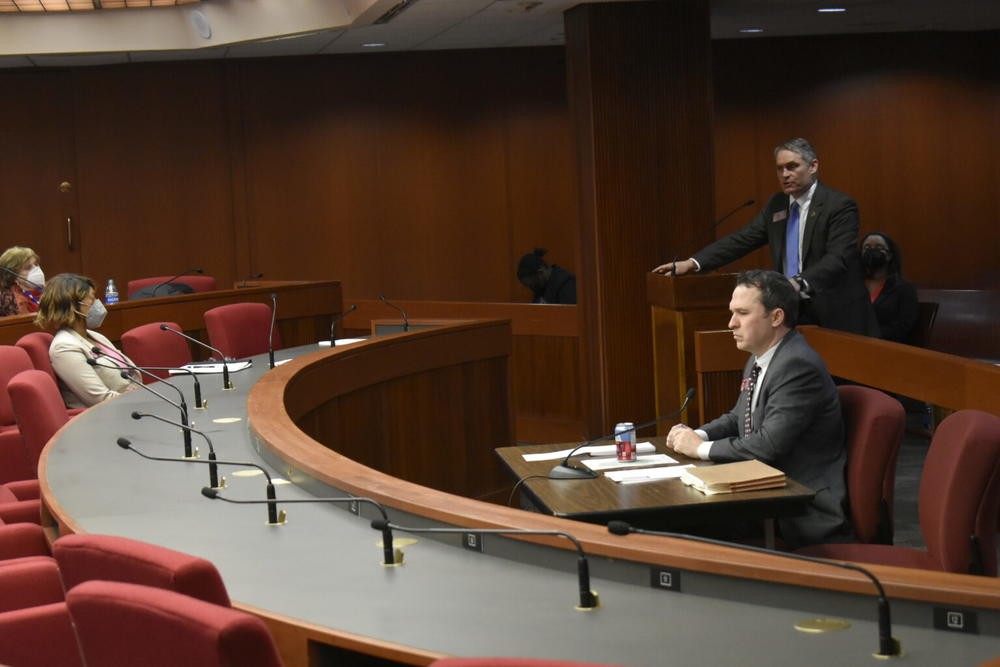 East Cobb could be the first of several new Georgia cities to emerge from this year's legislative session as a House committee met Wednesday afternoon to discuss whether residents of the affluent Atlanta suburb should have the opportunity to vote to create their own government.
Under a bill filed by East Cobb Republican state Rep. Matt Dollar, the proposed city map would contain about 60,000 residents, who would be represented by a six-member council serving four-year terms. The council would elect a mayor from among their number, who would hold a somewhat ceremonial role, presiding over meetings and signing city checks for two years.
Dollar's legislation proposes that the new city would take over responsibility for police, fire, zoning and code enforcement, and parks, services now provided by the county.
Dollar said the plan would recognize that the unincorporated eastern portion of the county shares a unique community and provide for more local control. Georgia's third most populous county, Cobb is home to more than 760,000 people, who are currently represented by four district commissioners and a countywide chair.
Creating a smaller city government would mean residents of the unincorporated area would have closer access to their local elected officials, Dollar said.
"The vision is to maintain and have the community that we have now, that's the vision of East Cobb," he said. "Everybody moves there because it's a great community, and they want to have the right to vote for locals that will help with that self-determination."
Several residents spoke out in support for the plan Wednesday. Some, like Pam Reardon, who works in real estate, cited worries of increasing density and higher taxes.
"The big thing I have seen that scares me to death is the direction these commissioners are taking our county," she said. "They make no bones and they do state that their goal is to urbanize our suburbs."
She said she worries homes near hers will be knocked down and replaced with affordable housing.
"They want to make Johnson Ferry a corridor," she said. "They want to add sales tax to our sales, we now have 6%, it could go up to eight pennies, and they want to bring in more transportation. They want to come right up Johnson Ferry, they want to have high density alongside Johnson Ferry. This is the plan. They make no bones about it. They state it outright, and for this reason, I am supporting cityhood."
Cobb County's population grew in the 1960s as white Atlanta residents fled newly integrated schools, but in recent years, the population has become younger and more diverse as new residents move in seeking new opportunities.
That has meant a political shift as well. The Cobb Board of Commissioners recently moved from Republican control to Democratic after decades of GOP rule, causing some to question whether the push for cityhood was motivated by politics.
Marietta state Rep. Mary Frances Williams asked why the proposed city was around 75% white while the county as a whole is just over 50% white.
Dollar said the map was drawn based on major roads and other geographic borders and race or ethnicity were not taken into account.
Other members of the public spoke against the plan, some citing concerns with the rollout. Though the project has been years in the making and aired out in numerous town hall meetings, the version of the bill lawmakers examined Wednesday was revised that morning.
"I agree with much of Miss Reardon's analysis of what the county is doing, in fact all of what they're doing and what they want to do and what they've stated they want to do. However, I'm here to say that I know of no person I know, anybody whose opinion was solicited prior to the introduction of the bill for consideration," said Cobb resident Norman Black. "It sort of came out of the blue, which is not the way a bill should originate when it has to do with imposing or calling for a referendum for the creation of a municipality."
Mindy Seger, an accountant and stay-at-home mom, questioned whether a feasibility study declaring the proposed city financially sound would hold under the revised bill. She said she was particularly concerned about the city taking over fire services from the county, citing the Cobb County Fire Department's top rating from the Insurance Services Office.
"If we go to just a two-station fire department, over time, they could lose that leverage of scale, you could have disruption of service or degradation of services and the funds that they have at a two-station fire department, if they lose that ISO 1 fire rating, not only do I have lesser protection, my insurance rates also go up," she said.
Dollar's proposal got some support from fellow Cobb Republican state Rep. Ed Setzler of Acworth, who wants to create another new city, Lost Mountain, in west Cobb.
"I have supported every single cityhood movement we've had since I've been elected, because I believe whether it's the city of South Fulton or the city of Milton, whether it's the city of East Cobb, the city of Mableton, I look forward and will probably speak in support of the city of Mableton, another part of Cobb County, Lost Mountain, Vinings, others, areas, I think, can solve their problems best when the decision makers are closer to the people," Setzler said.
One example Setzler left out was Atlanta's wealthy Buckhead district, where a group of residents is pushing to secede from the city citing rising crime rates. Bills to make that happen have been filed in the House and Senate, though Atlanta's representatives oppose the change, and state Republican leadership has been noncommittal.
Buckhead's example is more complicated than East Cobb — rather than an unincorporated area becoming a city, it would involve part of a city de-annexing and forming its own government.
But if cityhood proponents see East Cobb as a bellwether, they may w have a sense which way the wind is blowing. The House Committee on Governmental Affairs passed the bill Thursday morning, setting it up for a full House vote.
This story was updated Thursday morning at 10:30 to indicate the bill had passed committee.
This story comes to GPB through a reporting partnership with Georgia Recorder.
Secondary Content
Bottom Content