Section Branding
Header Content
Mercer Medical School's Columbus campus officially opens
Primary Content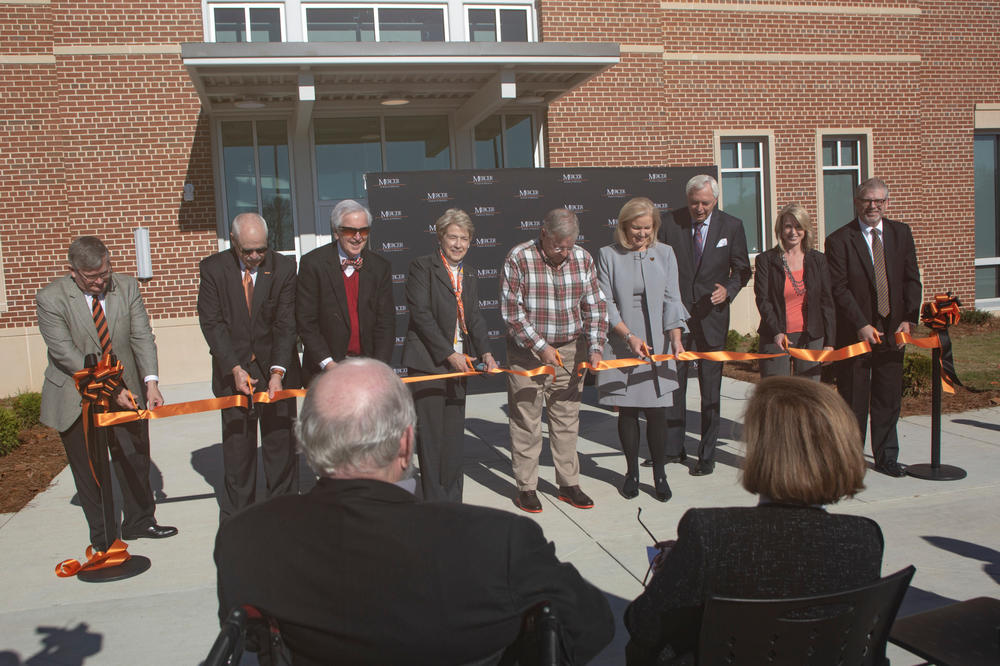 By Josh Mixon, Ledger-Enquirer
The next generation of healthcare professionals will soon be walking the halls of Mercer University School of Medicine's new Columbus campus.
The campus, 1633 ​First Ave., adjacent to City Mills hotel, opened with a private ribbon-cutting ceremony Tuesday. In attendance were Mercer administrators, state legislators, faculty and students​.
Mercer University President William D. Underwood told attendees that the campus will begin its spring semester in a few short weeks.
240 medical students will occupy the facility when it's "fully engaged," Underwood said, which will match the number of students at the school's Macon and Savannah campuses.
"These doctors will serve the state, but they'll especially be important to this community in Columbus, as well as southwest Georgia," Underwood said. "The scientists that will occupy the laboratories in the building will make important discoveries in the years ahead that will contribute to the quality of healthcare throughout this region."
The first class will consist of 30 students, all residents who have lived in Georgia for at least one year, per Mercer School of Medicine's admissions policy. The following semester, that will grow to 40, then 50 and so on.
"It's hard to overstate the impact that this is gonna have on Columbus," Brad Turner, president of the W.C. Bradley Co., said. "I think we all realize that healthcare and economic development go hand-in-hand. ... We didn't have something like this 10 years ago. We've got it now."
'Definitely on the prettiest setting'
The campus is built on six acres west of First Avenue and north of the train overpass adjacent to the TSYS campus. It overlooks the Chattahoochee River and lies ​steps away from the Riverwalk, which leads straight into downtown Columbus.
TSYS, a Global Payments company, gifted the land to the university, which scrapped its plans to turn the Rothschild Building on 11th Street into the new campus. The gift of vacant land allowed Mercer to construct the $32.4 million, 85,000-square-foot facility on the land that stretches north from Railroad Avenue to 18th Street.
"I think this will truly be one of the most impactful medical school campuses in the country," Underwood said. "It's definitely on the prettiest setting."
The school plans to have a guaranteed admissions program with Columbus State where, if the college's pre-med students meet the criteria for admission, they automatically get to attend medical school at Mercer's Columbus campus, Dr. Maurice Solis, senior associate dean for the Columbus campus, previously told the L-E.
Mercer medical students have been doing clinical rotations with Columbus doctors for more than 20 years. In 2012, the Macon-based university expanded its involvement in the local medical community by offering clinical education to third- and fourth-year medical students at Midtown Medical Center (now called Piedmont Columbus Regional) and St. Francis-Emory Hospital. That program has grown from 12 to 40 students in seven years.
Secondary Content
Bottom Content