Section Branding
Header Content
Macon's mayor wants to bring the community together to prevent violence. Here's the plan
Primary Content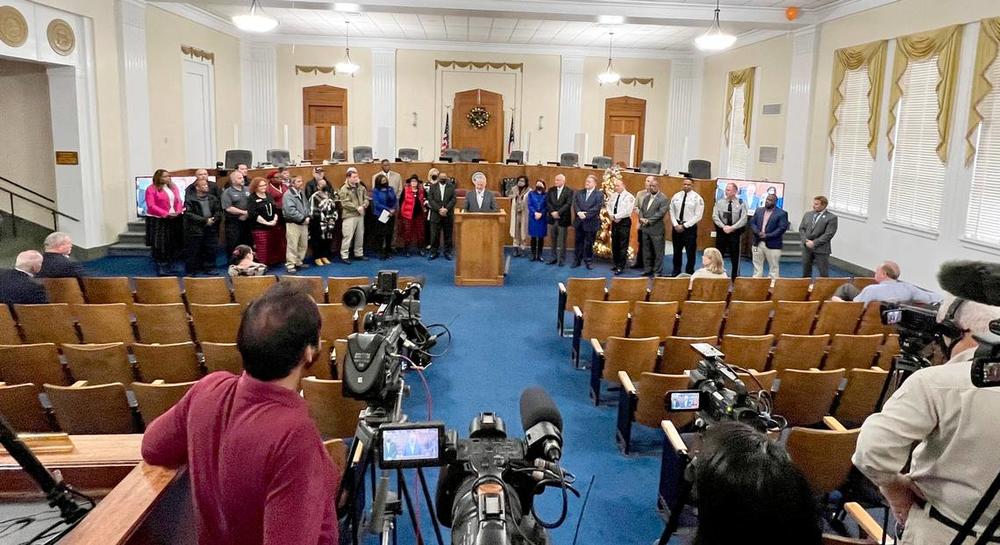 Macon-Bibb County Mayor Lester Miller unveiled a sweeping violence-prevention plan aimed in part at combating the soaring homicide rate here by uniting police, schools and dozens of local agencies with a common goal: curtailing crime.
The plan, which includes allocations of $2.5 million in grant money and $40 million to help retain sheriff's deputies and increase neighborhood patrols, is far from the first widely trumpeted effort to address violence-wrought ills that have plagued the county off and on for more than a century.
That said, Miller's effort may be the most ambitious and well-funded as it seeks not only to save lives and improve the quality of life, but also to thwart age-old perceptions and misconceptions regarding Macon's reputation as a crime-wracked, unsafe place — notions long believed to have hampered economic growth.
As he stood before dozens of civic leaders and officials Wednesday in the county commission chambers at City Hall, the mayor described the multi-faceted effort as "an unprecedented commitment to improving public safety" at a time when Macon finds itself at a crossroads.
"Are we gonna just sit back and complain about leadership ... about it being someone else's responsibility to (remedy violence), blaming others?" Miller asked. "Or are we gonna go down that pathway that says we are in this together? ... Today is the day that you get to decide. Are you with us or are you against us? Are you a fighter for the children, for our community, for economic development?"
Response to violence
The Macon Violence Prevention plan as it has been dubbed — "strategies for a safer Macon-Bibb County" — began coming together earlier this year amid a two-year stretch of a record-breaking number of homicides.
Since the beginning of January 2020, by The Telegraph's count, 103 people have been victims of homicide countywide. The 51 killings here last year were the most since 43 people were slain in 1992. So far this year 52 have been slain.
As recently as 2011, the annual homicide count here was as low as 13. In fact, if added together, violent deaths for the four years 2011 through 2014 combined to total 65.
It is in the past five years — with 200 total homicides — that Bibb County has seen its most marked and troubling increase.
The city's struggles with violent crime, however, are deeply seated. Looking back nearly a century, there were 22 killings in Macon in 1928. The death toll then, according to published accounts, lent the city a per capita homicide rate that ranked sixth-highest in the U.S.
Six years later, in 1934, Macon's homicide rate led the nation. While the death toll that year is not noted in Telegraph archives, a chart published at the time, when about 54,000 lived in the city, showed a homicide rate of roughly 81 deaths per 100,000 people. In 1935, Macon fell to second place on the list, but for the year there had been 31 killings.
It is against that decades-long backdrop of at-times increased bloodshed that Macon's latest effort seeks to stem the tide.
Community input
Through meetings with some 1,100 locals at more than a dozen community forums, the violence-prevention effort set out to identify key problems and fashion possible solutions, addressing issues that include poverty, drug abuse, homelessness, recidivism and food insecurity.
The results of an online survey early in the effort included feedback from more than 700 respondents. The questions the locals answered included such queries as "how serious you feel the level of crime is in your neighborhood" (38.4% said "very serious") and "how safe do you feel in your neighborhood" (9.3% were "very safe" and 62.5% were "safe").
Drugs were mentioned as a perceived leading cause of crime, followed by a "lack of supervision of minors," a "lack of education" and then "poverty."
Strategies outlined in the plan's law enforcement components to reduce violence include: "improving law enforcement-community relations," increasing police patrols, "investing in proven technologies to prevent crime," "investing in code enforcement ... and expand programs to combat blight."
The plan's "community-led strategies" include: improving education, investing in mental health programs, creating supervised activities for kids and stemming domestic violence.
Kathryn H. Dennis, president of the Community Foundation of Central Georgia, said the foundation will accept grant proposals and oversee the $2.5 million earmarked for suitable programs that seek to deter violence.
"The future," Dennis told the crowd at Wednesday's unveiling, "depends on us choosing good and supporting our brothers and sisters."
The mayor went on to say, "Look around this room today. Everyone here ... (is) unified in this important effort. We are fighting for our home."
Miller acknowledged that the city is in the early stages of launching what is "a very fluid program."
"As we know," he said, "there is no silver bullet in fighting crime."
He also addressed potential critics or those who might not buy in to the plan — particularly those on social media, some of whom seem to find glee in the city's woes.
"I will not be discouraged by the naysayers," the mayor said. "I will fight for Macon. And I know these people behind me today will fight for Macon.
This story comes to GPB through a reporting partnership with The Telegraph.
Secondary Content
Bottom Content