Section Branding
Header Content
Both Georgia legislative maps await Kemp's signature. Final congressional map is expected soon, too
Primary Content
A House vote of 96-70 along party lines sent the Senate legislative redistricting map to the governor's desk — joining the House map approved last week. 
"The proposed map splits only 29 counties," Bonnie Rich (R-Suwanee) said on the House floor. "Our Senate counterparts also engaged counsel to ensure compliance with the Voting Rights Act."
Republicans hope the legislative maps keep them in the majority at the state Capitol for the next 10 years.
But Democrats who spoke on the House floor told fellow lawmakers the new maps do not account for the changing demographics brought by the 1 million new residents in the state in the past 10 years.
"It is unconscionable to me that the map we are discussing and voting on today disregards Georgia's population growth and the diversity of this," Rep. Derrick Jackson (D-Tyrone) said.
Democrats also claim Republicans are ignoring the impact of redistricting on women lawmakers.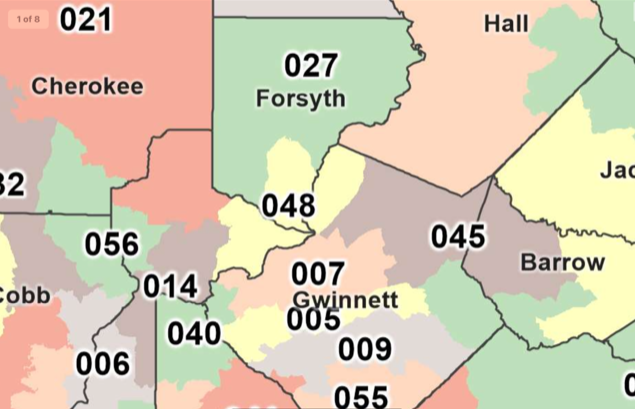 "At a time when the number of women elected to local office is just starting to climb out of the basement," Rep. Beth Moore (D-Peachtree Corners) said, "we should not be drawing maps that make it harder for women incumbents or harder for women to run and win in new districts."
The map moves District 48, currently represented by Sen. Michelle Au (D-Johns Creek), into heavily Republican Forsyth County. Au is the first Asian American woman in the Georgia Senate.
"It turns Senate District 48 into a majority white district," Rep. Bee Nguyen (D-Atlanta) said. "It took our state 230 years to elect an Asian American woman on the Senate side."
The Republican chairwoman of the House Reapportionment and Redistricting Committee disputed there was any effort to target Au's district.
"The Senate has been accused of targeting a senator," Rep. Bonnie Rich (R-Suwanee) said in reply. "That is an oversimplistic analysis of an extremely complicated process."
Republicans are expected to release their congressional redistricting maps tomorrow.
Secondary Content
Bottom Content