Section Branding
Header Content
High school football playoffs begin. But school reclassification is the contest off the field
Primary Content
GPB Sports' Jon Nelson joined All Things Considered host Rickey Bevington to preview the big weekend for 250 high school football teams.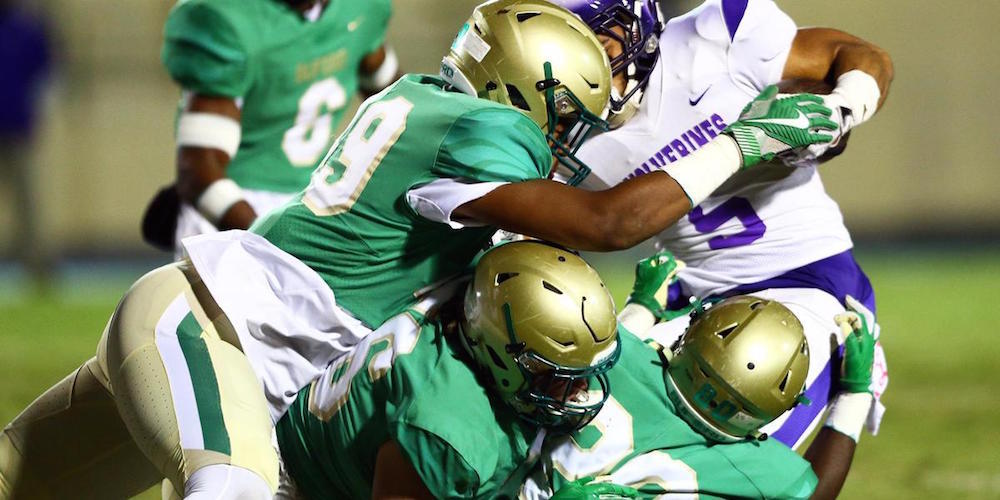 Georgia high school football teams are heading into the first weekend of the post-season playoffs. Things are different this year on the field with players and officials. 
GPB Sports' Jon Nelson joined All Things Considered host Rickey Bevington to preview the big weekend for 250 high school football teams. 
Rickey Bevington: Let's start with the teams. Most of them are returners from last year, but there are a few who, well, it's been a while. Or it's the first time. 
Jon Nelson: This is the fun part. Retention rates are usually at about 85% if you've looked at the playoff teams. There's that 15% — that's the fun story. And there are two teams that are making the playoffs this year for the first time ever in school history. One is a school in Macon, Ace Charter. They're in their fourth year. They're making the playoffs for the first time. And then there's Long County. Can you spell Ludowici?
Rickey Bevington: No, I can't. 
Jon Nelson: L-U-D-O-W-I-C-I in Long County. The Blue Tide of Ludowici. They are in the playoffs for their first time ever. Before this particular coaching staff was in, they'd only won one game in three seasons before. They're .500; they're 5 and 5. They're in for the first time. There's a school, Crawford County, down in Roberta in central Georgia. First time they're in the playoffs since 1998. Most of the teams, they've been in the playoffs, but it's been a couple of years' absence. But those are three of the biggest ones that we're facing this year.
Rickey Bevington: And who doesn't love an underdog story? I know not all of the games are going to be played tonight. In fact, one was played last night. 
Jon Nelson: Yeah, that one was played last night. So we know our first team into the second round. That's the fun part.
Rickey Bevington: And it's also a question of the availability of top officiating crew.
Jon Nelson: Yeah, we have games on Friday night and Saturday. The GHSA wanted to have their top officiating crews available for both nights. So we're not having all of the teams playing all of the games on Friday. Three of the classifications — the two smallest and one of the largest — their games are being pushed to Saturday. So the top crews can be at all of the games for this opening round. 
Rickey Bevington: Jon, there has been some real drama in high school sports here in Georgia — behind the scenes, behind closed doors — with the reclassification debate that took its next steps on Wednesday. What was the outcome of all of that? 
Jon Nelson: Fifty-three schools, if my math is correct — and I think that's one of the largest numbers, when we're talking about reclassification — wanted to appeal the decision for the GHSA, where they were going to be placed in their next classification for the 2022-2023 school year and beyond. Thirty-four of the schools that went in won their appeals. Nineteen did not. In the 19 schools that didn't are the city schools and the private schools that are having a multiplier attached to the out-of-area designation for some students. And the GHSA has one of the largest multipliers in the country. For every out-of-area student you count as three students. And so you could have schools that are playing up now two classifications because of all of the students that live outside of an area.
Rickey Bevington: But just because you can recruit from outside your area doesn't mean you're not going up against a school with way more money and better facilities and better training. So how was that fair?
Jon Nelson: That's going to be the interesting part of all of this. You're looking at growth in counties all around the state. And then you have the multipliers that are attached to it. And I think that the competitive balance argument and the recruiting argument is where the GHSA is looking at it. They're saying, OK, well, because you're a city school, anyone in the county can come and be in your city school and be in your district. So it's a matter of choice. And I think that the GHSA is looking at it from that perspective — of being able to choose versus where you live, where you have to go to school. 
Rickey Bevington: And not all schools are buying this. They're just leaving. 
Jon Nelson: There's one region, and it's a bunch of small private schools in middle Georgia, who said as a group that for the next cycle, they're leaving the Georgia High School Association. They're going to a secondary organization, the GISA, where they were before and now they're just returning. It'll be interesting to see if any other schools decide to go to the GISA as well, or if they're going to stay in the GHSA. 
Rickey Bevington: GPB-TV, of course, is featuring a big game tonight. What's it going to be? 
Jon Nelson: It is one of the top games in its classification. It is Coffee from Douglas, Georgia, down in the southeast corner. They're coming to just south of Atlanta to play Creekside, the only game in the Class 5A classification that has two teams in the top 10. Playing just south of Atlanta. And it's going to be a fun one. Get this. Here's your number for the day: Coffee High, they have played 15 road playoff games in a row. But yeah, the road warriors definitely coming from Coffee to go play Creekside. 
Rickey Bevington: You can catch GPB Sports' Jon Nelson tonight, Friday, 7:30 p.m. on GPB-TV, GPB.org and on the GPB Sports app. 
Secondary Content
Bottom Content