Section Branding
Header Content
Critics say lawmakers needlessly split cities during fast-tracked redistricting
Primary Content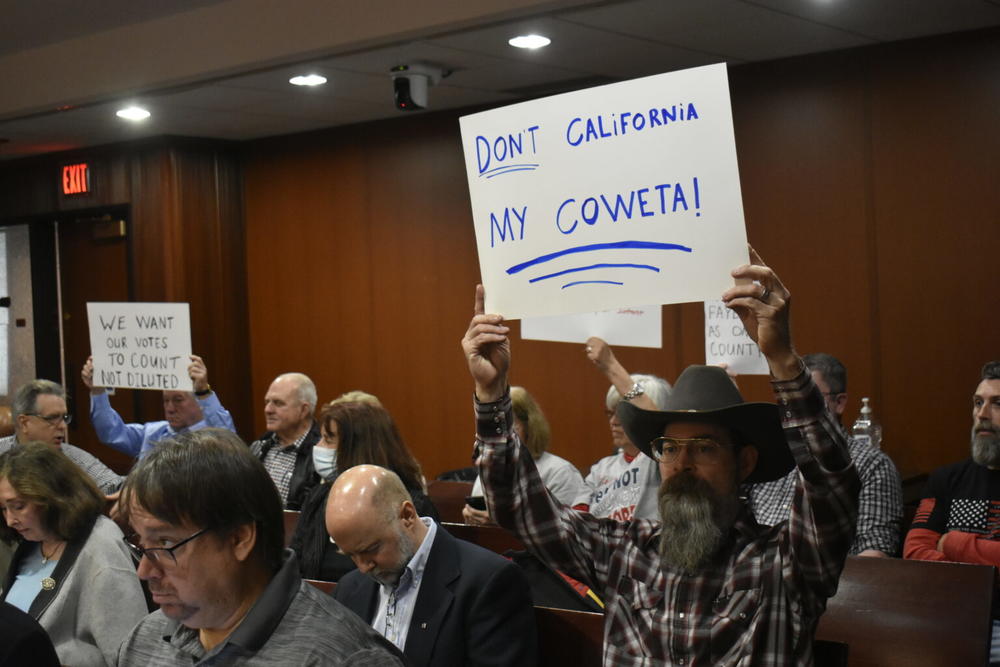 Georgia lawmakers' efforts to redraw the state's political lines continued apace Monday, despite bipartisan criticism that the process is moving too fast and carving up too many of the state's smaller cities.
The House unveiled a new legislative map shortly before a 1 p.m. meeting of the chamber's redistricting committee, leaving some activists and residents who had planned to attend scrambling to figure out what the changes meant.
Committee members say they need to move the mapmaking along swiftly because of reporting delays at the U.S. Census Bureau caused by the pandemic. Candidates will need to know which districts they are in before they qualify for 2022 elections in March.
But American Civil Liberties Union deputy political director Vasu Abhiraman said too much haste could create unintentional oversights Georgians could be stuck with for the next decade, giving the example of one Georgia Tech student apartment complex with about 2,000 residents he said was isolated from the rest of the campus in the House map.
"To act like the earlier town halls or even the time after the Census numbers came out were good enough is like telling an editor to send suggested edits for a piece of writing without having seen the thing that they're trying to edit," Abhiraman said. "This is the most valuable period of public feedback, and I would encourage the committee to open it up for a lot longer so that genuine, good faith oversights within the process can be pointed out by people who understand these communities."
Acworth Republican Rep. Ed Setzler said the maps were based on feedback from the public, and the latest iteration proves committee members are still making changes to suit the public interest.
Setzler held a scorecard from the Princeton Gerrymandering Project which gave two plans submitted by House Republicans and Democrats B grades.
"Both pretty doggone good scores relative to what could be expected, so the premise that we need to drag this out weeks and weeks and weeks and weeks and weeks and somehow make it better, a lot of work has gone into these maps, and I think we've got proof positive the maps before you are solid maps," Setzler said.
But people who signed up to speak at the four-hour-long meeting disagreed.
Many said they were from cities the maps would unnecessarily carve up into smaller districts, requiring constituents to have more than one representative to turn to for help.
Long Tran said he has lived in Dunwoody for ten years, where he has been a coach and led a Cub Scout pack. The current plan would slice off a small portion of the city, which would make Cub Scout civics lessons a bit more advanced political science.
"We often meet with our local city council and our state rep, and this adds a strange dynamic when we as a pack talk about being united as a community and focused as one community and this puts up a division that we have to explain to our younger generation, and I think it's not needed when our population has not grown to the point where it's justified to provide two state reps for one city," Tran said.
Suzanne Brown of Peachtree City did not mince words when she took the podium to critique the map that shows the Fayette County community split among three House districts.
"That's just ridiculous," she said. "We only have about 30,000 residents, but you're cutting the north half one way, the center part another way and a little teeny part on the bottom. It's going to be in a district that goes all the way to Stockbridge. What are they going to have to do with anything going on in the southern part of Peachtree City? I really feel that the plan you have right now is going to be a loss of voice for so many parts of Peachtree City by throwing us into districts that have a majority population that are completely different from our own."
The city of Stockbridge is 21% white and Peachtree City is about 80% white, according to U.S. Census estimates.
Julie Bolen, redistricting chair for the Georgia League of Women Voters, said the proposed map could do more to unite cities that are small enough to encompass their own legislative district.
"I think this is a universal concern across small cities in Georgia," she said. "The current map splits 64% of Georgia cities unnecessarily. According to the 2020 Census, those cities have sufficient population to fit into a single district, and yet the proposed maps reduce that by only a single percentage point, from 64% to 63%. We have a chance to reunite communities and comply with one of the principle tenets of fair redistricting, and that's keeping communities together."
Many others came to support Sharpsburg Republican Rep. Philip Singleton, a self-described constitutional conservative whose right-wing beliefs have sometimes put him at odds with his own party. Singleton has joined a suit to block the state from using its barcode balloting system and has gotten crossways with House Speaker David Ralston.
Singleton's Coweta County district is set to stretch north to south Fulton County, moving him from a district that went nearly 75% for Donald Trump in the last election to one that went 66% for Joe Biden.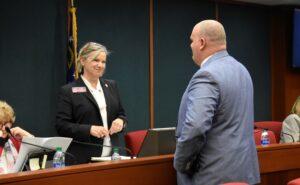 Dozens of residents came to the meeting to denounce the plan they said would leave their rural, conservative community represented by an urban liberal.
"I don't accept your attempt to California my Coweta," said Maxwell Britton, a Coweta resident who said he "escaped" from the Golden State after 15 years there. "I know why you're redistricting my county, and I'm truly awake. This is a move to disenfranchise our representation as a county, and my voice. I do not consent. I will not give up or forget, and I'm representing thousands of Cowetans that will hold you accountable."
Singleton has submitted an alternate proposal he says would preserve the communities he represents and still comply with all state and federal requirements.
The committee is set to meet again Tuesday morning. If they vote on a map, it will head to the full House, and if it passes there, move on to the Senate.
The Senate's proposed map for its new boundaries will move to the full chamber for a vote Tuesday — just a week after GOP leaders first unveiled it. Critics have derided the Republican-drawn plan as being rushed and not adequately reflecting the state's growing diversity and its politically divided electorate.
Senate Republicans currently hold a 34-22 majority in the chamber and propose surrendering one of those seats. The Princeton Gerrymandering Project gave the map a failing grade for being too partisan and not offering more competitive districts.
This story comes to GPB through a reporting partnership with Georgia Recorder.
Secondary Content
Bottom Content