Section Branding
Header Content
S. Ga. town changes street name to Barack Obama Boulevard
Primary Content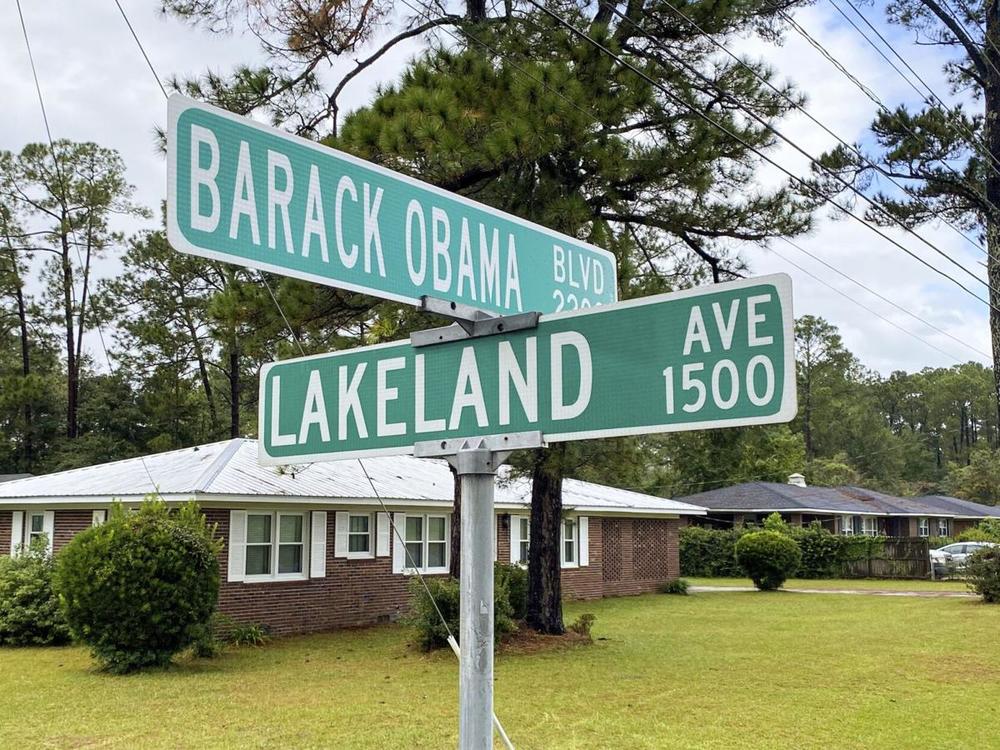 Brittanye Blake, The Valdosta Daily Times
Residents and officials gathered Saturday to unveil the new street sign — marking the change from Forrest Street to Barack Obama Boulevard.
City workers began changing street signs along the street earlier this month. The last sign was unveiled during the ceremony.
The ceremony featured many local and state leaders including Mayor Scott James Matheson, District 1 Councilwoman Vivian Miller-Cody, Sheknita Davis, a representative for Sen. Rev. Raphael Warnock, state Rep. Dexter Sharper, Bishop Wade McCrae, Bishop Reginald T. Jackson, hosted by Kevin Bussey and Nick "Big Nick" Harden.
The name change was a long time coming, speakers said, while the mayor added more changes are coming to improve Barack Obama Boulevard.
Matheson said Barack Obama Boulevard will undergo a $21 million "face-lift" starting in 2025.
The repairs will tackle drainage, traffic flow and sidewalk installation, the mayor said.
Miller-Cody praised the man and team behind changing the street name from what many people considered a designation honoring Nathan Bedford Forrest, a Confederate general and founder of the Ku Klux Klan, to one honoring the first Black president..
"Thank you and a job well done to D.J. Davis, the Action Club and all of those who had a hand in this major accomplishment for District 1 and for the City of Valdosta," she said. "I am proud more than ever to unveil Barack Obama Boulevard in our district."
Earlier this year and in past years, petitions to change the street name were filed then refiled. City leaders reviewed policies for changing street names. Different groups spearheaded the effort to rename the street at different times.
The effort to rename Forrest Street has been an effort by many in the community, beginning years ago with the Rev. Floyd Rose.
Dr. Thomas Hochschild, professor and advisor for Action Sociology Anthropology Club at Valdosta State University, presented David Jonathan "D.J." Davis with a plaque for his dedication to making positive change on VSU's campus and in the Valdosta community.
Davis said, "I am grateful for everyone that was instrumental in the changing of the street name. We (Action Club) ask that you continue to support us as we have more work to do."
Following the unveiling and ceremony, the event included food trucks, vendors and a kids zone featuring face painting, pumpkin carving and painting, bounce houses, pinata stuffing, a cake walk with prizes.
There was live music, musical performances and a step presentation.
Each of the speakers spoke on the theme of making dreams a reality and building a better legacy for the children who will grow up on the new Barack Obama Boulevard.
Secondary Content
Bottom Content