Section Branding
Header Content
State lawmakers protest Georgia labor department's new secrecy rules
Primary Content
Georgia state House Democrats are expressing outrage over a state Department of Labor pilot program they claim unfairly burdens efforts to assist Georgians seeking unemployment benefits. 
Georgia House Democrats are calling on Republican Labor Commissioner Mark Butler to press pause on a new online portal that requires legislators to sign a confidentiality agreement to obtain unemployment information about constituents who ask for help securing benefits. Labor department officials, however, dismissed claims that the program is political retribution against lawmakers who harshly criticized the department's backlogged cases and other glitches throughout the pandemic.
Critics of the new program say the nondisclosure agreements likely prevent them from speaking publicly about problems processing state unemployment benefits before state or federal agencies.
Democratic state lawmakers also argue that the agreement exposes legislators and their staff to potential criminal and civil liability while maintaining access to the portal where Social Security numbers and other sensitive information is stored.
State Rep. Sandra Scott, a Democrat from Rex, declined to take part in the pilot program after seeing the details of the agreement and getting feedback from her political party. The labor department and its commissioner seem to be shifting responsibilities to legislators that Butler's office should handle, she said.
"We are state legislators," Scott said. "Our job is to serve the 54,000 people we have in our district. The Department of Labor's job is to pay people their unemployment. Their job is to take claims from people. 
"But they're trying to give all of this information and then hold us accountable and liable if something happened like a data breach or if a machine broke down."
The new portal will aid legislators when constitutions approach them, Butler said on Tuesday.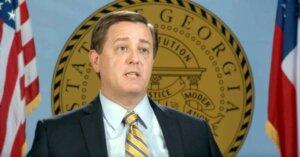 "We have welcomed feedback and implemented improvements from those participating in the program, but have yet to hear anything from Rep. Scott before this political statement that fundamentally misrepresents the intent of this program," he said. "The GDOL will continue to protect the unauthorized disclosure of employee and employer information just as federal and state law dictates."
A spokeswoman for the Georgia labor department added the program will help legislators gain insight into jobless claims processing while ensuring state and federal laws are respected.
"The legislators are acting on behalf of the constituent with their consent when inquiring about a claimant's information," department spokeswoman Kersha Cartwright said. "The (labor department) takes this responsibility to protect claimant information very seriously and we created this voluntary program as a service to legislators to help constituents with their concerns."
As unanswered calls and emails from frustrated displaced workers remained high over many months during, desperate Georgians turned to lawmakers, who tried to impose new legislative oversight on Butler. 
The Legislature's attempt to create a new high-level staffer who would share duties with the state's elected labor commissioner received bipartisan support, but Republican Gov. Brian Kemp vetoed the bill, claiming that it violated the state's separation of powers.
In the first 16 months of the pandemic, the labor department staff found itself processing more unemployment insurance claims than it had in the previous 10 years combined. 
However, the agency's problems were noted in the U.S. Office of Inspector General report, which stated that Georgia's labor department had not provided all necessary data and information.
The letter references difficulties many states experienced with federally boosted unemployment benefits due to inadequate staffing and insufficient technology, as well as a lack of oversight to ensure benefits are paid promptly.
Two months before the temporary federal unemployment benefits program was to expire, Kemp and Butler halted the program, claiming the extra $300 allotment discouraged workers from applying for vacant positions that employers had trouble filling. 
Georgia's unemployment rate has rebounded, according to the GDOL, with August's 3.5% slightly below pre-pandemic levels in March 2020 of 3.6%. After the governor declared a public health emergency in April 2020 to contain COVID-19, Georgia's jobless rate soared to more than 12% as 1 million workers suddenly found themselves unemployed.
This story comes to GPB through a reporting partnership with Georgia Recorder.
Secondary Content
Bottom Content