Section Branding
Header Content
State Capitol grounds ringed by foreboding steel fence spurred by 2020 protests
Primary Content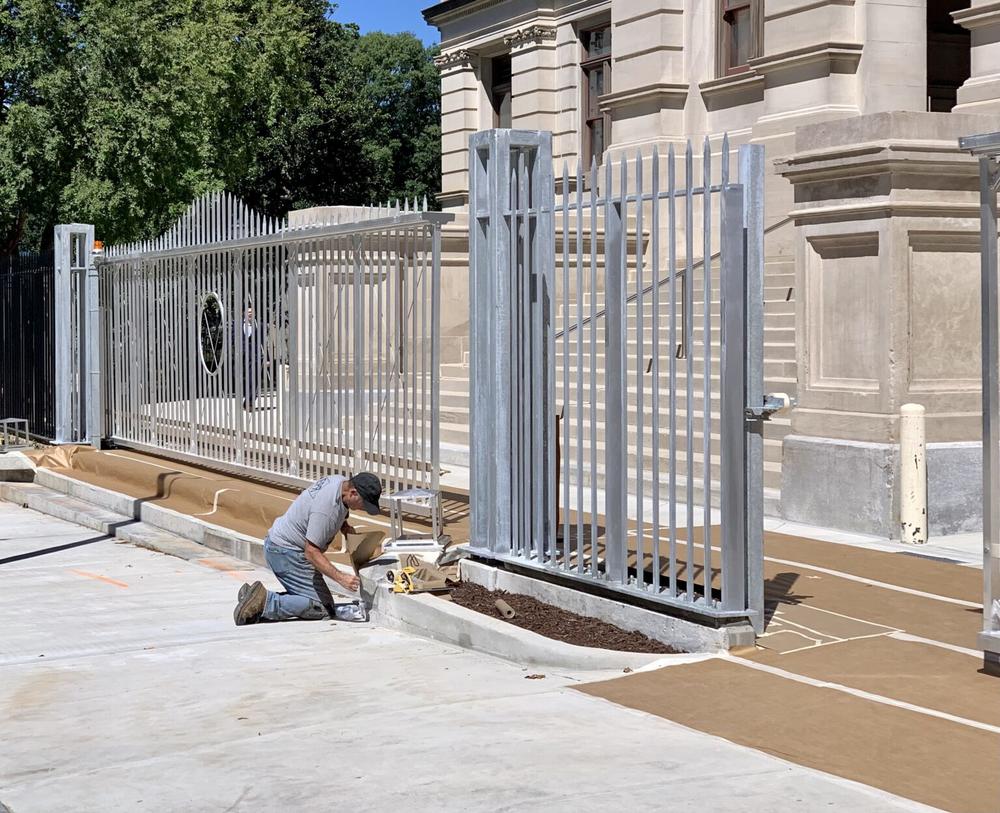 The new 8-foot tall steel fence surrounding the state Capitol will give a fortress-like feel as lawmakers, lobbyists and visitors return in force in early November for a special legislative session.
The Georgia Building Authority completed the extensive security fence project this month after crews painted the bars and put finishing touches on the gates around the four main entrances.
Trish Merriman has watched as the fence slowly took shape this year while she worked as a paralegal in downtown Atlanta. She said she understands taking safety precautions but that the sight of the imposing fence around the Capitol a bit jarring.
"It's a little startling seeing what it looks like now and I could see how it might disarm even people with good intentions," Merriman said. "But like most things I think most will eventually get used to it being there."
Depending on who you talk to, the steel black fence either provides much-needed additional protection or is an unnecessary waste of taxpayers' dollars that sends the wrong message to the public. The governor is said to be happy with the project he pushed through last fall, but Democratic lawmakers have criticized the barrier as an overreaction to perceived threats.
In response to civil unrest in Atlanta last year, Republican Gov. Brian Kemp called for the installation of a fence to deter unruly demonstrators from approaching the Capitol building and its officials. The gold domed building was completed in 1889 and designed to look like the U.S. Capitol.
One of the purposes of the fence is to cut down on late night security and from having to deploy National Guard troops to protect the grounds. It's also a response to an intrusion in October 2019, when a flagpole-wielding 27-year-old man slashed portraits of two former governors, injured two police officers, and broke more than a dozen light fixtures on Capitol grounds.
Kemp is pleased with how the project looks now that it's close to completion. The plans come from the advice of law enforcement agencies and the building authority following break-ins and a growing need for permanent security, Kemp spokeswoman Katie Byrd said.
"We are confident the new security measures will address those serious concerns for staff and public safety while also keeping the Capitol grounds open and accessible," she said.
For House Minority Leader James Beverly, however, the fence could represent a shield used to keep out interest groups and protesters that those in power would prefer to keep away. 
"I think that the beauty of democracy is that people have a right to protest and that matters," said the Macon Democrat. "We should not create barriers that will prevent people from having their voice heard and that fence is a visible barrier."
"It's an emotional barrier for people who want to speak truth to power, truth to government," Beverly said.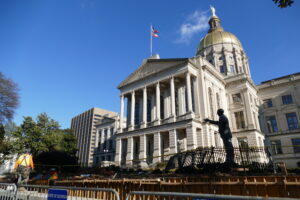 After a violent summer weekend in Atlanta last year, Kemp would call upon as many as 1,000 National Guard troops to protect state buildings, including from protesters calling for the toppling of a prominent Confederate monument.
Money for the latest security upgrades was also spent at the Georgia State Patrol headquarters that was vandalized during the protests and at the governor's mansion in Buckhead where peaceful demonstrations were held in 2020 during a season of protests against police violence against Black people.
Early this year, armored vehicles and a large contingent of state troopers and police assembled to protect the Capitol grounds after far-right mobs stormed the U.S. Capitol on Jan. 6 in a deadly insurrection.
Initially, the fencing was supposed to be complete before the end of summer, but setbacks have hampered the project during the pandemic. The state department managing the project say they still expect it will be complete before the Nov. 3 special redistricting session begins and well before the January regular session begins. 
"Unfortunately, the entire construction industry is experiencing long lead times on materials and having issues with labor shortages, which slows progress," said Gerald Pilgrim, deputy executive director of the Georgia Building Authority.
In addition to the fence, the $5 million to tighten security at the place where the public's business is conducted is also paying for a new guard house to shelter troopers, scheduled to be ready by the start of November when Capitol crowds return for the first time since spring. The station will have monitors connected to an updated camera system around Capitol Hill and will act as a control room for the state Department of Public Safety.
This story comes to GPB through a reporting partnership with Georgia Recorder.
Secondary Content
Bottom Content