WATCH LIVE | Former First Lady Rosalynn Carter's Carter Center Departure Ceremony and Tribute Service at Glenn Memorial Church at Emory University at 11:30 A.M.
Section Branding
Header Content
Ossoff Delivers Good Hit, Unlucky Pitch Performance At Congressional Baseball Game
Primary Content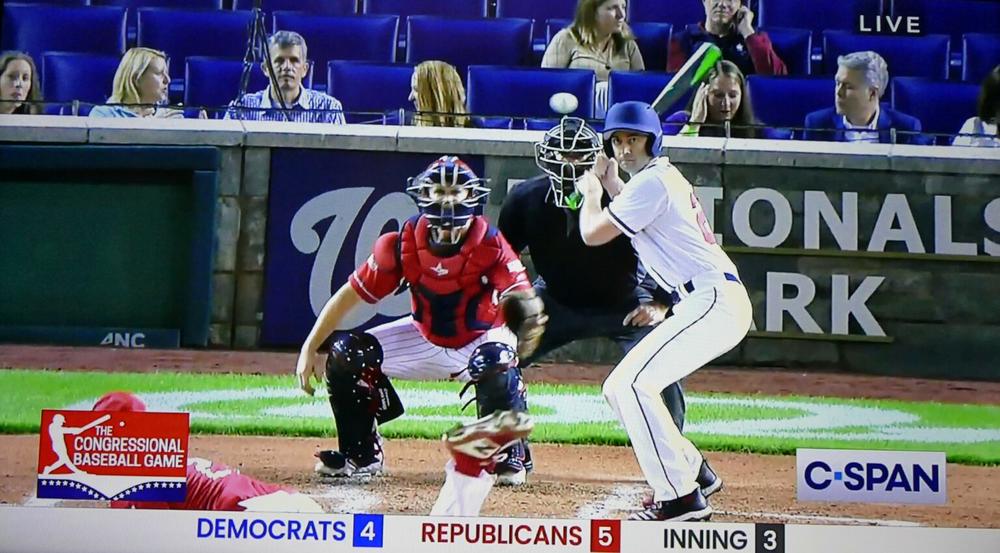 Georgia U.S. Sen. Jon Ossoff left his two-way mark on the annual bipartisan Congressional Baseball Game, with (relatively) sizzling baserunning and solid fielding at third, but he took the loss for the Democrats in his late-game pitching performance that allowed the GOP squad the winning runs.
Ossoff was among the frisky youngsters on the field Wednesday night as the 35-year-old first-term senator stole three bases, got accidentally hit in the helmet by Republican workhorse starting pitcher Greg Steube of Florida and eventually gave up the game 13-12 for the Donkey team in relief.
Georgia helped flip the U.S. Senate to the Democrats in January in a roller coaster runoff by electing Ossoff, handing the state's federal representation to Democrats for the first time since 1992. But the friendly competition on the eve of Congress' monumental political challenges was just a break in financial brinkmanship.
Wednesday's game continued a tradition started in 1909 and included dugout whispers between President Joe Biden and U.S. House Speaker Nancy Pelosi, who are negotiating several financial crises this week.
Republican Georgia Rep. Andrew Clyde of Athens was visible cheering Florida's GOP fellow 2020 election-denier Steube after the congressional team's other star hit the first over-the-wall homer in around a decade. Northwest Georgia Trump loyalist Rep. Marjorie Taylor Greene was on the roster but didn't take a swing.
Biden made bipartisan visits to both dugouts as he works to mend a close split to advance his agenda to cement a $1.2 trillion plan to pay for traditional infrastructure fixes like roads and bridges and a $3.5 trillion plan that advances one of the broadest social agendas in history. U.S. House Speaker Nancy Pelosi made an appearance even as her busy schedule includes plans on a collision course with the Democrats' biggest social aspirations in decades.
The game featured more than a few congressional players who gave it the old college try, but without the range they might have had in glory days. Early on, you saw more inside-the-park homers than usual in organized play as lawmakers played too short in the outfield.
Ossoff got on base often in the early stages of the game, hit by a pitch in the third and singling in the fourth. He showed off his fielding skills later in the fourth, closing out a GOP threat with a nice throw and catch.
When the game ended after the regulation seventh inning, the GOP squad stormed the field with handshakes all around for Steube.
This story comes to GPB through a reporting partnership with Georgia Recorder.
Secondary Content
Bottom Content