Section Branding
Header Content
Georgia's Second Fall Festival Season Of Pandemic Has Organizers Uneasy
Primary Content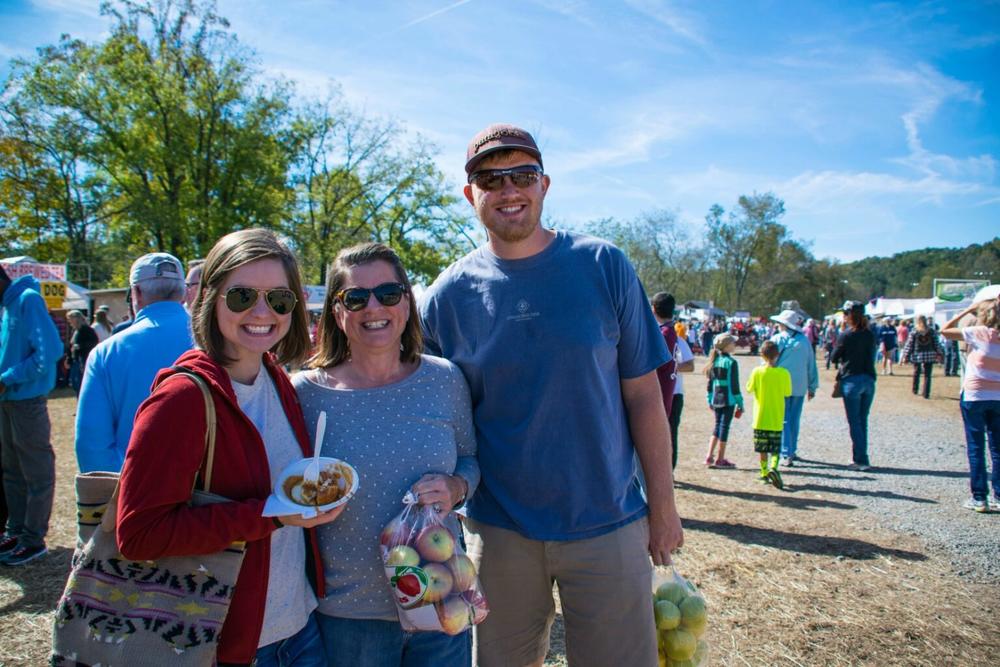 In north Georgia, fall means crisp apples fresh from the tree, and for 50 years, people have been enjoying them brewed into cider, baked into pie or candied on a stick at the Georgia Apple Festival in Ellijay.
The fall fruit festivities are set to begin Oct. 9, a welcome return after the pandemic forced organizers to call off last year's event.
Hand sanitizer stations will be set up around the festival, and visitors who take the shuttle bus will need to mask up before they board, but COVID-19 is affecting fall traditions around Georgia in less visible ways.
Though the apple festival will still offer around 200 booths for attendees to peruse, that's about 30 fewer than in previous years, and it's been harder to drum up volunteers to help run the festival, said Jennifer Grimmer, president and CEO of the Gilmer County Chamber of Commerce.
"Each gate, instead of having four people, will probably have two, things like that," she said. "Hopefully, the garbage gets emptied as quickly, hopefully, we have as many parking attendants as we need, but at the current stage, when we called all previous volunteers, at one point, we only had about half yes and half no, from past volunteers."
Grimmer said it looks like there will be enough people stepping up to pull off a successful festival, but she's waiting to see what the crowds will look like, both for the festival and the local agritourism orchards. Local lodgings are nearly booked to capacity.
"They're definitely coming, there's just a little bit of a question mark about how many of them are coming up for the family, cabin, apple picking experience and how many of them are coming to go to the festival," she said. "Our numbers this year are a big question mark, and I'm really interested to see what those numbers look like when the festival is over. I don't anticipate it'll be as busy as in the past because just statistically, from the people avoiding crowds, I think it'll be down, but who knows?"
Across Georgia, festival planners have question marks of their own about the future.
Organizers of the Atlanta Dogwood Festival in Atlanta issued a plea for financial support from city residents after postponing their event three times since 2020 and hosting a downscaled event in August.
"Expenses were high as the festival honored financial commitments, but revenues diminished to the point that the nonprofit festival, with an eight-decade history in Atlanta, is on the verge of becoming history itself," the organizers wrote in a statement.
Music festivals like the Wildwood Revival outside Athens have canceled for the year and refunded ticket holders citing concerns over the delta surge.
Gatherings ranging from Atlanta Pride to the Brooklet Peanut Festival near Statesboro, both scheduled for next month, have taken the same approach, apologizing to longtime fans and pledging to return next year.
Events featuring food are facing their own problems — the restaurant industry was hard-hit by the pandemic and has struggled to hire back enough workers to keep the kitchens staffed without catering large events as well.
Two Cobb County cities recently announced events featuring local restaurants would be canceled. Organizers of the Taste of Marietta and the Taste of Smyrna both said staffing issues would make the yearly events impossible.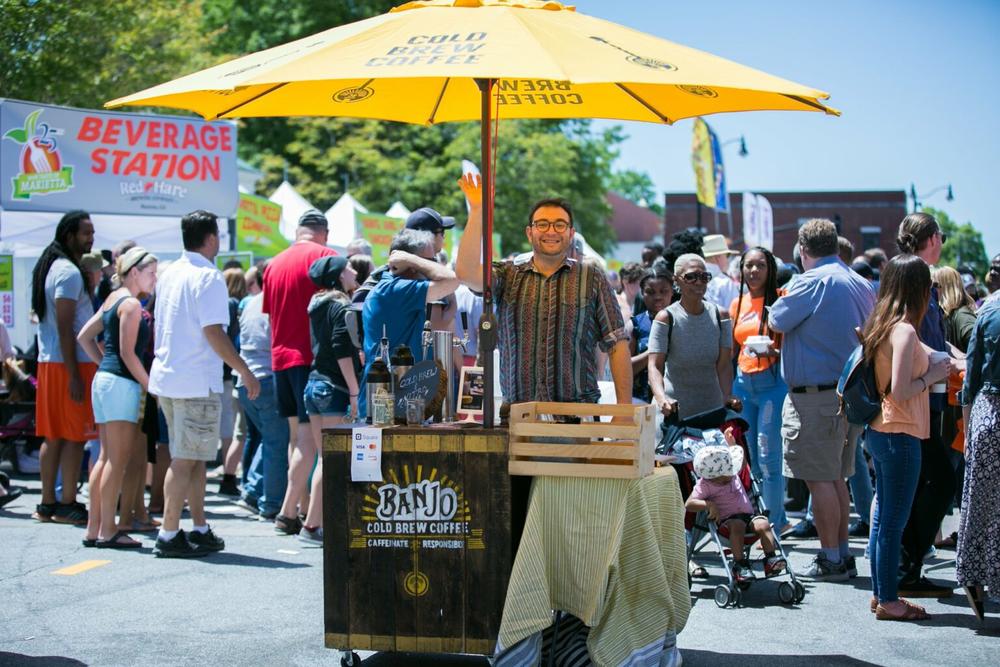 It's the second time for the Marietta event to be postponed — Taste of Marietta is usually held in the spring but was delayed until the fall this year because of the pandemic.
"We didn't want to have a festival that could cause them more stress to try to figure out how to manage the storefront and the festival booth," said Courtney Spiess, executive director of the Marietta Visitors Bureau. "We didn't want to have the festival that we know would be half what it normally is. We want to keep the integrity of the event to the best that we can, we always want to put our best foot forward."
On the bright side, Spiess said, Chalktoberfest, a festival presented by the Marietta Cobb Museum of Art featuring artists from around the world creating impressive works of art on the streets around Marietta Square, is still scheduled to go forward starting Oct. 9.
"We're excited to still have it and be present at it because it's a great opportunity to promote the arts in the area and to bring in a bunch of great artists and then also to bring in people to experience Marietta as well," Spiess said. "Thankfully, that isn't a food-centric festival, so it is able to go on, and I know we're excited about it, just crossing our fingers for a great weekend full of awesome weather."
The economic benefit of the tourism dollars spent at events like these is sometimes overstated, at least at the state level, said Bruce Seaman, associate professor of economics at Georgia State University's Andrew Young School of Policy Studies.
That's because the people who attend festivals would likely spend their money in the local economy even without the events.
But events that attract people from across county or state lines are more significant, especially in smaller communities, where festivals can be big moneymakers for local business owners who welcome tourists into their shops, hotels and restaurants.
"Some of those particular noteworthy places in a local area already have a reasonably solid clientele that shows up from surrounding areas on a regular basis, but it's very true that some of the particular institutions that are very popular do extremely well for these mega events are not very frequent, maybe they are on an annual basis, but they do depend on that during the year to help them from the normal down periods," Seaman said.
And festivals can also benefit local communities in ways that are harder to calculate, he added. Areas that celebrate the arts, culture and history attract new residents, who in turn create new economic opportunities.
"When there's a lively environment, it makes the place more attractive, when you have attractions like that, mobile, educated, high-quality workers — and you don't have to be that educated, to be very much in demand, some of the most in-demand occupations are plumbers, electricians, and carpenters — if they want to hang out in a place like that, they'll move to those areas, and typically, employers, companies will follow," Seaman said. "It's not so much that people follow the job, sometimes the jobs follow the people. It's a complex relationship."
This story comes to GPB through a reporting partnership with Georgia Recorder,
Secondary Content
Bottom Content