Section Branding
Header Content
State's Top Public Health Official Tears Up, Thanks Workers For Continuing Despite Being 'Ridiculed'
Primary Content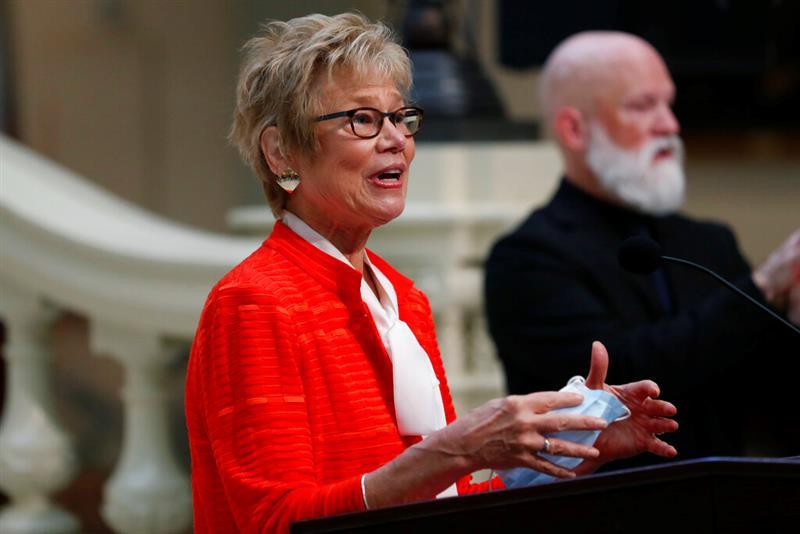 Public Health Commissioner Dr. Kathleen Toomey, the state's top public health official, broke down in tears Tuesday as she thanked public health workers for their efforts in the pandemic. She praised the workers for continuing to do "incredible" work, even though "we're not only not valued, we're ridiculed."
"It's been extremely challenging at every level," she said. "I cannot tell you how challenging it has been."
Her remarks came at the first full gathering of the nine-member public health board since the pandemic began in March 2020.
"Public health workers are exhausted, just like hospital and other health care workers," she said. "Often because we're doing things that are not necessarily valued, like telling people to be quarantined or telling people to be isolated or telling people to wear a mask, we're not only not valued, we're ridiculed."
Toomey referred to criticism on social media and in person at testing and vaccination sites — sometimes forcing the latter to close. 
"We're lambasted on social media or, as happened at several of our testing sites, booed and jeered to the point that our vaccination sites rather had to close," she said. 'As I have gone around the state visiting the various county health departments, I can see the burnout and fatigue on the faces of the epidemiologists, the nurses, the other staff.
"We really have to think: How can we continue to support our staff, even as we continue to fight a pandemic?"
Toomey cited a recent study by the Centers for Disease Control and Prevention that found 53% of public health workers were experiencing at least one mental health condition, such as depression, anxiety or post-traumatic stress disorder. 
"I take those results very seriously," she said.
The pressures public health officials are facing are "unprecedented," Toomey said, adding she "cannot thank you enough for what you've done to protect our state in this once-in-a-lifetime crisis."
When Toomey finished her impassioned speech, the board held a round of applause for public health workers. 
Dr. James Curran, who chairs the board and who also serves as the dean of Emory University's Rollins School of Public Health, told her: "Don't worry about the tears. That's a sign of humanity."
The board meeting came as COVID-19 cases have surged over the summer, including the state witnessing a "staggering number of deaths," said Dr. Cherie Drenzek, Georgia's state epidemiologist.
"We're very much at peak levels," Drenzek said.
The state has seen a slight decrease in cases over the last seven days, she said, but it was difficult to draw any conclusions from that dip just yet.
The current surge is being driven by the highly contagious delta variant spreading through unvaccinated communities. Children now make up more than one-quarter of the total case numbers in the state, she said.
"Children have really bolted up," she said. "Tremendous impact in children, much much different than the other waves of the pandemic."
The majority of children contracting COVID-19, she said, fall between the ages of 10 and 17 — in other words, mostly middle schoolers and high schoolers.
"Huge numbers here," she said. "The magnitude of the number of cases here in this age group of school children is very significant."
The end result, Drenzek said, is "having many, many outbreaks in K-12 schools." She said recently the state was seeing more than 100 outbreaks in schools in recent weeks. 
"In the past week, typically we have been seeing over 60% of all of our outbreaks are occurring in schools," Drenzek said. "Again, there's a lot of transmission ... in these school settings."
Gov. Brian Kemp has so far refused to issue a statewide mask mandate, especially in public schools. Public health officials have said masks would greatly cut down on the spread of the disease.
In her comments, Toomey also used the moment to push for more public funding, saying the health agency has experienced "boom or bust" cycles in the 20 years since 9/11. Budget cuts, she noted, always come in non-emergency years.
"We're not left with a sustained investment in the public health infrastructure that we need," she said.
And all of that under-funding was exposed by the pandemic, she said.
"This pandemic has offered us a once-in-a-century chance to transform our public health system into an integrated health system with the state-of-the-art data reporting, staff training and development, collaborations for staff growth with universities and the business community — and no longer siloed health systems," Toomey said. 
Secondary Content
Bottom Content