Section Branding
Header Content
Across State, School Bus Driver Shortage Complicates Return to Classroom
Primary Content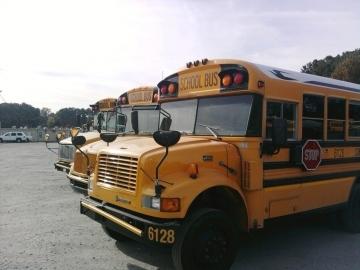 School districts are returning to in-person classes after a year of virtual lessons, but a shortage of bus drivers across the state could create more obstacles for students.
Savannah-Chatham County Public Schools has been hit especially hard by the shortage. Executive Transportation Director Paul Abbott said they've had to cut some bus routes.
"When we started school this year, we were 114 drivers short, so that's about 30%," Abbott said. "And at that point, you know, there's got to be decisions made because we just didn't have the capability to do everything."
SCCPSS adjusted start times for all K-8 schools to allow bus drivers more time to transport students. The district reports there are about 25,000 students who rely on buses each year.
Under a new priority-level system, only students who attend a zoned school will have access to school buses, leaving charter school and alternative education students to their families' own devices for transportation.
Abbott said living near a port creates more competition for drivers with the commercial driver's license required to operate school buses.
In the metro Atlanta area, Clayton County, Fulton County, Gwinnett County, and Atlanta Public schools are each looking to hire 20 to 30 more bus drivers.
Districts have been offering signing bonus incentives as high as $1,200 to attract more qualified applicants, but they still haven't been able to fill all the open positions. Atlanta Public Schools Chief Human Resource Officer Skye Duckett said they're facing a lot of competition.
"FedEx and UPS and now the delivery services for groceries are up and they're hiring a lot," Duckett said. "You can deliver, you'll set your own schedule and do dropoffs and pickups from this new industry that lets you work when you want."
COVID-19 has created further complications for retaining drivers who see driving large groups of students during the pandemic as a health concern. Richmond County Transportation Senior Director Dwayne Porter said training new drivers can take up to six weeks.
"They have to get a learner's permit to drive a school bus that consist of four written test or computer tests," Porter said. "They have to have a good driving record. They have to have a clean criminal background history, submit to a drug testing. They have to have an annual physical and an ongoing training."
Once an applicant has gone though all those steps and received a CDL, then they can be assigned a bus route.
Interested applicants can apply online at the Atlanta Public Schools, Savannah Chatham County Schools, or Richmond Schools websites.
Secondary Content
Bottom Content