Section Branding
Header Content
Mask Anxiety Returning To Georgia College Campuses, Now With Vaccine Controversy
Primary Content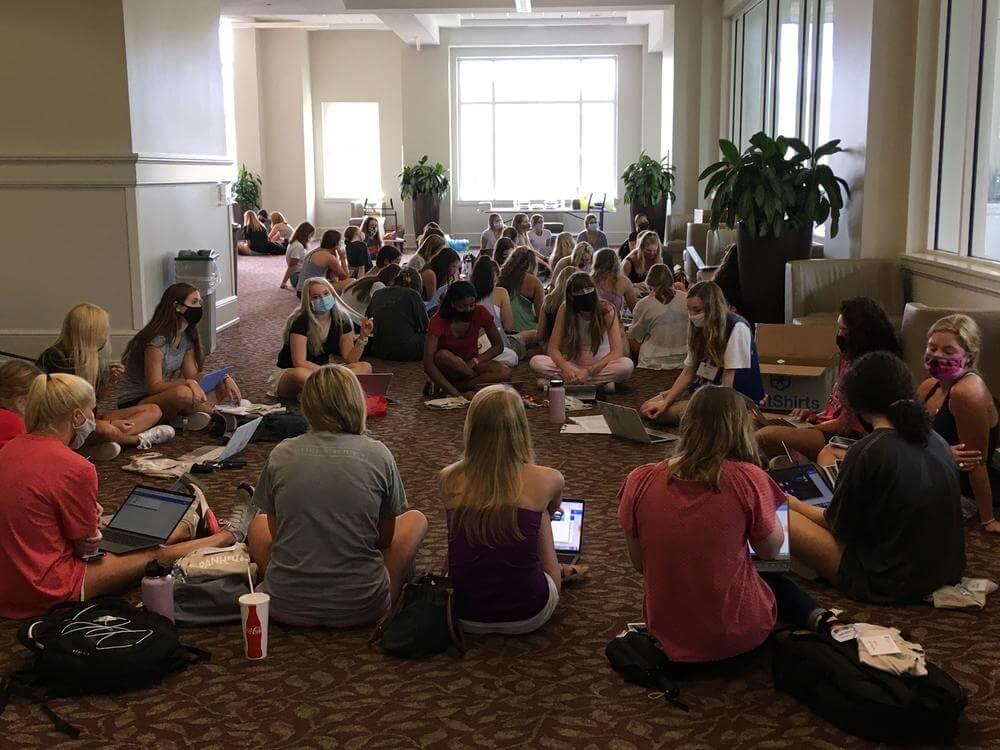 When Georgia college students return to their classrooms this month, masks and vaccines will be encouraged, but not required, according to guidance from the University System of Georgia posted on the University of Georgia's COVID-19 response website Monday.
"The University System of Georgia recognizes COVID-19 vaccines offer safe, effective protection and urges all students, faculty, staff and visitors to get vaccinated either on campus or with a local provider," the USG's advice reads. "Additionally, everyone is encouraged to wear a mask or face covering while inside campus facilities. The system continues to work closely with the Georgia Department of Public Health to prioritize the health and safety of our campus communities."
Masks and vaccines have reemerged as topics for debate in recent weeks as cases rise again — there were 2,568 confirmed cases in Georgia as of Friday, up from 355 on July 1, according to state health department data. 
Several of the university system's 28 institutions sent out messages to students, faculty and staff on Monday outlining the plans for the coming semester and calling on students to get vaccinated.
"There are no changes in our current plan to be fully open and engaged," Georgia Southern University President Kyle Marrero wrote in a Monday email to students. "Though face masks are not required, they are encouraged while inside campus facilities. I want to also encourage you strongly, if you have not already, to get vaccinated. My wife and I have been vaccinated and as soon as my daughter turns 12, she wants to be vaccinated also."
Junior Clara Jordan said she was saddened but not surprised to get the email. She registered for online classes this semester anticipating something like this would happen.
"It's honestly disappointing," said the women's, gender and sexuality studies major. "Georgia Southern was one of the top COVID hotspots at the beginning of the pandemic. Seeing that it will likely have that happen again thanks to the careless decision to not enforce masks when we were on the cusp of normalcy is incredibly frustrating."
Georgia Southern, which is set to begin classes Aug. 11, reported 30 cases in the week ending Aug. 1, the highest total since February, according to data compiled by Matthew Boedy, president of the Georgia chapter of the American Association of University Professors and a professor at the University of North Georgia.
"While the (university system) can't mandate vaccines due to the governor's executive order that defies science and common sense, it can and should mandate masks," Boedy said. "Cases continue to rise on campuses that track them closely with good surveillance testing — Tech and UGA. Tech now has cases in campus housing. And now Georgia Southern sees its first spike."
Boedy points to state vaccine data that shows college-age Georgians are less likely to be vaccinated — 33.5% of 15 to 19-year-olds are fully vaccinated, and 36.9% of 20 to 24-year-olds are, compared with 40% for the state as a whole.
"I will be masking in class," Boedy said. "I will also offer a small lecture on the first day with the numbers above. I also will be teaching a class on misinformation this fall. This is also a pandemic of the misinformed."
Georgia Tech President Ángel Cabrera used the guilt trip approach to preach the efficacy of vaccines in a Monday message to students posted on the school's coronavirus update page.
"If you choose not to get vaccinated, you will be at risk of contracting COVID-19 and infecting others, with potentially severe consequences for you or someone else," he wrote. 
To lower the risks, those who are not vaccinated are encouraged to wear a mask in indoor public places, he added, but those who do not receive vaccines or wear masks will not face consequences.
"To be clear, neither vaccination nor masking in indoor public spaces is required at Georgia Tech," Cabrera wrote. "The University System of Georgia (USG) continues to work closely with the Georgia Department of Public Health to prioritize the health and safety of our campus communities. While I hope you will follow these public health recommendations, we will respect individual choices."
Last summer the University System of Georgia initially announced masks would be optional but reversed course after outcry from faculty members, including a petition signed by more than 800 members of Georgia Tech faculty.
One professor who signed that petition, biologist Joshua Weitz, took to Twitter Monday to urge acting USG Chancellor Teresa MacCartney to mandate vaccines and masks. 
"In the absence of mandates, we are receiving late-breaking aspirational messaging, which the virus won't care about," Weitz tweeted. "When the @BORUSG 'urges vaccinations' and 'encourages masks inside campus facilities', then let's face facts: many simply will not comply because it's not a mandate, and there are no institutional consequences (but there will be viral consequences)."
Scientists and health experts agree that the COVID-19 vaccines are safe and effective at preventing or reducing the severity of cases, but large portions of the population still mistrust the treatments, and Georgia consistently ranks near the bottom of states for vaccinations per capita. Others, like Gov. Brian Kemp, say they support vaccines but believe a mandate is not the right solution.
That's a sentiment echoed by Oconee County mom Joy Morin, who moderates a Facebook group with over 5,000 members who support keeping Georgia colleges open.
"The vaccines are available to those who wish to take them, but I do not think they should be mandated for anyone," she said. "That needs to be a personal choice. There is risk involved in all of this, so individuals need to do that risk assessment for themselves."
This story comes to GPB through a reporting partnership with Georgia Recorder.
Secondary Content
Bottom Content