Section Branding
Header Content
Truck Slams Into Bridge On Interstate 16, Creates Traffic Chaos On Major Thoroughfare To Savannah
Primary Content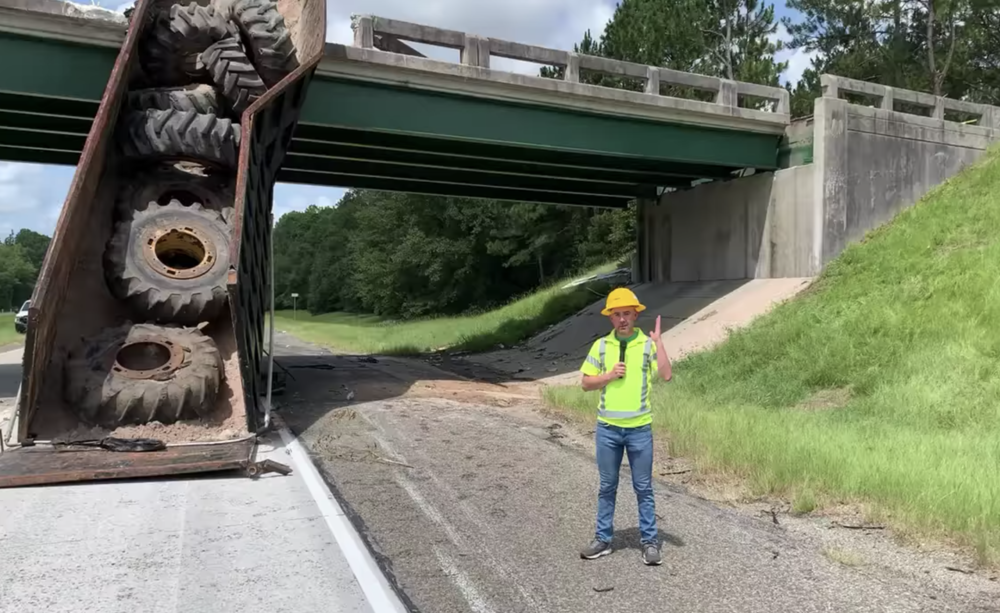 A truck hauling tires slammed into a bridge on Interstate 16 early Thursday, creating traffic chaos for beachgoers and port transportation after authorities shut down the major thoroughfare.
The highway was shut between exits 71 and 78 following the crash.  
Georgia Department of Transportation crews assessing the damage reported that the crash shifted the bridge 6 feet off its regular mark. They plan to remove the remainder of the trailer today and begin demolishing the bridge.
There is no official timeline for the bridge closure lifting, but contractors are working toward reopening the highway with one lane of traffic in each direction by Monday morning. Demolition will continue during the week and all lanes could reopen by July 24, officials said.
The interstate is the main route connecting travelers to the Georgia coast and parts of South Carolina. GDOT expects traffic volumes to remain high and suggests the public find alternate routes to travel. Officials are creating a signed detour for drivers during the closure.
In a Thursday conference, Gov. Brian Kemp said he was receiving updates and would continue to work with Georgia ports officials to navigate transport during the closure.
"This is going to be really a logistics challenge for a lot of container traffic that's coming out of the port," Kemp said. "…but, we're going to help work with them to manage. That's why law enforcement is still going to be on the scene."
GDOT Commissioner Russell McMurry said reopening the westbound side of the highway is a priority for moving commerce out of the ports and for travel.
So far, the shutdown has not affected trucking companies. Last week, just under 13,000 trucks moved through the Savannah port and the same volume is expected this week.
Georgia Port Authority Chief Operating Officer Ed McCarthy said container drivers are waiting out traffic delays to drive during less congested night hours.
If the road closure lasts beyond next week, McCarthy says it could start to have a greater effect on the port.
For I-16 travelers, here's the westbound detour: 
Take Exit 78: Turn right onto Highway 221 North, turn left onto U.S. 80 West, go through town of Adrian, Ga., turn left onto State Route 15, re-enter I-16 at Exit 71.
Eastbound detour:
Take Exit 71: Turn right onto Highway 15, through Soperton, turn left onto State Route 46, turn left onto State Route 56, re-enter I-16 at Exit 78.
Correction
Updated 4:03 p.m. July 15, 2021.
Secondary Content
Bottom Content