Section Branding
Header Content
Felony Punishments For Porch Piracy Take Effect In Georgia
Primary Content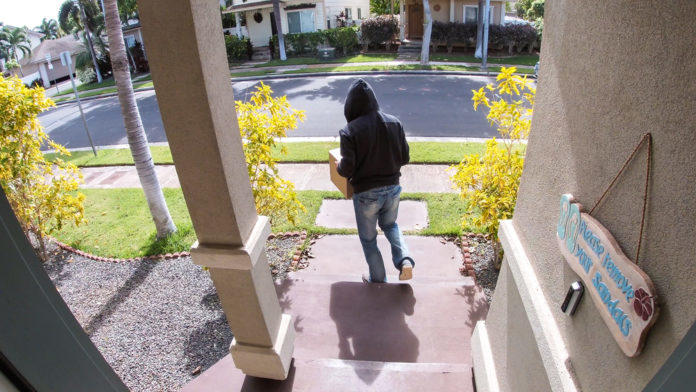 Ross Tulloch was on a work call at home in Atlanta when two packages were delivered to, and almost immediately lifted from, his doorstep.
Luckily, Tulloch said, the porch pirate did not snag any of the high-end electronics he had ordered.
"They stole poop stain remover spray and kiddy cups," said Tulloch, a father of a 14-month-old.
A new law in Georgia aims to curb porch piracy and mail theft by classifying certain degrees of these crimes as felonies, punishable by up to five years in prison.
The law, which went into effect July 1, creates two felonies:
Theft by possession of stolen mail is committed when an individual steals mail addressed to three or more different mailboxes or addresses and possesses a minimum of 10 separate pieces of stolen mail. 
Porch piracy is defined as removing three or more pieces of mail from the porch, steps or immediate vicinity of any dwelling of three or more different mailboxes or addresses.
Harsher penalties are intended to serve as a deterrent, according to the law's backers. 
State Rep. Bonnie Rich, a Republican from Suwanee who sponsored the legislation, said she did so at the request of the postal inspector.
"In 2020, [the postal service] received over 20,000 reports of mail theft from citizens," she said during a legislative hearing earlier this year. "There were an additional 95,000 reports of mail not received. A significant portion of those, the U.S. Postal Inspector suspects, were actual theft."
But Ben Stickle, an associate professor of criminal justice administration at Middle Tennessee State University who co-authored a study on porch piracy, expressed skepticism that thieves would be deterred. 
"This is a low-level entry crime," Stickle said. "It takes almost no skill to walk up and take a package from someone."
According to the U.S. Department of Justice's National Institute of Justice, the certainty of being caught is "a vastly more powerful deterrent" than severe punishment. As for Tulloch, the police never caught the person who took his packages, even with surveillance video and prompt reporting.
Stickle said the new law will most likely result in a "self-fulfilling prophecy."
"The number of package thefts that the state of Georgia is going to experience will skyrocket simply because there's now a mechanism to keep track of it," he said. "It will look like more of a problem now because we're actually recording it, and this is always one of the very difficult things about establishing laws or increasing penalties."
This story comes to GPB through a reporting partnership with Fresh Take Georgia.
Secondary Content
Bottom Content