Section Branding
Header Content
Respiratory Infection RSV Surges In South As Mask Use, Distancing Decline
Primary Content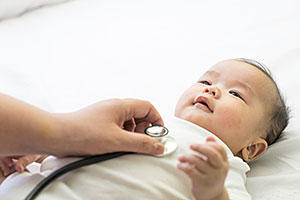 Doctors in Georgia and other Southern states have seen since April an unusual surge of a common respiratory virus that affects children and older adults.
The spike in cases of respiratory syncytial virus (RSV) at this time of year is linked, at least in part, to children and others no longer widely wearing masks or social distancing to prevent COVID-19 infection, experts say.
When masks began coming off, "we knew we'd see a really bad RSV season,'' said Dr. Stephen Thacker, a pediatric infectious disease specialist in Savannah. "Kids are getting infected at the same time.''
Thacker said the virus swept through his own household, starting with his youngest child. "I got it, too,'' he told GHN on Thursday.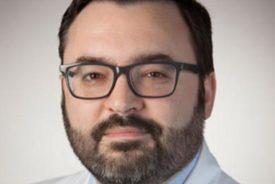 The CDC this month issued an advisory about the rise of RSV, which can lead to severe disease in young children and older adults.
It's primarily spread via respiratory droplets when a person coughs or sneezes, and through direct contact with a contaminated surface.
RSV is the most common cause of pneumonia and bronchiolitis (inflammation and congestion of the small airways in the lungs) in children under a year old in the United States. Each year in the U.S., the virus leads to an average of about 58,000 hospitalizations, with 100 to 500 deaths among children younger than 5 years old; and 177,000 hospitalizations with 14,000 deaths among adults aged 65 years or older.
The virus is generally a leading cause of hospitalization for children in the nation. The risk is worse for children born prematurely and those with heart conditions or immune system problems, Thacker  added.
Fortunately, most people who get it, including infants, develop only mild symptoms like those of a common cold, such as congestion, runny nose and coughing, the American Lung Association in Georgia said.
Compared with previous years, RSV activity remained relatively low from May 2020 to March 2021, the CDC said. But since then, the infections have surged.
Dr. Flavia Rossi, a Tifton pediatrician, told GHN last week that her practice is seeing a substantial rise in RSV cases, and she linked the increase to masks no longer being worn as frequently.
Health officials have seen an increase in RSV cases in Alabama, Arkansas, Florida, Georgia, Kentucky, Louisiana, Mississippi, New Mexico, North Carolina, Oklahoma, South Carolina, Tennessee and Texas.
More children and adults in the population may not have been exposed and infected while people were physically distancing and not mixing, said Dr. Andi Shane, pediatric infectious disease physician at Children's Healthcare of Atlanta.
Shane also noted that "some countries in the Southern Hemisphere, notably Australia and South Africa, also saw an inter-seasonal increase in children with RSV during their late spring and early summer of 2020-21, which like some parts of the Southeastern U.S. may correspond with increased mixing of people as communities reopen and people travel."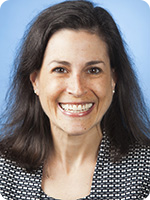 The Lung Association urges parents to watch for symptoms of RSV in their children, which include:
** Mild cold symptoms like congestion, runny nose, fever, cough and sore throat. Very young infants may be irritable, fatigued and have breathing difficulties. Normally these symptoms will clear up on their own in a few days.
** A barking or wheezing cough can be one of the first signs of a more serious illness. In these instances, the virus has spread to the lower respiratory tract, causing inflammation of the small airways entering the lungs. This can lead to pneumonia or bronchiolitis.
** Infants with severe RSV will have short, shallow and rapid breathing. This can be identified by "caving in" of the chest in between the ribs and under the ribs (chest wall retractions), "spreading out" of the nostrils with every breath (nasal flaring), and abnormally fast breathing. In addition, the patient's mouth, lips and fingernails may turn a bluish color due to lack of oxygen.
** When to call a doctor: You should call your doctor if you or your child is having trouble breathing, has poor appetite or decreased activity level, cold symptoms that become severe, or a shallow cough that continues throughout the day and night.
"Parents know their children best, and if they feel that their child is having problems breathing, refusing to drink and is not acting as they usually do, they should be brought to medical attention," Shane said. "Children with underlying medical conditions are more likely to require hospitalization when they have an infection with RSV as well as other respiratory viruses such as influenza and SARS-CoV-2, the virus that causes COVID-19. "
Almost all children will have had an RSV infection by their second birthday, the CDC says. And most RSV infections go away on their own in a week or two.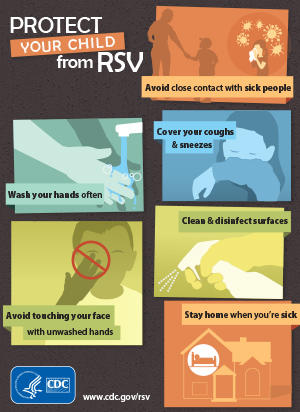 There is no specific treatment for RSV infection, though researchers are working to develop vaccines and antivirals (medicines that fight viruses).
Due to reduced circulation of RSV during the winter months of 2020–2021, older infants and toddlers might now be at increased risk of severe RSV-associated illness. That's because these children have likely not had typical levels of exposure to RSV during the past 15 months, the CDC said.
Thacker added that "the smaller you are, the smaller the nasal passages are, and a little mucus causes a lot of problems.''
A drug called Synagis can be used as a preventive measure against RSV in high-risk children, though insurers have at times balked at coverage of the medication, Thacker said.
As a general preventive measure, he recommended practicing good hand hygiene, including frequent hand washing.
Among recommended steps to relieve symptoms:
** Manage fever and pain with over-the-counter fever reducers and pain relievers, such as acetaminophen or ibuprofen. (Never give aspirin to children.)
** Drink enough fluids. It is important for people with RSV infection to drink enough fluids to prevent dehydration (loss of body fluids).
** Talk to your health care provider before giving your child nonprescription cold medicines. Some medicines contain ingredients that are not good for children.
Symptoms in adults are typically consistent with upper respiratory tract infections, including a runny nose, a sore throat, coughing, headaches, fatigue and fever.
This story comes to GPB through a reporting partnership with Georgia Health News.
Secondary Content
Bottom Content