Section Branding
Header Content
Stewart County Becomes COVID-19 Hot Spot As Cases Rise At Detention Center
Primary Content
An outbreak of COVID-19 at an immigrant detention center is fueling a spike in cases in a west Georgia county.
Stewart Detention Center, in the town of Lumpkin, has 47 inmates currently under isolation or monitoring for COVID, according to a U.S. Immigration and Customs Enforcement (ICE) website.
State data show Stewart County has had 69 infections over the past two weeks. It has the second-highest overall COVID rate per 100,000 population among Georgia's 159 counties, trailing only Chattahoochee County just to its north. Chattahoochee, which is home to much of the Army's Fort Benning, where many soldiers from around the nation receive training, has shown consistently high COVID infection rates during the pandemic.
The Stewart Detention Center also had a major outbreak of COVID last year. In all, there have been more than 700 cases of COVID-19 infections at the center.
Four people there have died of COVID, the highest total at any ICE detention center in the nation, according to the agency's website. No other ICE center has more than one COVID death.
The Stewart center is run by CoreCivic, a company that says it's the nation's largest owner of "partnership correctional, detention and residential re-entry facilities."
The center "has followed the Centers for Disease Control and Prevention guidelines, which have evolved over time, since the onset of the pandemic, and we're continuing to work closely our government partners to enhance procedures as needed,'' said CoreCivic spokesman Ryan Gustin in a statement Monday.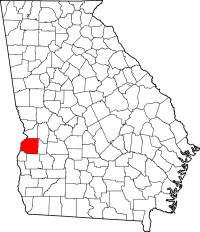 "The health and safety of the individuals entrusted to our care and our staff is the top priority for CoreCivic,'' the statement added.
The company referred a reporter to ICE for specific information on COVID and detainees. An ICE spokeswoman did not respond to a GHN query by early evening Monday.
CoreCivic also runs a state prison in Wheeler County where an inmate recently was reported infected with tuberculosis, and three others were suspected of having the disease.
Another immigrant detention center in Georgia, operated by a different company, has also drawn much attention in recent months.
The Biden administration announced in May that it would stop detaining immigrants at Irwin County Detention Center in Ocilla, along with a center in Massachusetts, that came under investigation over allegations of inadequate medical care and poor conditions.
Advocates have pressed the administration on immigration detention, sending a letter to Homeland Security Secretary Alejandro Mayorkas calling for the closure of 39 ICE detention facilities, CNN reported. As of May 14, there were more than 20,400 immigrants in ICE detention, according to the agency.
But the Intercept reported this month that people continue to be transferred into the Irwin detention facility, citing multiple sources. Last week, at least 34 people were transferred there from other detention centers, according to locally based advocates and people at the facility.
Mayorkas recently announced that the agency would be severing its contract with LaSalle Corrections, the private prison company that runs the center in Irwin County.
A class-action lawsuit was filed in December 2020 in which several women say they underwent gynecological procedures, including hysterectomies, without their consent at the facility.
This story comes to GPB through a reporting partnership with Georgia Health News.
Secondary Content
Bottom Content