Section Branding
Header Content
COVID Anxiety Persists Even As Post-Pandemic Normalcy Starts To Return
Primary Content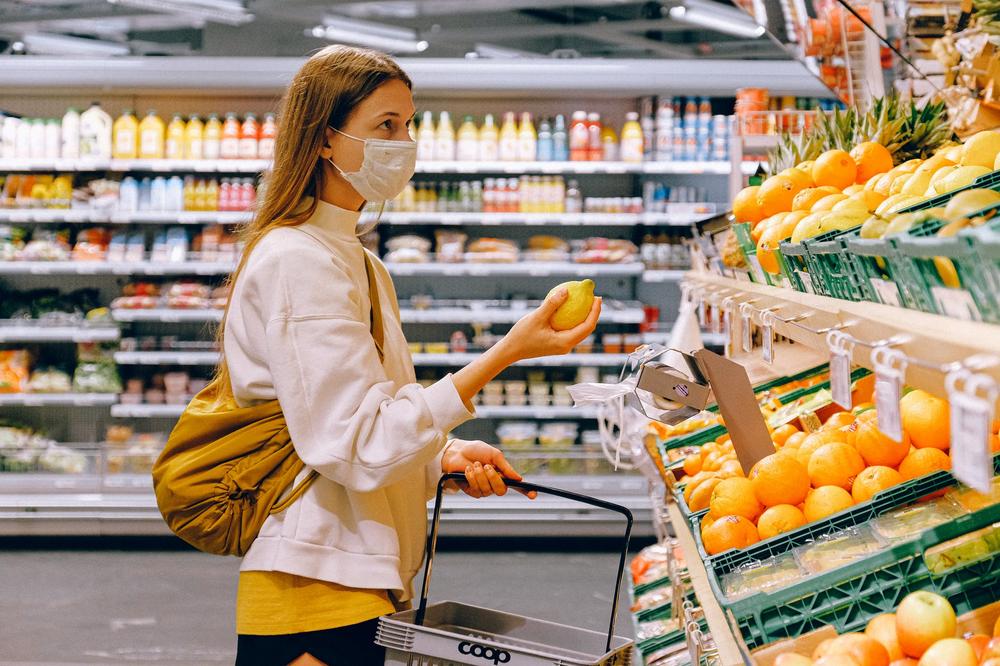 Since last April, thousands of Georgians have called or texted the COVID-19 Emotional Support Line to talk about the stress and anxiety of living through the pandemic, but callers have different needs now than they did when the first cases arrived in the state last spring.
"For the first chunk of April through October, the calls were really focused on individuals who were extremely stressed and very isolated, very lonely, callers who just felt an overwhelming amount of isolation," said Terri Timberlake, director of the office of adult mental health at the Georgia Department of Behavioral Health and Developmental Disabilities, which operates the help line. "There were a number of callers calling because of the grief of losing a loved one."
As the initial shock of staying at home began to wear off, more Georgians called to say they were feeling overwhelmed with stress from trying to work from home while managing their children's online education.
Today, Gov. Brian Kemp has lifted nearly all of the state's COVID-19 restrictions, more companies are starting to call workers back to their offices, and a return to normal life seems closer than since the pandemic began.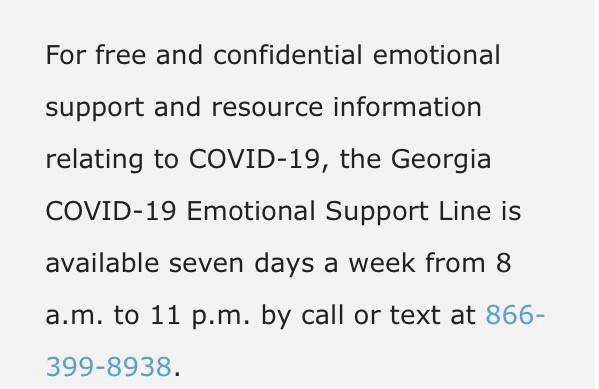 For many, that return can't come quickly enough, but for others, it means added stress, and the calls to the help line have reflected that. And the volunteers answering the phone, who include mental health professionals and others trained in crisis counseling, are hearing from both. As many as 2,300 people have reached out through the state agency's support line. 
"It has transitioned now back to heightened anxiety, people are really worried about transitioning back into regular contact," Timberlake said. "A lot are worried about the new guidelines, whether to mask or not mask, keeping their children at home or sending them to camp or school. They're unclear about what they should be doing."
Some call looking for specific information, like where they can get tested or vaccinated in their area or help understanding the latest guidelines from the Centers for Disease Control and Prevention. Other callers just want someone to listen to them talk about their problems.
"They want to have a safe space to vent their feelings of stress, to vent their anxiety and feel supported and to normalize their anxiety," Timberlake said. "Some people feel like we've been doing this for almost a year and a half, some people feel like they should be over it, they should be in a better place. We encourage people to accept the fact that they are where they are. 
"There's no prescription for how anyone should be managing this pandemic situation, just giving them permission to feel what they're feeling."
A CDC study released Friday that looks at suicide attempts involving young people during the pandemic found ER visits for teenage girls were more than 50% higher in February and March than they were the year before.
Data from the American Psychological Association suggests most Americans are having trouble effectively coping with the stresses of the pandemic.
The report, which was released this spring, found that Generation Z adults were the most likely generation to say their mental health had worsened during the pandemic. 
And the survey also found that 61% of adults said they gained or lost more weight than they wanted to since the start of the pandemic, with 42% saying they gained weight. A third of Americans said they're not sleeping enough, and another third said they're sleeping too much.
A Young Harris Poll tracking public sentiment found fears related to COVID-19 dropped over the course of the pandemic but remained high a year in, even after the start of the vaccine rollout.
Pollsters found 64% of Americans said they feared returning to public activity in March, down slightly from 73% last May. 
COVID-19 jitters persist
Therapists and counselors across Georgia say they are talking with patients who are expressing anxiety about a return to normal life.
"I've been doing this 28 years," said Michael Mack, a licensed clinical social worker and managing partner of Chatham Behavioral in Savannah. "Previously, maybe about 2% or 3% of people have generalized anxiety disorder, and yet, last year, going into telehealth, that probably went up to about 20%. For people that had a (predisposition) for anxiety, this really triggered that."
Some patients have had their anxiety worsened by social media, he said.
"I've got a few people that refuse to get vaccinated because of things they've read on Facebook or seen on YouTube and other social media," he said. "They already have anxiety, that predisposition. They've been very nervous about going back to the office because they don't trust it. They don't trust the vaccine, they don't trust what people in authority have said regarding the data."
Others say they are concerned about catching the virus or just how to return to the fraught world of face-to-face social interactions.
"Some people are worried about who has been vaccinated, who has not been vaccinated," he said. "Can I get COVID regardless of my status? And also nervousness about interacting with people in real life, I've seen a little pushback with that."
Maggie Pritchard, a licensed professional counselor and owner of Pritchard Counseling and Consulting in Augusta, said for many of her patients, their anxiety stems not from fear of getting the virus, but uncertainty about going back to work and all the adjustments that entails.
"Change typically causes anxiety, and some handle it better than others," she said. "Of course, when you're working with a population who can have more anxiety to begin with, you're going to see greater complaints of 'we just got used to this, we finally figured out how to make this work, and now we've got to switch back."
That's especially true of people with children, who have just spent more than a year at home with them.
"I think that people started to prioritize their families and their health over the last 14, 15 months, whereas before, the majority of their time would be spent away from their family," she said.
"Engaging in self-care, being able to work from home, allowed them to do their job but not have to deal with the distractions of the office. They could still do their job well, and they had more time left over for themselves, more time for their families. And they're saying if we go back into the office, am I going to be able to maintain that?"
'Things will get better'
Callers to the COVID hotline often find simple steps can help, such as eating healthy foods, getting regular exercise and scheduling time to do the things that make you happy.
"A lot of times, people struggle with not feeling like we have control over what's happening, so including routines over what you have control over is very helpful," Timberlake said. "Regular exercise, a regular opportunity to connect with significant people in your life, building in some time for mindfulness or quiet reading, connecting with the earth through gardening, listening to music, things that help de-stress and calm the mind are very helpful in reducing anxiety and mitigating stress."
Pritchard said scheduling time for yourself and sticking to the schedule is key.
"The other thing would be to work with someone on assertiveness and advocating with their employer and how to communicate what it is that they're wanting to see in their job setting, and in feeling comfortable and confident enough to make sure that those boundaries are met."
Mack said he advises his patients to talk with their managers and figure out a plan that works for everyone. Often, that involves a gradual reemergence.
"It's the same way you would help out someone who has agoraphobia, because that has gone up too," he said. "Do baby steps. It's called systematic desensitization. Go out a little bit, go to the store more often, do things outside of the home a little more often until that anxiety is somewhat abated. Try going into the office an hour or two a day, every couple of days, see how that works, and gradually increase your comfort level."
Sometimes, people facing anxiety just need a reminder that they will be OK, Mack added.
"Things will get better," he said. "When you don't believe it because you're so overwhelmed, that's when you think that things are impossible, but remember that things were better before, and they will get better again. That's what I really try to explain to people. The best moments of our lives don't last forever, and neither will do the worst."
For free and confidential emotional support and resource information relating to COVID-19, the Georgia COVID-19 Emotional Support Line is available seven days a week from 8 a.m. to 11 p.m. by call or text at 866-399-8938.
This story comes to GPB through a reporting partnership with Georgia Recorder.
Secondary Content
Bottom Content