Section Branding
Header Content
Georgia Public Health Board To Resume Regular Meetings After COVID-19 Pause
Primary Content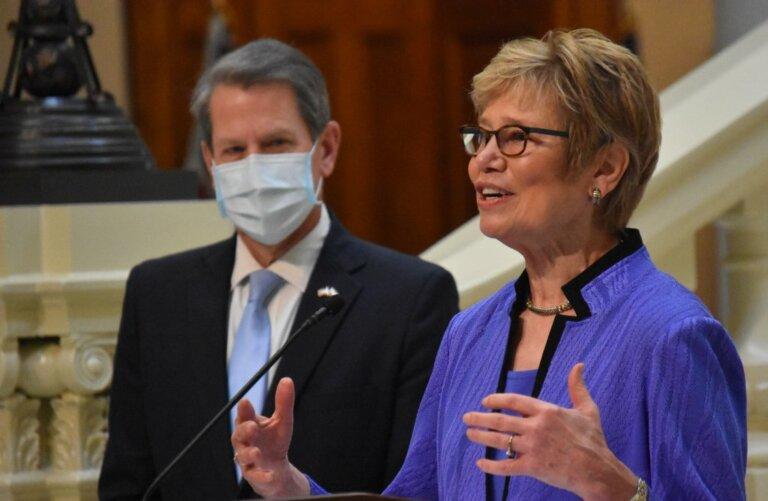 The advisory board for the state's public health agency plans to resume its regular public meetings this fall after not holding any since before the COVID-19 pandemic first reached Georgia early last year.
The public health board met virtually during a special meeting Tuesday to approve a bond spending package. The public could listen to the meeting by phone.
It was the nine-member public health board's first gathering since February 2020, when no one in Georgia had yet tested positive for coronavirus. The emphasis at the time was still on monitoring people who had recently traveled to China.
More than a year later, the state has tallied nearly 900,000 cases. More than 18,000 people have died.
"I'm a happy defender of the decision not to have open board meetings to go along with the weekly or biweekly press conferences," Dr. James Curran, who is the dean of Emory University's Rollins School of Public Health and who chairs the board, said during Tuesday's meeting.
"I have a lot of sympathy for what it's like to work on the frontline in the midst of an epidemic, when you don't have enough people on your side and you don't have enough people working for you," he added.
The board, which typically meets monthly, plans to start back with its regular meetings this September.
Public Health Commissioner Dr. Kathleen Toomey, who was a fixture at Gov. Brian Kemp's COVID-19 press briefings, told the Atlanta Journal-Constitution last month that preparing for board meetings was "not the best use of everybody's energies." Toomey said Tuesday that she has stayed in touch with the board's leadership and worked with board members to set up some vaccine events.
The pandemic, though, has also exposed the vulnerabilities of a bare bones public health system that has been underfunded for at least decade. Lawmakers beefed up state spending this session to expand the public health agency's staffing at the top and modernize the state's immunization registry after state officials were criticized for relying on $1 billion in federal funds to combat the virus.
"I think everybody is really tired," Toomey told the board. "We will continue to really push hard to do vaccination events and work with primary care physicians and pediatricians to continue to vaccinate because, unlike some of my colleagues in other states, we don't feel like it's over.
"We want to continue. We feel that we still have many more people we can vaccinate and should vaccinate and who maybe are on the fence a little bit," she said.
In Georgia, about 31% of the population is fully vaccinated, according to the Centers for Disease Control and Prevention. That lags the national percentage of people who are vaccinated, which now sits at nearly 41%.
The board approved a $435,000 bond package Tuesday as part of next year's state budget. The borrowed funds would go toward paying for minor improvements and renovations at district office buildings and labs across the state. The bond sale is set for June 8.
"We hope to get back in the cadence of regular meetings," Toomey said. "And at least the first one will be focused, I'm sure, on COVID and where we are, but I think much of our public health team is looking forward to moving back and do other aspects of public health work as well."
This story comes to GPB through a reporting partnership with Georgia Recorder.
Secondary Content
Bottom Content