Section Branding
Header Content
Ga. Supreme Court Upholds State's Strict Death Penalty Disability Standard
Primary Content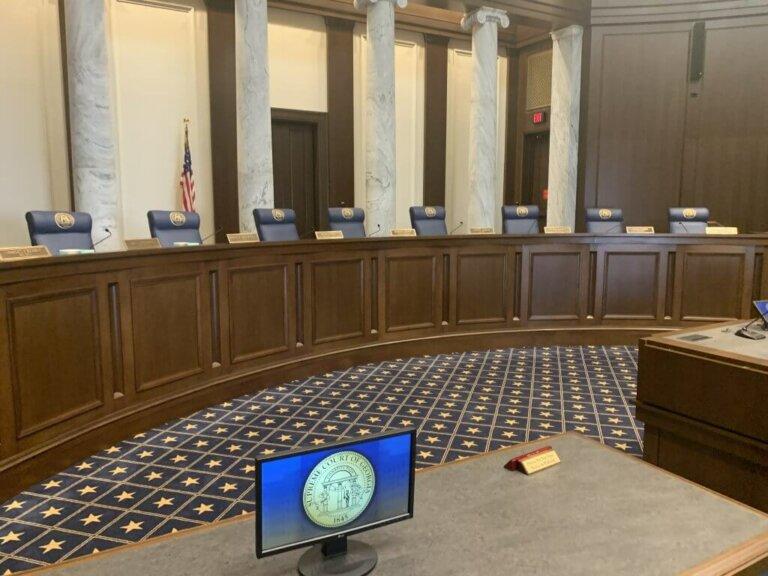 The Georgia Supreme Court upheld a death sentence for a man convicted of killing his ex-fiance's son while justices rejected a push by his defense attorneys to spare him from execution by proving he has an intellectual disability.
Monday's court ruling dealt a significant blow to Rodney Renia Young's chances of having his death sentence reduced to serving his life in prison for the brutal 2008 killing of 28-year-old Gary Lamar Jones in Jones' Covington home. But the potential appeal of Young's death sentence to the U.S. Supreme Court could also lead to a challenge to Georgia's law that critics say creates an impossibly high standard of proof of disability beyond a reasonable doubt.
In Monday's ruling, Chief Justice Harold Melton said that there is too much "conflicting testimony" to find that Young meets the reasonable doubt standard to be considered suffering from an intellectual disability.
In 2012, a Newton County jury sentenced Young to die for the stabbing death of Jones, whose mother found him bludgeoned and tied to a chair inside his home.
Young's attorneys presented evidence during the trial that he took special education courses in high school; however, the jury still sentenced Young to death.
Monday's state Supreme Court decision was 8-1, with Justice Charles Bethel dissenting. 
"We acknowledge that the states' freedom to develop appropriate procedures does not leave them unfettered from general constitutional principles, but we conclude, despite Young's arguments to the contrary…that it does permit the procedure that the Georgia General Assembly has chosen," the opinion said. 
But Young's attorney's with the ACLU and Georgia Capital Defender Office argued that Georgia's standard is the strictest in the nation, setting the burden of proof too high to meet. Other states require defendants claiming intellectual disability to prove that using a standard of preponderance of evidence.
In 1988, Georgia banned the executions of intellectually disabled people and now is the only state that has a more substantial burden than "by clear and convincing evidence."
"Georgia's uniquely high and onerous burden means that people with intellectual disability will be executed, just as Warren Hill was executed in 2015, despite every expert who interviewed him affirming his intellectual disability," said Brian Stull, senior staff attorney for the American Civil Liberties Union Capital Punishment Project. 
Justice David Nahmias wrote that he's not confident in Georgia's law holding up to the scrutiny of the U.S. Supreme Court, saying that he welcomes Young challenging the ruling in the nation's highest court or by requesting state lawmakers change the law.
Bethel said the strict beyond reasonable doubt standard makes it all the more likely that an intellectually disabled prisoner can be executed in Georgia. 
"The question before us, then, is whether Georgia's requirement that a defendant prove his or her own intellectual disability beyond a reasonable doubt creates an unacceptable risk that an intellectually disabled person will be executed,'" Bethel said. 
"There is a risk of failure in every effort to divine truth through a judicial proceeding," he added. "Employing the highest burden of proof in our system of justice, however, significantly increases the risk of an offender with an intellectual disability being executed because he or she is unable to meet the high standard of proof."
This story comes to GPB through a reporting partnership with Georgia Recorder.
Secondary Content
Bottom Content