Section Branding
Header Content
Calendar And Courts Conspire Against Federal Pandemic Eviction Moratorium
Primary Content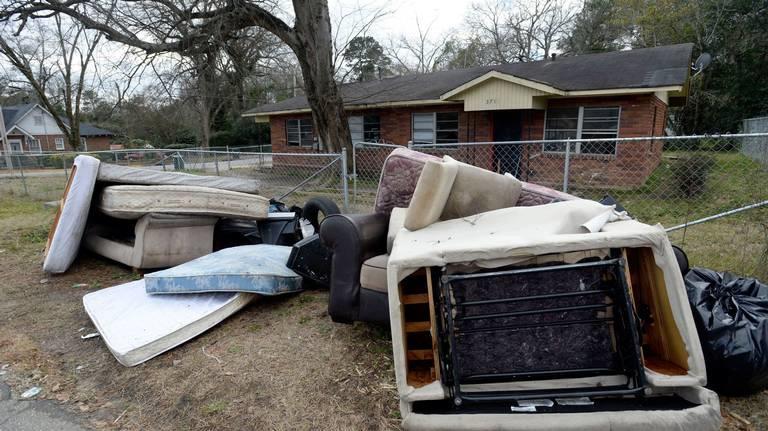 Mableton's Porsha Greene lost her job as a caregiver late last year and now is worried about falling further behind paying rent at her apartment.
So far, the 37-year-old is only one month delinquent in rent as she continues to look for a new job while waiting for unemployment benefits to kick in. After her family was no longer able to help her keep up with rent, she recently reached out to an area housing nonprofit We Thrive in Riverside Renters in hopes of learning about the rental assistance programs.
"I'm hoping to get some assistance right now," Green said. "Once I do, I'll be able to pay it forward."
Before the pandemic put Green and many other Georgia renters in economic peril, there were frequent evictions in Cobb County for tenants owing under $1,000 in delinquent rent.
Today, housing rights advocate Monica DeLancy worries about a crush of displaced families once courts start processing backlogged eviction cases when freed from the Centers for Disease Control and Prevention's federal eviction moratorium that's been in place since September.
The CDC extended the eviction moratorium through June 30, and once it ends Georgia courts are planning to accelerate the pace of cases moving through the system.
Low-wage workers, many of whom are Black and Hispanic, will be affected the most because many will continue to fall behind on rent, even those who have received some federal assistance through the CARES Act, DeLancy said. 
She runs the We Thrive in Riverside Renters organization based in Austell, a south Cobb city where more than 30% of the residences are rental properties.
Even many of the people who are receiving some federal CARES act rental assistance are likely to fall behind because they work low paying jobs and won't be able to afford to keep up with monthly payments.
"They did not acquire a job paying $25 an hour, so they're going to be behind again once they've exhausted any rental assistance," DeLancy said. "Then you have the fact that you have to move, but you can't move anywhere because you have an eviction filed on you. So even if you weren't pushed all the way out of your apartment, you still have a black mark on your record."
The most recent U.S Census Bureau survey says nearly 175,000 Georgia renters out of 377,000 respondents said they are at risk of eviction within the next couple of months as tenants and property owners brace for a potential housing crisis in the wake of the pandemic. 
And property owners are challenging the legality of the CDC moratorium in federal court. The U.S. Department of Justice is appealing a judge's ruling in favor of the Alabama Association of Realtors' claims that the moratorium exceeds CDC's authority to protect public health.
Meanwhile, the Justice Department and the New Civil Liberties Alliance are battling it out in a separate 11th Circuit Court of Appeals case over whether the order leaves landlords powerless to take legal action to collect delinquent payments. 
It's now up to the appellate court panel to determine if it'll grant an injunction to suspend the moratorium set to expire at the end of the month, barring a new extension. 
That court decision could set a nationwide precedent with the case taking place in the same district as the center's Atlanta headquarters, said New Civil Liberties Alliance attorney Caleb Kruckenberg.
He represents four individual property owners and the 85,000-member National Apartment Association in the lawsuit.
But whether the day of reckoning is in the coming weeks or months down the line, the billions of dollars in unpaid rent and mortgage payments will have a lasting effect on many tenants and property owners.
"It is going to be chaos, and it's gonna be a problem that the CDC made," Kruckenberg said. "What's going to happen is all of these evictions that normally would have happened over the past nine months or 12 months or however long; they're all going to happen all at once."
The CDC issued the order last year to protect renters so they would have a safe place to stay during the public health crisis. Last spring Gov. Brian Kemp ordered most Georgians to stay home until easing many restrictions in May.  
And housing rights advocates have credited the moratorium with keeping a roof over the heads of millions of Americans at risk of becoming homeless.
"We're on a path that we hope to make the pandemic a thing of the past, but we're not there yet," justice department attorney Alisa Klein said at a May appeals court hearing. "The vaccinations did not appear on their own, those are a product of massive federal investments and CDC action, and the CDC doesn't want to undermine the improving trajectory by prematurely lifting this moratorium or other guidance for unvaccinated people."
Housing crisis grows, so do assistance roadblocks
A competitive housing market only tightened since the pandemic, leaving people from a range of income brackets unable to afford rent and mortgage payments, said Kimberly Skobba, associate professor of financial planning, housing and consumer economics at the University of Georgia. 
"People do tend to pay their rent or mortgage first because most people know they need to keep a roof over my head," she said. "The problem is not having housing that is affordable for people across the spectrum."
But the vast majority of the federal government's response — about $50 billion in rental assistance allocated by the U.S. Congress — has been delayed in getting into the hands of people who need it.
"The problem with real assistance is it's filtered through the state, there's a lot of different requirements and paperwork, and only dribs and drabs are getting to the property owners," Kruckenberg said. "What is getting out there is not nearly enough to pay for the back rent."
Housing and Urban Development Secretary Marcia Fudge told NPR this month that the agency is removing the red tape so that the money will flow better once the moratorium expires.
The pace of processing applications are to picking up in since Georgia Legal Services Program began working with the state Department of Community Affairs in helping people apply for a rental assistance program. Renters have received more than $230,000 over the last couple of weeks, said Susan Reif, director of the Eviction Prevention Project at the Georgia Legal Services.
"Tenants who are currently protected by the CDC order need to start the application process immediately because it is uncertain that the order will be extended," Reif said. "If it's not extended, those evictions are going to start up in July, and the Georgia rental assistance application process takes time. It's not an ATM, so people have to be applying now."
It will take a while to gather enough data to figure out what long-term effects the pandemic will have on the housing market, Skobba said. 
"Rental assistance is always helpful in the situation it helps the landlords, it helps the tenants, but for people who are really in deep it's hard to imagine a situation where they're able to stay in their housing," Skobba said.
In some Georgia courtrooms, judges have pressed forward with eviction proceedings by saying the moratorium doesn't overrule local jurisdiction while thousands of eviction cases across the state are still waiting to be heard. 
Meanwhile, another economic whammy for renters who lost income is set to hit June 26 when Georgians will no longer receive $300 in monthly federal unemployment benefits.
About 24% of Georgia renters and 9% of property owners say they are worried they could be evicted or have their property foreclosed within the next two months, according to an analysis from QuoteWizard, an insurance comparison platform.
Some believe the eviction moratorium could get extended after the Consumer Financial Protection Bureau ruled in May that landlords must notify their tenants about the program. 
And landlords worry that the COVID-related eviction ban could set a painful precedent. The CDC could issue a similar order in future health scares, Kruckenberg said.
The majority of landlords are more mom-and-pop style operations with maybe a few rental properties to their name, Skobba said.
"If they do have a mortgage on the property or properties, they're going to be in the same boat as their tenants," she said.
This story comes to GPB through a reporting partnership with Georgia Recorder.
Secondary Content
Bottom Content