Section Branding
Header Content
Student Feeding Programs Ramp Up As Another Pandemic Summer Nears
Primary Content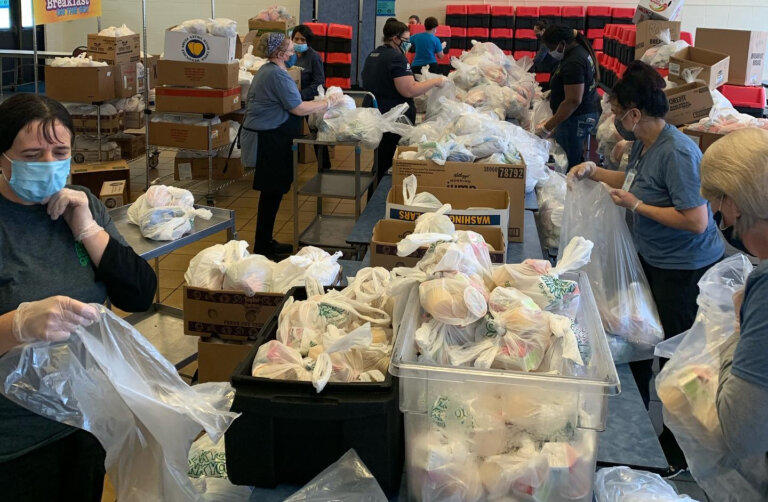 Marietta City Schools Nutrition Director Cindy Culver expects another surge of students queueing up for its free meals program soon in the second summer break of the pandemic.
The district is one of Georgia school systems that child welfare organizations say provide a good example of the right way to ensure children get something into their stomachs during the school year and summer months. Marietta schools package weekly meal kits to get nutritious food into the hands of students who have been taking classes from home this school year.
Marietta's nutrition department staff has been providing up to seven days' worth of breakfast and lunches at a time so that students who often rely on those meals for a balanced diet still have them while taking classes virtually and during the weekends.
But as the final days of the school year wrap up, the summer brings along more challenges in tackling food insecurity faced by hundreds of thousands of Georgia children and teens. 
In Marietta, where about 59% of its students received free- or reduced-price lunch, the district works with organizations like the YMCA and Salvation Army to get free meals to as many students as it can throughout the summer.
"The summer (meals) program has grown this past summer substantially with COVID, and with the feedback that we're getting, it seems this summer it's going to be pretty active as well," Culver said. "We want to make sure through our summer program that we have that accessibility to our students, so we work with a lot of our community partners." 
When the pandemic forced the statewide shutdown of schools in March 2020, a federal emergency assistance program known as the P-EBT helped fill in some gaps by providing extra money for groceries. 
And it will remain an important piece of filling the child hunger gap throughout the summer and beyond with the Biden-Harris Administration extending the program that will provide an extra $6.82 per child each weekday, or about $375 throughout the summer months for 30 million U.S. children.
While summer meal programs help sustain many young people, they typically only reach about 20% of children living in low-income households, said Erica Fener Sitkoff, executive director of the nonprofit advocacy group Voices for Georgia's Children.
The level of food insecurity, which measures a person's access to quality food, among Georgia's children jumped from 16% in 2018 to 23% in 2020.
"What P-EBT showed us is that there's an intervention that we have always sought, which is the food support that families get during the school year is still needed when schools are not in session," Sitkoff said. "It's still needed during the summer, it's still needed during school break. It's just not readily available."
The Georgia Division of Family and Children Services is working with local and federal agencies on the extension. The agency issued more than $290 million in benefits to 1.1 million children last school year who were eligible for free- and reduced-price school lunches.
Research by the Brookings Institute found that food hardship among low-income children dropped by 30% in the week after the new pandemic benefits were first available to families, according to the U.S. Department of Agriculture.
"The expansion of P-EBT benefits over the summer is a first-of-its-kind, game-changing intervention to reduce child hunger in the United States," said Agriculture Secretary Tom Vilsack. "By providing low-income families with a simple benefit over the summer months, USDA is using an evidenced-based solution to drive down hunger and ensure no child has to miss a meal."   
The extension is part of $12 billion set aside in the $2 trillion American Rescue Plan that also increases SNAP benefits by 15% for 41 million families through September and provides additional vouchers for fruits and vegetables. 
Public schools can also apply for additional meal reimbursements for next school year.
This summer, Bibb County schools will continue offering curbside meal pickup at various school sites, and the nutrition department will also offer free meals to anyone 18 and younger from June 7 to July 2 as the summer camps are underway.
School summer meals and federal programs like the P-EBT also relieve some of the strain on regional food banks. 
According to the Georgia Food Bank Association, the demand for food banks on average doubled during the pandemic, including 40% of people who relied on food banks for the first time.
Demand skyrocketed 66% for the Atlanta Community Food Bank due to the pandemic as it distributed a record-breaking 94 million meals during a 12 month period that started in March 2020.
"Everyone has been through such an incomprehensible year, filled with uncertainty, but we've also seen compassion and kindness throughout these hard times," said Kyle Waide, president and CEO of Atlanta's food bank. "We are so grateful to our community, who came together during an extreme time of need, to support our efforts."
But even as the economy improves while Georgia continues to reopen and more people find new jobs, that doesn't mean that the pandemic food assistance should end, Sitkoff said.
"We would love to see this policy become a permanent fixture in the array of options that support Georgia families and help kids thrive," she said.
This story comes to GPB through a reporting partnership with Georgia Recorder.
Secondary Content
Bottom Content