Section Branding
Header Content
Georgia Graduates Look Forward After Pandemic Upended Senior Year
Primary Content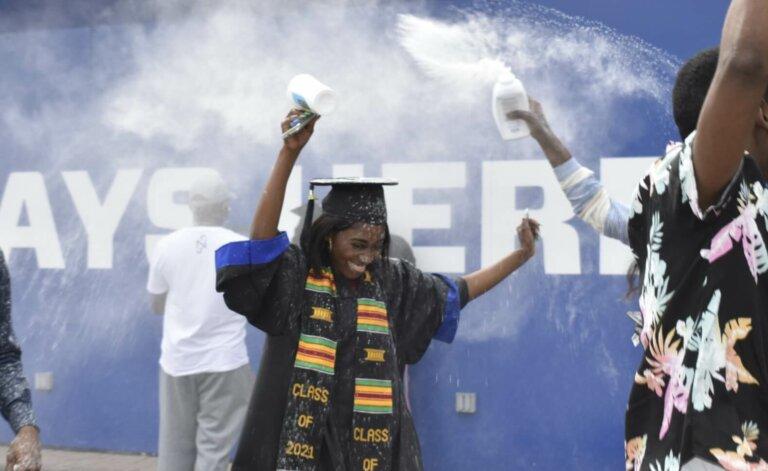 Chasity Dawson is set to graduate from Kennesaw State University this summer with an anthropology degree, but completing her coursework hasn't been easy.
"I've been working on my senior seminar, but I've been having writer's block," the Alpharetta native said. "That's the only thing I have left for this semester, so I don't know why it's been taking forever, but I've been struggling due to COVID and stuff like that."
Last spring, students across the state scrambled to pack up their dorm rooms and looked for rides home as university leaders asked them to stay away as the pandemic began to take root in Georgia.
Some students and faculty refused to return to a normal classroom while much about the pandemic remained unknown, but hybrid and digital classes left other students feeling left behind academically and wondering why they were spending so much money to learn from a computer screen.
Last fall's return to classes brought a promise of more normalcy from the Board of Regents, which oversees the state's public universities, but some students say a return to the classroom has not meant a return to normal.
Now, students comprising the 2021 graduation class are trying to wrap up their college careers after a bizarre — and challenging — final year.
Dawson, for one, has been worried about her mother, who has had problems with her lungs and could be susceptible to complications from COVID-19.
"I've been struggling with motivation to do stuff in class, and I really just feel tired," Dawson said. "I don't know why. It hasn't changed my day-to-day because most of my classes are face-to-face because I'm a senior, but for the most part, I've just been feeling odd, because it's different, and I didn't really need that this year."
Gold Omotor Huntar, a Georgia State University health informatics graduate, agreed. The switch to online learning created a huge obstacle just as Huntar was entering her senior year.
"It was a huge challenge, especially switching from in-person in class to online and having less interactions with my classmates and instructors," she said. "It was very hard to get in contact with them via email."
Initial surveys suggest the COVID-19 pandemic has taken a troubling toll on the mental health of this year's graduates.
According to an April survey from mental health advocacy group Active Minds, 80% of college students report that the pandemic has harmed their mental health, with one-fifth of them saying their mental health has worsened significantly.
Digital classes can make it harder to reach out to students who might be in need, said Matthew Boedy, a University of North Georgia associate professor of rhetoric and composition and conference president of the Georgia chapter of the American Association of University Professors.
Students are increasingly turning to their professors for help when they struggle with mental health, according to a survey from the Boston University School of Public Health, the Mary Christie Foundation and the Healthy Minds Network.
In that survey, nearly 80% of professors said they have had one-on-one phone, video or email conversations with students about mental health in the past year.
Boedy said he has been in contact with students struggling to balance school and work.
"This semester has obviously been much more difficult than the fall because we had to have the 50% in-person," he said. "I think that changed the expectations slightly, that people thought they could go back to doing perhaps the normal load of assignments and work, but there are still the same outside-of-school pressures."
Looking forward
But in spite of all those pressures, Georgia State University graduates recently gathered in their caps and gowns to pose for photos with family members and hug their friends goodbye outside Atlanta's Center Parc Stadium.
Huntar was there, her cap decorated with flowers and the phrase "nevertheless, she persisted," to mark the obstacles she overcame to earn her diploma, including the death of her father.
"I finally did it, and I'm just super proud of myself," she said. "I was sad that I didn't have my family here as much as I wanted to because of the COVID restrictions, but I was really happy when they called my name, and I screamed at the top of my lungs."
Universities across the state are imposing health restrictions on graduation ceremonies, including mask requirements, social distancing and stricter limits on the number of guests graduates can bring.
Instead of walking the stage, Georgia State grads sat in the stands with their families and were honored in alphabetical order with photos and quotes on the stadium's giant screen.
Nursing graduate Sierra Thomas said the ceremony was not what she had hoped for. She wanted to walk the stage, and she felt like the slideshow of student names went by so fast there was hardly any time to be recognized.
"On a scale of one to 10, I'd give it about a five," she said. "I would have liked to walk, and I know we're in a pandemic right now, but I feel like with certain precautions, we should have been able to walk."
But the smile never faded from Thomas' face as family members took her picture outside the stadium, and that's largely because she'll be starting her dream job in July working as a neurology nurse at Piedmont Atlanta Hospital.
"I'm really excited," she said. "Neuro is something I've always been interested in, and I'm just really excited to start my journey as a nurse."
Economists are hoping the job market's recovery could be a bright spot for college grads after a tough year.
Employers project hiring 7.3% more new college graduates from the class of 2021 than they did from the class of 2020, according to the National Association of Colleges and Employers.
In total, 29% of respondents said they plan to increase the number of new graduates they hire while only 8% plan to decrease the number.
That represents a significant improvement over last fall, when the share of businesses looking to hire college graduates shrank, though it does not reverse the damage done by the pandemic. In spring 2019, businesses planned to grow their newly graduated workforce by 10.7%.
"The rebound in hiring suggests optimism on the part of employers, fueled by expectations around the reopening of shuttered businesses, COVID-19 vaccine distribution, and the addition of jobs to the economy," the report says. "While not at the pre-pandemic hiring levels seen in 2019, the overall increase does signal strong movement in a positive direction."
This story comes to GPB through a reporting partnership with Georgia Recorder.
Secondary Content
Bottom Content