Section Branding
Header Content
American Lung Association Report Says Air In Georgia Cities Unhealthy
Primary Content
About four in 10 people nationally are breathing unhealthy air in spite of progress made in curbing pollution, including slight gains here in Georgia, according to a new report.
The annual "State of the Air" report, released Wednesday by the American Lung Association, captures a three-year period before the COVID-19 pandemic cleared Atlanta's roadways of a major contributor to the city's air pollution.
But the pandemic has brought new attention to respiratory health. People with chronic lung disease are at a greater risk of suffering serious complications from COVID-19, including death, and were included early on in the governor's stay-at-home order more than a year ago.
"The COVID-19 pandemic has driven home to the world the preciousness of healthy lungs," the report says. "As the nation continues to respond to the pandemic, reducing air pollution is critical for respiratory health now and in the future."
The report focuses on ozone and both annual and short-term particle pollution, which the association calls two of the most dangerous and pervasive pollutants nationwide. Chemicals from power plants, industrial operations and cars create harmful ozone when exposed to sunlight. Particle pollution can come from sources like construction sites, fires and smokestacks.
In Georgia, cities drew mixed reviews in the report. Traffic-weary Atlanta is no longer among the top 25 polluted cities for soot. But the city still received a failing grade in the report, which ranked Atlanta 35th in ozone pollution and 31st for particle pollution, up from the 23rd worst last year.
Outside of the capital city, the city of Columbus was deemed one of the cleanest cities for both ozone and short-term particle pollution. But the Fountain City did see an increase in the levels of year-round particle pollution.
In Augusta, the air quality was worse off for ozone and year-round pollution — and the area is now the 28th most polluted for year-round particle pollution — and Macon saw more days of unhealthy air quality for short-term particle pollution but improvement in ozone and year-round particle pollution.
Nationally, the association report found 14.8 million fewer people were filling their lungs with unhealthy air, mostly due to reduced levels of ozone pollution. But the threat of particulate matter pollution continues to worsen each year.
The report also found that 40% of Americans — or more than 135 million people — are living in communities with unhealthy levels of both types of pollution. And people of color are more than three times more likely than white people to breathe the most polluted air, according to the report.
"One area that COVID-19 has raised the level of awareness about is how community of colors are more likely to be exposed to polluted air and that the whole health safety net is in great need of repair, particularly in those communities," said June Deen, director of advocacy for the association in Georgia.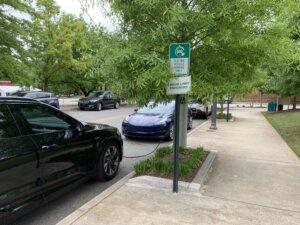 Deen said the effects of climate change hinders efforts to improve air quality, with hotter temperatures creating more ozone. She said she's hopeful the federal government will rethink the current air quality standards under the Clean Air Act, which the Trump administration left as is despite calls to toughen them, and that the public will rally behind President Joe Biden's plans to mitigate climate change.
"We have to strengthen our regulations to be able to combat that and certainly look to new and cleaner technologies for energy production," Deen said.
There are steps the state could take too, such as bringing back tax breaks for low-emission vehicles and incentivizing the installation of more charging stations across Georgia for electric vehicles.
Improved air quality monitors in the state that feed air quality data to the U.S. Environmental Protection Agency, which was used for the association's report, could also increase decision-makers' understanding of Georgia's air quality, she said.
This story comes to GPB through a reporting partnership with Georgia Recorder.
Secondary Content
Bottom Content