Section Branding
Header Content
Controversial Georgia Election Laws Tackled In U.S. Senate Hearing
Primary Content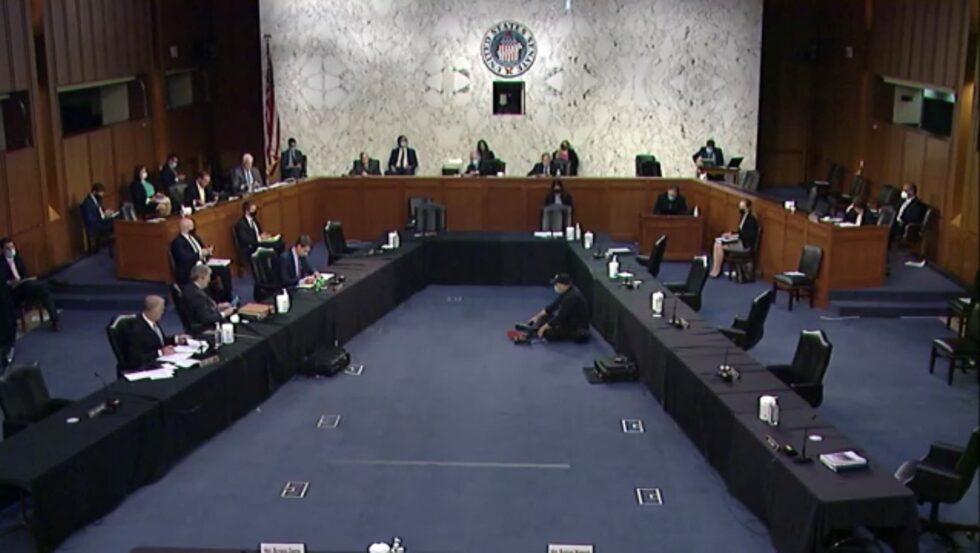 Georgia's controversial new voting laws took center stage Tuesday at a U.S. Senate hearing where majority Democrats blasted changes in state voting rules as a revival of the Jim Crow era of segregation.
The hearing, entitled "Jim Crow 2021: The Latest Assault on the Right to Vote," featured several Georgia leaders including Democratic U.S. Sen. Raphael Warnock, 2018 Democratic gubernatorial candidate Stacey Abrams and Georgia House Speaker Pro Tempore Jan Jones, R-Milton, who helped draft the Georgia law changes.
Leading members of the U.S. Senate Committee on the Judiciary, which held Tuesday's hearing, took turns echoing stances on Georgia's election law from Democrats who frame the changes as acts of voter suppression and Republicans who argue the legislation was needed to bolster election integrity.
The Georgia bill, which Gov. Brian Kemp signed last month after party-line approval in the General Assembly, requires tighter absentee voter identification, empowers state officials to take over poor-performing county election boards, expands early-voting weekend hours and bans non-poll workers from handing out food and drinks within 150 feet of voters waiting in line outside precincts.
Sen. Dick Durbin, D-Ill., who chairs the committee, said Georgia's bill is among hundreds Republican lawmakers in several states have brought since the 2020 elections as part of a "wave of voter suppression laws" aimed at curbing minority voter participation.
"It seems Republican lawmakers in Georgia have concluded that the solution to their election problems is to make it harder to vote," Durbin said. "That is fundamentally un-American. … It is democracy in reverse."
Sen. Chuck Grassley, R-Iowa, the committee's ranking Republican, scoffed at Democrats' attempts to paint Georgia's new voting laws as racist, stressing the need to shore up election rules amid distrust among conservative voters following former President Donald Trump's fraud claims.
"Baseless claims of voter suppression are just as corrosive to our democracy as baseless claims of voter fraud," Grassley said. "We should all be committed to making elections accessible and secure to maintain the confidence of voters in elections."
The law changes in Georgia have become a lightning rod for national lawmakers to push for passing federal legislation that would broaden access to mail-in and early voting and revive oversight provisions in the 1965 Voting Rights Act that were pushed by the late Congressman John Lewis of Atlanta.
Warnock, who won election to the Senate in January, said federal legislation is needed to tamp down "a full-fledged assault on voting rights" spurred by the new Georgia law.
"We've got to act," Warnock said at Tuesday's hearing. "History is watching us, our children are counting on us and we must pass federal voting rights legislation no matter what."
Abrams, who founded the voting-rights advocacy group Fair Fight and will likely challenge Kemp in a 2022 rematch for governor, also called for federal election legislation to stave off the impacts of law changes such as those seen recently in Georgia.
"When the fundamental right to vote is left to the political ambitions and prejudices of state actors … federal intercession stands as the appropriate remedy," Abrams said. "Simply put, [federal voting-rights legislation] is essential to the advancement of democracy."
Republicans testifying before the committee batted back claims Georgia's election laws would disenfranchise voters. They also condemned some companies that have denounced the new laws including Major League Baseball, which pulled the All-Star Game from Atlanta earlier this month.
Jones highlighted changes lawmakers passed that limit outside funding in elections, add more weekend days to early voting and replace signature matching for mail-in ballots.
"It's easy to write alarming words and give misleading sound bites that would lead people away from the facts," Jones said. "And it's just plain wrong."
Not present at Tuesday's hearing was Georgia Secretary of State Brad Raffensperger, a Republican who has largely supported the new law changes despite facing attacks from Trump's allies for not overturning last year's elections results. Raffensperger slammed the Senate committee for not inviting him to testify.
"While I don't love every part of this bill, it is no return to Jim Crow by any stretch of the imagination," Raffensperger said in remarks he planned to read before the committee. "The comparison is insulting, morally wrong and factually incorrect."
This story comes to GPB through a reporting partnership with Capitol Beat News Service. 
Secondary Content
Bottom Content