Section Branding
Header Content
Pandemic Recession Pain Remains For Georgians Whose Income Disappeared
Primary Content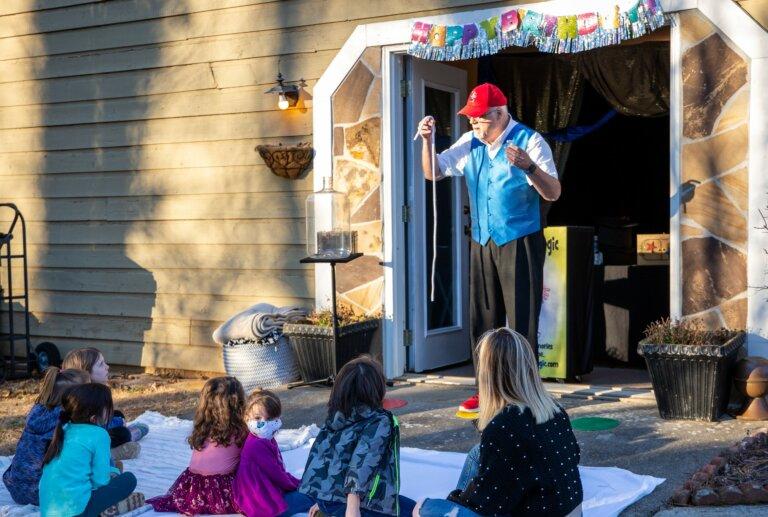 Just over a year from a record-setting wave of layoffs in Georgia, the state's unemployment rate is within 1% of its pre-pandemic position.
As the state lifts restrictions and more Georgians are immunized, workers like Stephen Spanks, a magician from Lawrenceville, are heading back to the job.
"It's so amazing how good I feel that I can get back to doing what it is that I want to do," Spanks said after a performance last week. "It's great. I gave up a very lucrative career in commercial printing to do this. I spent almost 20 years busting my butt to grow this business."
Spanks is the founder and sole employee of Never Grow Up Magic, and he performs for children across metro Atlanta.
When COVID-19 spurred an emergency shelter in place order last April, Spanks' gigs vanished — poof — and like hundreds of thousands of other Georgians, he was left wondering how he would pay his bills.
Georgia's unemployment rate peaked last April at 12.5%, up from 3.6% just the month before.
The federal government created a program called Pandemic Unemployment Assistance for self-employed workers like Spanks, but it did not provide much, he said.
"Everybody talks about 'Wow, they get so much money on this, people won't want to go back to work,' and that's not true," he said. "When I was working and doing all these shows, I was making $1,200, $1,600 a week, when I got on PUA, I was making $227 a week, plus, the first part of the thing, we added $600, and then we went for five months, with nothing additional, just the $227."
Spanks said his life is not back to normal yet — he's putting on about three shows each month, when before the pandemic he would schedule at least that many each week. He's been delivering meals for DoorDash to supplement his income from shows and Pandemic Unemployment Assistance, and when he does perform, he's usually outdoors and wearing a mask.
Spanks, who said he has never had to rely on public assistance before the pandemic, gets angry when people suggest that those who use unemployment assistance are lazy.
"What little I've gotten from the government has allowed us to survive," he said. "We've been able to keep our cars, we've been able to pay our mortgage. It's just me and my wife, and the grandkids visit us on occasion, but I'm ready to go back. I want to do two shows a day, seven days a week, that's what I want."
He's not there yet, but business is picking up, and Spanks feels like he can finally see a path back to normal. He's hoping for a busy Halloween season and that parents will spend more on their children's birthday parties this year after keeping them at home last year.
"We survived," he said. "We're still in the same house, I still have my car, we haven't missed too many meals, but it hasn't been easy."
The latest unemployment numbers released by the U.S. Department of Labor show more Georgians are getting back to work, with more than 2,000 fewer people receiving unemployment benefits in the week ending April 3 than the week before.
Some still hurting
Adrian Parker of Atlanta was a supervisor for Duracell before he was laid off last March. Parker said he applied for unemployment immediately, but did not hear back until August.
"I got an email from, I guess, a caseworker or whatever saying they were going to call me, interview me," he said. "They never called me back. It was Friday when I got the email. So I'm calling all weekend, but they were closed. Monday, my case was denied, and I hadn't talked to anybody."
Parker said he appealed right away, but more than half a year later, he said he hasn't heard back.
He said he's gotten by doing odd jobs, but he hasn't found anything permanent, and he's behind on his car note. He's worried that when he finds a permanent job, he'll have to start from the bottom again.
Many Georgians are trying to apportion blame for the unprecedented wait times to collect benefits that followed the pandemic.
A report from the Georgia Budget and Policy Institute and Atlanta Jobs with Justice points to numerous problems with the state labor department from before COVID-19's arrival, including a lack of funding and low staff levels.
Lawmakers, facing a deluge of complaints from their constituents, are seeking to prevent the department from becoming overwhelmed in the future by installing a governor-appointed chief labor officer to share power with the elected labor commissioner, now Republican Mark Butler. A bipartisan bill to create the new position awaits Gov. Brian Kemp's signature.
Butler, who also faces a lawsuit from citizens over long delays, called the proposal unhelpful.
Butler has blamed Washington for many of Georgia's delays, saying that Congress tasked states with implementing new programs with little consideration for states' ability to process claims.
Jobless Georgians in need of help sometimes take their frustrations out on the the labor department staff, but the employees there are doing all they can to help, says Stacey Jones.
She is one of the more than 1,000 Georgia Department of Labor employees working to process jobless claims.
As the chief of tax administration, her job description calls for working with employers on tax liabilities and worker classifications, but like everyone else at the department, she has been trained since the pandemic began to process claims from out-of-work Georgians.
"The job has changed from a five days a week, an eight-hour day, 40-hours a week job to 10- to 12-hour days, six to seven days a week, just to handle the unprecedented number of claims," she said.
Jones and her coworkers start work every day to full voicemails and phones going off incessantly She and other employees have had their personal office lines posted online on unemployment social media pages where some are desperate for any number that connects to a person. Many of the workers there are seeing their families less often and giving up on their hobbies to try to help process as many claims as they can.
"It's definitely unprecedented for us, and we don't really have the work-life balance that we had previously," she said. "It's pretty much working as many hours as we possibly can, because we do know that our fellow Georgians are dependent on us for matters like their personal financial obligations, keeping their food on the table for their families, keeping their mortgage and rent paid."
Some callers are upset and yell at the labor department employees. Jones said when that happens, she tries to be understanding, focus on helping, and remind herself of the people she has already helped.
"It can be challenging, but it also helps that there are times when an individual calls us and says thank you so much, I was able to pay my rent," she said. " A gentleman called me to say thanks to you, I'm not going to be homeless, and those types of things really energize us, like, OK, what we are doing actually does make a difference."
This story comes to GPB through a reporting partnership with Georgia Recorder.
Secondary Content
Bottom Content