Section Branding
Header Content
Report: New Ga. Election Law Rates Well For Access But A 'Step Backward'
Primary Content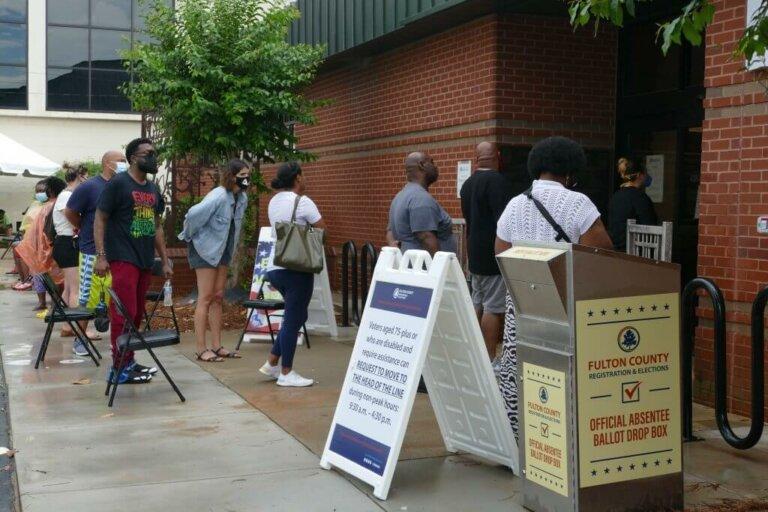 A national election researcher says Georgia's controversial new voting law is a "step backward" from the state's 2020 election, but the state remains one of the most accessible in the nation for its vote-by-mail and in-person voting options. 
The Center for Election Innovation & Research report ranks Georgia among the top tier along with 34 other states after comparing Georgia's newly expanded three-week early voting period, a no-excuse absentee system, and Election Day voting to laws in other states.
The report comes in the wake of an overhaul of voting laws passed by Georgia Republican lawmakers, who continue to defend the legislation against federal lawsuits and from attacks by corporations and Democrats claiming it disenfranchises Black people and other marginalized groups.
The report's findings offer fodder for opponents of Senate Bill 202 to bolster their criticism and for supporters of the sweeping election legislation to claim vindication. Republican-led state legislatures are revamping election rules across the country and Georgia's changes are grabbing the national spotlight. 
Among the changes the report endorsed in Georgia's new election rules are expanded mandatory early voting hours, which now include two mandatory Saturdays and two optional Sundays, said David Becker, executive director and founder of the center.
The final version of the law is significantly better than this year's other Georgia GOP-led efforts to repeal the no-excuse absentee law after a  record number of voters cast ballots that way in 2020, Becker said. He said the election law is better without the proposed end to automatic voter registration when getting a driver's license or a ban on Sunday voting, as included in earlier versions of some of the 80 voting bills lawmakers filed this year..
"If most states held an election as secure and accessible as Georgia did in 2020 under their previous laws, the United States would be in pretty good shape," he said during a Thursday media briefing. "They had a very good system in place. And it's important to note that (Senate Bill) 202 did take a step backward from that, but still with regards to the baseline that we had on early voting and mail voting, they still were in that top group."
Republican Secretary of State Brad Raffensperger said the report confirms that the 2020 election was secure and refutes claims the new laws restrict access to the ballot box.
"This report demonstrates objectively and conclusively that liberals have spun their own Big Lie about SB202, and the media has echoed it unquestioningly," Raffensperger said. "Georgia maintains expansive ballot access, including a minimum of 17 days of early voting plus two optional Sundays and no-excuse absentee ballot voting. Blue states like New York, Delaware, and Connecticut restrict voter access with no complaint from the media or the president. In fact, Stacey Abrams and her liberal allies recently praised voting laws in states that do not provide as much voter access as Georgia."
Raffensperger sat down with the Georgia Recorder last month to defend much of the law and lament that it stripped him of some authority.
Republicans say the sweeping reform will restore confidence in the state's election system following the presidential election. Former President Donald Trump complained before and after the Nov. 3 election the system was rigged against him and he complained this month the new law doesn't go far enough. 
Becker commended Georgia for moving to a new electronic voting system in 2020 with auditable paper ballots that helped confirm the election results.
The new Dominion Voting Systems machine became one of the main targets of conspiracy theorists among Trump supporters who claimed the ballot marking devices flipped thousands of votes to President Joe Biden.
Raffensperger's office repeatedly vouched for the integrity of Georgia's 2020 election in the face of the conspiracies and Becker's findings offer support
"This was the most secure transparent election in American history, and yet there's a substantial number of people who believe the exact opposite," Becker said. 
But Georgia lawmakers, like their counterparts in many other states legislatures, are basing some restrictions in new voting laws on a lie that the Nov. 3 presidential election was rife with widespread fraud, Becker added.
"It's a real mistake to try to legislate and make policy, in general, to try to put your thumb on the scale of elections. It's a bad idea, regardless of party, to try to game the system so that you think your party is going to do better," Becker said.
Becker said among the more troublesome provisions in the new law is allowing an unlimited number of challenges to be filed contesting a voter's registration status and preventing voters from casting out-of-precinct provisional ballots before 5 p.m. on Election Day.
A provision removing the secretary of state as chair of the State Election Board is unfair retaliation against Raffensperger for refusing to bow to pressure to overturn the presidential election results, he added.
Another controversial change also gives the state board the power to take over county election boards. Becker added that it could become valuable if a county election board deserves a temporary change in leadership but could be misused for political gains.
Meanwhile, the county with the state's largest pool of voters is bracing for potential legal battles over the state takeover. On Wednesday, the Fulton County Commission voted 4-2 to direct the county attorney's office to come up with a way to challenge the law.
Commissioner Khadijah Abdur-Rahman, the resolution's sponsor, said she's worried that the new rules will greatly reduce the number of absentee drop boxes offered by Fulton in 2020, restricts mobile voting units and gives the state too much power to replace local election officials. 
"This is a laser targeted (on Fulton)," Abdur-Rahman said. "Whatever amount of voter suppression they do, it will be enough to tilt the circumstances in their favor."
This story comes to GPB through a reporting partnership with Georgia Recorder.
Secondary Content
Bottom Content