Section Branding
Header Content
Reaction To J&J Vaccine In Cumming Not Cause For Alarm, State Says
Primary Content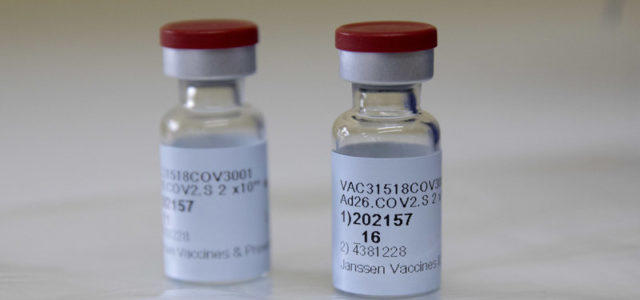 State officials are halting COVID vaccinations at a Cumming site after eight people had adverse reactions to getting a Johnson & Johnson shot there Wednesday.
The CDC is evaluating the situation in the Atlanta suburb and in three other states — Iowa, Colorado and Michigan.
One person in Cumming was evaluated at a hospital and then released, the Department of Public Health said Friday. The other seven were monitored at the vaccine site — the Cumming Fairgrounds — and sent home.
The reactions "were consistent with common reactions in adults being vaccinated with any vaccine, but due to the number of individuals affected, the site stopped the J&J vaccinations to evaluate,'' Public Health said in a news release.
There were 425 J&J vaccines administered at the Forsyth County site Wednesday. Tens of thousands of J&J doses have been given statewide with no adverse reactions, Public Health said.
"There is no reason to believe there is anything wrong with the vaccine itself, and other individuals who have received the J&J vaccine should not be concerned," Dr. Kathleen Toomey, Public Health commissioner, said in a statement. "We are looking into what happened and what may have caused the reactions, including the conditions at the fairgrounds such as heat and the ability to keep the site cool.''
The J&J vaccine for COVID-19 has an advantage in its convenience because it requires only one shot, while the other types now in use in the United States require two shots spaced weeks apart.
North Carolina health officials said Thursday that they stopped administering Johnson & Johnson doses at a mass vaccination site in Raleigh and at clinics in Hillsborough and Chapel Hill after at least 26 people experienced adverse reactions, including fainting, the Association Press reported. Four people were taken to hospitals for further examination.
In Colorado on Wednesday, 11 people saw adverse reactions after receiving a J&J shot. Two were taken to a hospital.
CDC spokeswoman Kristen Nordlund said adverse reactions in these states include dizziness, light-headedness, feeling faint and rapid breathing, according to the AP.
Amber Schmidtke, a public health expert who tracks COVID-19 in Georgia with the Daily Digest, said such reactions are "why we want to observe people for 15 minutes after getting a shot.''
She said Public Health is properly cautious after such an event "while they sort things out.''
Last week, Johnson & Johnson vaccine was contaminated by ingredients from another company's vaccine at a manufacturing plant in Baltimore, federal officials confirmed Wednesday, ruining a batch of raw vaccine representing millions of doses. The incident prompted a review of procedures.
The vaccine reactions may affect some people's confidence in the J&J shot, Schmidtke said. But she added that the state's response "shows that the system is working the way it's supposed to. These are reactions that could happen with any injection.''
On a separate issue, she said she's concerned about the spread of the B.1.1.7 coronavirus variant in Georgia. This form of the virus, first identified in Britain, is easier to transmit from person to person than the one that originally hit the United States.
"I'm worried about it,'' Schmidtke said.
A New York Times analysis and chart showed the variant represents close to an estimated 75 percent of the current cases in Georgia, a trajectory that's similar to those in Michigan and Minnesota, which are seeing surges of COVID-19 cases.
This story comes to GPB through a reporting partnership with Georgia Health News.
Secondary Content
Bottom Content