Section Branding
Header Content
Bibb Sheriff's Deputy Killed By Inmate At County Jail
Primary Content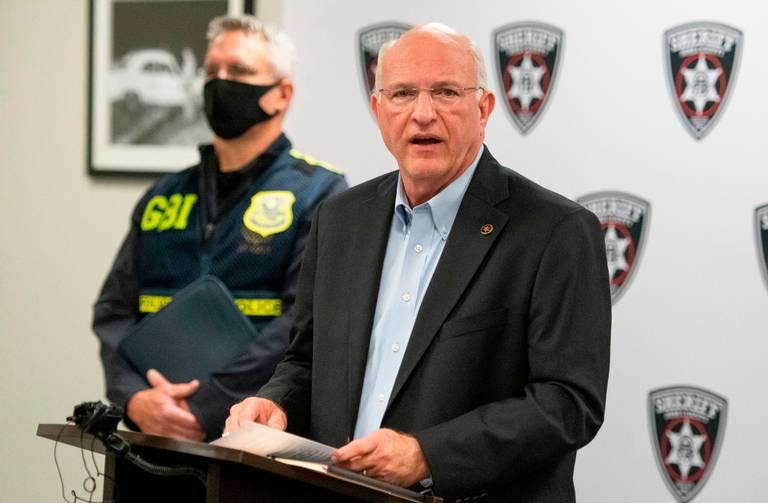 A Bibb County sheriff's deputy was stabbed to death early Tuesday by an apparently handcuffed inmate at the county jail who grabbed a knife the deputy was thought to have had in his possession, officials said.
It was unclear to investigators whether the knife was taken from a duty belt that the deputy was wearing or if perhaps the knife somehow fell to the floor, possibly in a struggle to restrain the inmate, officials said.
The deputy, 30-year-old Christopher Wilson Knight, was stabbed while he and other deputies were moving inmate Albert Dewitt Booze to a cell for "suicide watch" about 2:30 a.m. after Booze made threats about harming himself, Sheriff David Davis said.
Charges against Booze, 22, who had been in the jail since November on charges of criminal damage, giving a false name and criminal trespassing, were pending.
An internal investigation had been launched to determine why the deputy had a knife, the sheriff said, adding that deputies in the jail have access to knives as there are on occasion circumstances that arise in which cutting implements are needed. Such situations can include the need to cut bed sheets, cords or other items that inmates have been known to use to hurt themselves. It was unclear if Booze had done so.
Another deputy, 32-year-old Jerome Michael Williams, sworn in last week, was injured in the incident and treated at a city hospital before being released, Davis said.
At a news conference shortly before 9 a.m., the sheriff spoke to reporters, saying, "We're here on a sad morning for the Bibb County sheriff's office. We've lost a fine deputy in the jail and had another one injured."
The Georgia Bureau of Investigation, as is routine in such matters, was probing any criminal aspects of the attack on the deputy.
Speaking at the news conference, Todd Crosby, special agent in charge of the GBI's Perry office, said that at some point on Monday the inmate involved in Tuesday morning's attack had been moved to a new cell for "disciplinary issues."
Just before 2:30 a.m. on Tuesday, Booze was being moved to "suicide watch" after "making comments that he wished to harm himself," Crosby said.
The agent said "several deputies" were involved in moving Booze to an observation cell where he could be monitored around the clock.
"During this time, a fight between Booze and the deputies took place," Crosby said. "During that fight, Booze was able to obtain a knife from one of the deputies [Knight] and use his knife to stab and kill the deputy."
The slain deputy, who turned 30 on Sunday, had worked at the jail since he was hired in 2018.
The sheriff said Knight is survived by his mother and a 2-year-old child.
"Our condolences and our hearts go out to his family and all of his friends," Davis said.
This story comes to GPB through a reporting partnership with The Telegraph.
Secondary Content
Bottom Content