Section Branding
Header Content
Gun Rights Legislation Fails To Get Final Approval In The Georgia House
Primary Content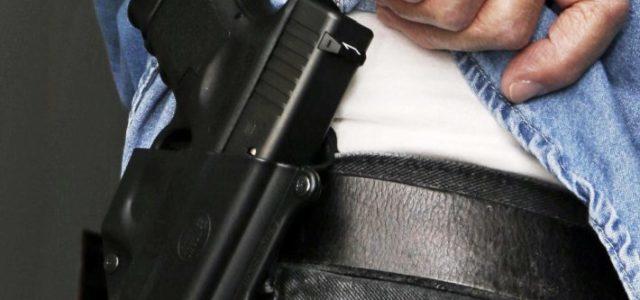 Georgia's controversial gun rights bill that was approved Monday by the Senate never got a final OK in the House on the last day of the General Assembly.
House Speaker David Ralston (R-Blue Ridge) said after the session ended Wednesday night that the recent mass shootings, including one in metro Atlanta, played a factor in his not calling up House Bill 218 for a vote.
"Frankly, I thought we needed to be very, very sensitive to any gun legislation,'' he told reporters. "We're less than two weeks out from two major mass killings. That heightens my level of sensitivity to that.''
Ralston also said he had not had a chance to analyze all the bill's provisions and their potential impact.
House Bill 218 would require Georgia to recognize other states' concealed weapons permits, and would prevent a governor from taking away ammunition, other weapons like crossbows, and reloading equipment such as speedloaders or magazines, during a state of emergency.
The bill also would require local governments to hold auctions at least every 12 months to sell off weapons that have come into the possession of authorities. In addition, it would allow probate courts, which handle gun-carry permits at the county level, to accept applications for them by online methods or by mail. And the measure would bar local governments from closing or limiting the operations of shooting ranges.
On Monday, Gov. Brian Kemp's floor leader, Sen. Bo Hatchett (R-Cornelia), said House Bill 218 reflected "Georgia's commitment'' to protect citizens' rights.
Democrats, though, pointed to the recent deadly mass shootings and said there is an oversaturation of guns in the United States. "This legislation adds more guns,'' said Sen. Elena Parent (D-Atlanta).
Procedural rules required the House to agree with the Senate's changes in the bill, and that approval vote never occurred.
Ralston noted in his comments after the session ended that the House has shown strong support for the Second Amendment over the years.
On the bill not coming up for a final vote Wednesday, he added, "I'll take any criticism that comes and we'll deal with it. There's always another day to talk about these things.''
This story comes to GPB through a reporting partnership with Georgia Health News.
Secondary Content
Bottom Content