Section Branding
Header Content
GA. Lawmakers Take 11th Hour Aim At Delta After CEO's Voting Law Broadside
Primary Content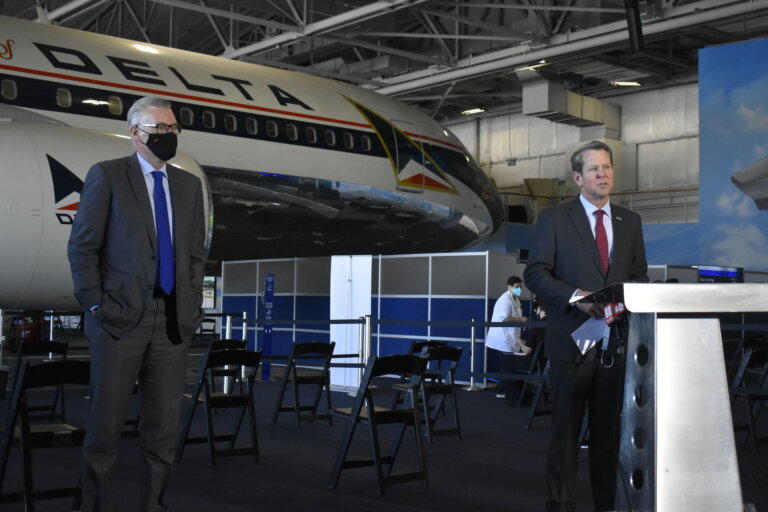 After weeks of pressure from protesters, major Georgia businesses including Delta Air Lines are taking a stronger stance against the sweeping voting bill signed by Gov. Brian Kemp that opponents say will make it more difficult to cast a ballot, especially for minority voters.
"I need to make it crystal clear that the final bill is unacceptable and does not match Delta's values," wrote CEO Ed Bastian in a memo to employees Wednesday.
"The entire rationale for this bill was based on a lie: that there was widespread voter fraud in Georgia in the 2020 elections," Bastian added. "This is simply not true. Unfortunately, that excuse is being used in states across the nation that are attempting to pass similar legislation to restrict voting rights."
Delta had not been the agenda for the last day of the 2021 Georgia legislative session Wednesday, but that quickly changed. House lawmakers narrowly passed a bill to repeal a tax break on jet fuel, the same tactic Republicans used in 2018 after the airline company revoked a discount for National Rifle Association members following a high-profile school shooting at Marjory Stoneman Douglas High School in Parkland, Florida.
Moultrie Republican Rep. Sam Watson added the language to a bill relating to tax credits, sparking outrage from House Democrats.
"This has nothing to do with the Department of Revenue, but it's purely retaliation for the business community speaking out on a bill that everyone feels is Jim Crow 2.0," said Minority Whip David Wilkerson of Powder Springs.
House Speaker David Ralston acknowledged early Thursday morning that the proposal was a response to Delta's statement.
"They like our public policy when we're doing things that benefit them, and they reap the rewards of those benefits and then turn around and do this," the Blue Ridge Republican told reporters. "As all of you know, I can't resist a country boy line or two, you don't feed a dog that bites your hand. You've got to keep that in mind."
The measure did not receive a vote in the Senate, so it will not become law this year. But it could be revisited during next year's legislative session, Ralston said.
Bastian's memo followed rising calls for a boycott of Delta and other major Atlanta businesses, including Coca-Cola, Home Depot and UPS.
As lawmakers gathered Wednesday morning at the Capitol for a marathon final day, one group of protesters and religious leaders gathered at nearby Trinity United Methodist Church to protest against a provision in the law that bars handing out water to people waiting in line to vote.
There, Rev. Fer-Rell Malone of Macedonia Missionary Baptist Church said corporations that do not protect Black votes should not expect to get business from Black people.
"Corporations and businesses, you cannot suck on the breast of the Black community and not be held accountable," he said. "You cannot ride on the prosperous economics of our community and not represent and fight for and defend our rights. We will no longer be your booty call. We will no longer be your side piece."
Leading Georgia Democrats, including Stacey Abrams, have resisted calls for a boycott.
"One lesson of boycotts is that the pain of deprivation must be shared to be sustainable," Abrams wrote for USA Today. "Otherwise, those least resilient bear the brunt of these actions; and in the aftermath, they struggle to access the victory. And boycotts are complicated affairs that require a long-term commitment to action. I have no doubt that voters of color, particularly Black voters, are willing to endure the hardships of boycotts. But I don't think that's necessary — yet."
Bastian's statement also comes less than a week after he said in a separate, more tepid memo that while he understands concerns about the law. "The legislation signed this week improved considerably during the legislative process" by expanding weekend voting, codifying Sunday voting and authorizing ballot drop boxes.
Bastian said he came to his latest position "after having time to now fully understand all that is in the bill, coupled with discussions with leaders and employees in the Black community."
Coca-Cola also came out stronger than ever against the new law Wednesday, with CEO James Quincey calling it a "step backwards" on CNBC's Power Lunch.
"We have always opposed this legislation," Quincey said. "We have a long track record of working in Georgia, with alliances, on our own account, with legislators, with stakeholders, to improve legislation, and we were doing so again this time, but the result of this legislation in an area that's particularly sensitive and important for Georgia, has not resulted in something that is acceptable, we believe, for the citizens of Georgia, so we're coming out even more clearly, saying that this is wrong and it needs to change."
Ralston said he felt that statement was out of line as well, and jokingly suggested that he was holding his own boycott.
"I don't drink a lot of soft drinks, but I bought a Pepsi the other day, and they're not that bad," he said.
Tech giant Microsoft, which is planning to develop a new campus in Atlanta and data centers in Fulton and Douglas counties, also joined in Wednesday, citing restrictions on drop boxes and absentee and provisional ballots in its opposition to the legislation.
"We are concerned by the law's impact on communities of color, on every voter, and on our employees and their families," President Brad Smith said in a statement. "We share the views of other corporate leaders that it's not only right but essential for the business community to stand together in opposition to the harmful provisions and other similar legislation that may be considered elsewhere."
Why Now?
Groups on the left and the right are questioning the timing of the companies' statements, which came with the clock running out on the state's legislative session and nearly a week after Gov. Brian Kemp signed the bill into law.
In a statement, Kemp said state officials were in conversations with the airline company throughout the process of writing and passing the bill and did not hear any specific concerns until Wednesday.
"Today's statement by Delta CEO Ed Bastian stands in stark contrast to our conversations with the company, ignores the content of the new law, and unfortunately continues to spread the same false attacks being repeated by partisan activists," he said.
Rep. Todd Jones questioned Delta's sincerity when some areas of Georgia's voting laws are less restrictive than those of other states.
"What about the jets going into New York? The jets going into New York are going into a state where you need an excuse for absentee ballots, you don't get automatic registration through your DMV in moving into the state of New York, and better yet, it took them until 2019 to have early voting," Jones said.
Nse Ufot, CEO of the New Georgia Project Action Fund, a voting rights group that opposes the new voting law, also questioned the timing of Bastian's announcement.
"Delta claimed its leaders engaged with lawmakers drafting these bills for weeks, ensuring that the company's voice was well-represented in the process," she said. "Now, you claim to fully understand the legislation and the damage it will do after conversations with leaders in the Black and Brown community. This is where the problem lies. Conversations with Black and Brown leaders must happen at all stages and all areas of decision-making, not after the damage is done."
Other opponents of the new law offered more direct criticism that the new corporate epiphany would have been more welcome while lawmakers were still debating the legislation.
"I say it's too late," said Hannah Gebresilassie, co-founder of Protect the Vote GA, which protested the voting bills for weeks at the Capitol and outside Georgia's top businesses. "It's just very disappointing. These statements right now don't have a lot of substance because they had an opportunity to help combat voter suppression and they chose not to speak up until it was signed into law."
"We're ready to continue the fight, but it's just overall really disappointing and disheartening," she added.
The statements show big companies are feeling the heat, said Andra Gillespie, a political science professor at Emory University, and they are taking even the threat of a boycott seriously.
"People are concerned about that, especially at a very critical time with Delta, in particular," she said. "They're trying to rebuild after the pandemic, and the last thing they would need is to not have the expected increase in ridership."
If these companies are serious about their opposition to the law, they can show it by ceasing campaign donations to its supporters, pushing for federal voting protections and lending their weight to court cases opposing it, she said.
"As these cases make their way up the federal judicial system, there may be opportunities for corporations to weigh in and to register the work by writing or funding amicus briefs," she said. "So I don't think this story is over."
University of Georgia political science professor Charles Bullock agrees. Politicians are expected to be cheerleaders for economic developments in their states, and businesses can pressure them by spending their money elsewhere, he said, referencing a North Carolina law that barred transgender people from using restrooms corresponding with their gender identity that sparked major corporate backlash and the loss of an NCAA basketball tournament.
"What this might result in, especially if some events were to move out of Georgia, we might see a situation analogous to what happened in North Carolina with the bathroom bill, where the very next session, sufficient economic pain had been inflicted on state that the legislature and the governor, got behind the efforts to revoke what they had just done," he said.
This story comes to GPB through a reporting partnership with Georgia Recorder.
Secondary Content
Bottom Content