Section Branding
Header Content
Governor Signs Modest Income Tax Cut For Standard Deduction Filers
Primary Content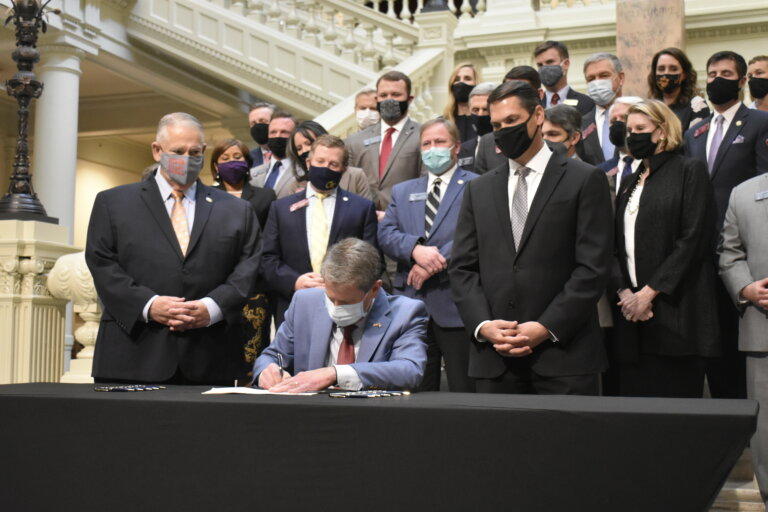 Gov. Brian Kemp quickly signed into law a tax cut that Republicans said earlier could be imperiled by the new federal coronavirus relief bill.
The measure increases the state's standard deduction, creating a modest tax break. For an individual, the tax relief will be about $46; married couples will see about $63 savings. The change will cost the state about $140 million.
"As we return to normal here in the Peach State and look to fully restore our economy, it is critical that Georgians keep as much of their hard-earned money as possible, to revive small businesses and industry still struggling under the weight of COVID-19," Kemp said at a state Capitol press conference held Monday. "(This bill) does just that."
The sweeping federal relief bill provides $1,400 payments to most Americans, and for Georgia, it means $5 billion in federal aid to the state, $3.6 billion for local governments and another $4.3 billion for K-12 schools.
At issue is a brief line in the federal bill that bars states and local governments from using the aid "to either directly or indirectly offset a reduction in the net tax revenue" or to delay the imposition of any tax or tax increase. The appearance of the word "indirectly" outraged the state's GOP leaders earlier this month.
The state Senate gave the bill final approval last week. At the time, Sen. Elena Parent made the case for more targeted assistance for "people who actually really will notice the additional money" and use it right away.
"Lots of people aren't going notice that at all, I've got to be honest with you," the Atlanta Democrat said to her colleagues last week, referring to the savings from the state's tax break bill.
Kemp also signed another bill that expands a tax credit for adoptions, taking it from $2,000 annually to $6,000 per child for up to five years. GOP lawmakers had said the federal bill's wording potentially jeopardized this proposal too.
A U.S. Treasury spokeswoman told the New York Times that the federal bill does not stop states from cutting taxes.
"It simply instructed them not to use that money to offset net revenues lost if the state chooses to cut taxes," Treasury spokeswoman Alexandra LaManna told the paper. "So if a state does cut taxes without replacing that revenue in some other way, then the state must pay back to the federal government pandemic relief funds up to the amount of the lost revenue."
In Georgia, revenues have been growing instead of declining as state budget writers feared last summer when they cut $2.2 billion in spending.
"While the federal government is busy every day spending itself into a national debt crisis with no end in sight, here in Georgia we are building on a tradition of responsible fiscal management by cutting taxes and balancing our budget, as we have always done," Kemp said.
This story comes to GPB through a reporting partnership with Georgia Recorder.
Secondary Content
Bottom Content