Section Branding
Header Content
Senate Revives Bill That Would Make Protests That Block Highways A Felony
Primary Content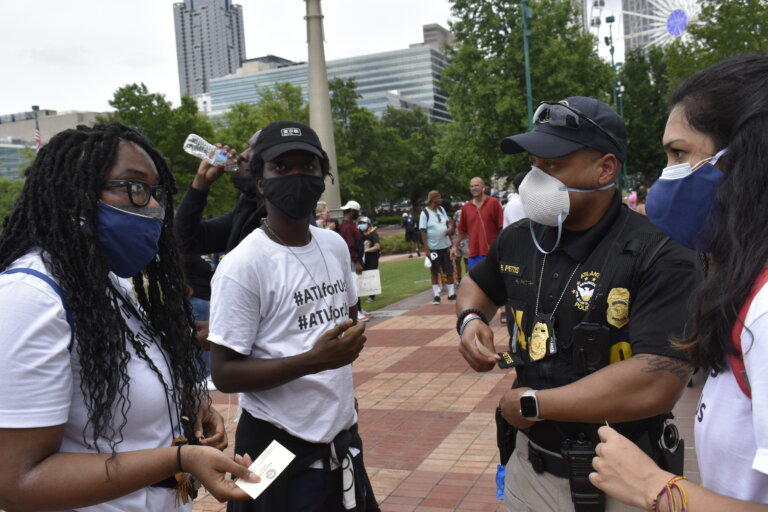 A bill placing new restrictions on protests and the cities where they take place was revived late last week after failing to get a vote in a state Senate committee earlier.
The proposed law would increase penalties for protest tactics including blocking a highway after police tell protesters to leave. It would also require demonstration planners to submit plans to a city or county for approval, including names and contact information for protesters and first aid and security plans. Cities or counties could be held liable if they negligently allowed violence or property damage at a protest, according to the bill.
It also aims to punish cities and counties that cut funding to their police departments by withholding state and federal funding to any local government that reduces its police budget by 30% in one year.
The bill is necessary after racial and social justice protests rocked the nation last summer, said the bill's author, Sen. Randy Robertson. Atlanta and other cities endured weeks of protests over the killings of Black people including George Floyd, Rayshard Brooks and Ahmaud Arbery, which at times devolved into violence and property damage.
In pitching the bill to the Senate Public Safety Committee Thursday, Robertson, a Republican from Cataula, also invoked the events of Jan. 6, when a far-right mob invaded the U.S. Capitol.
"This is based on the insurrection that we've seen happen throughout our country starting last year, and I think the most recent that we all can remember is this one this past January in Washington D.C.," Robertson said.
The committee voted five to three to add language from Senate Bill 171 that Robertson added to an unrelated measure dealing with driver's licenses. Appending language from dead bills to related legislation that covers a similar issue can be a common tactic as a legislative session approaches its end. The 2021 session is set to end March 31.
Robertson's legislation to crack down on protests was given up for dead after the Senate Judiciary Committee did not vote on it at a meeting earlier this month. At that time, members expressed concerns it would infringe on protesters' rights to free speech and leave municipal governments open to lawsuits. 
Some are not happy to see the bill resurrected. Christopher Bruce, political director of the ACLU of Georgia, said the changes to the driver's license bill "make a mockery of the First Amendment."
"After his bill, Senate Bill 171, failed to pass out of another committee because it clearly violates the First Amendment, Senator Robertson hijacked House Bill 289," Bruce said. "What makes House Bill 289 even more concerning is the fact that we know from history that the people who will suffer the most if this legislation were to become law are people of color, as they are most often the targets of drastic law enforcement responses."
Robertson dismissed claims that his bill is unconstitutional, saying the Supreme Court has upheld government restrictions on the time, manner and place of protests, and he believes his bill meets that test. He said the bill is only aimed at lawbreakers and will not affect anyone peacefully exercising their rights, he said.
"I cannot point that out enough, that we are discussing only unlawful assemblies, we are in no way trying to limit or prevent any group from having a peaceful assembly or peaceful protest," he said Thursday.
Some protesters disagree. Hannah Gebresilassie said her group, the Protect the Vote GA Coalition, has been peacefully demonstrating against new voting restrictions outside the state Capitol for more than two weeks.
She's worried the bill will add new red tape for groups like hers that play by the rules.
"We're just trying to exercise our First Amendment, and them trying to continue to move something like this is just a slap in the face," she said. "Regular protesters like myself will just have to go through more hurdles, more challenges — It's not going to stop us by any means, but I do think they're trying to silence the people by initiating something like this."
Groups that represent Georgia's local governments say the bill could force them into a difficult balancing act between respecting residents' right to assemble and protecting themselves from lawsuits over protests within their borders.
"Government has to walk a fine line between ensuring public safety but not suppressing people's rights to assembly or speech, and that often turns into litigation as it is," said Larry Ramsey, deputy general counsel with the Association of County Commissioners of Georgia. "This would make it that much harder to thread that needle."
Creating a mechanism to review and approve any request for a protest involving two or more people would also create burdens for smaller county governments, Ramsey said, and the punishment for lowering police budgets prevents local officials who are accountable to voters from making decisions about how tax dollars are spent.
"We think that budgeting should be left to the county commissioners," he said. "If folks that elect them don't like the budget decisions they' make, then those county commissioners may not be county commissioners for a long time."
A separate bill aimed at stalling the defund the police movement also passed the Senate Public Safety Committee Thursday.
House Bill 286, which passed the House on party lines in February, would prevent cities and counties from lowering public safety budgets by 5% over a rolling ten-year period. It has also faced criticism from civil liberties groups and local government leaders.
The two bills are part of a wave of legislation written by GOP officials in response to last year's unrest.
This story comes to GPB through a reporting partnership with Georgia Recorder.
Secondary Content
Bottom Content