Section Branding
Header Content
Five More COVID-19 Mass Vaccination Sites To Open In Georgia
Primary Content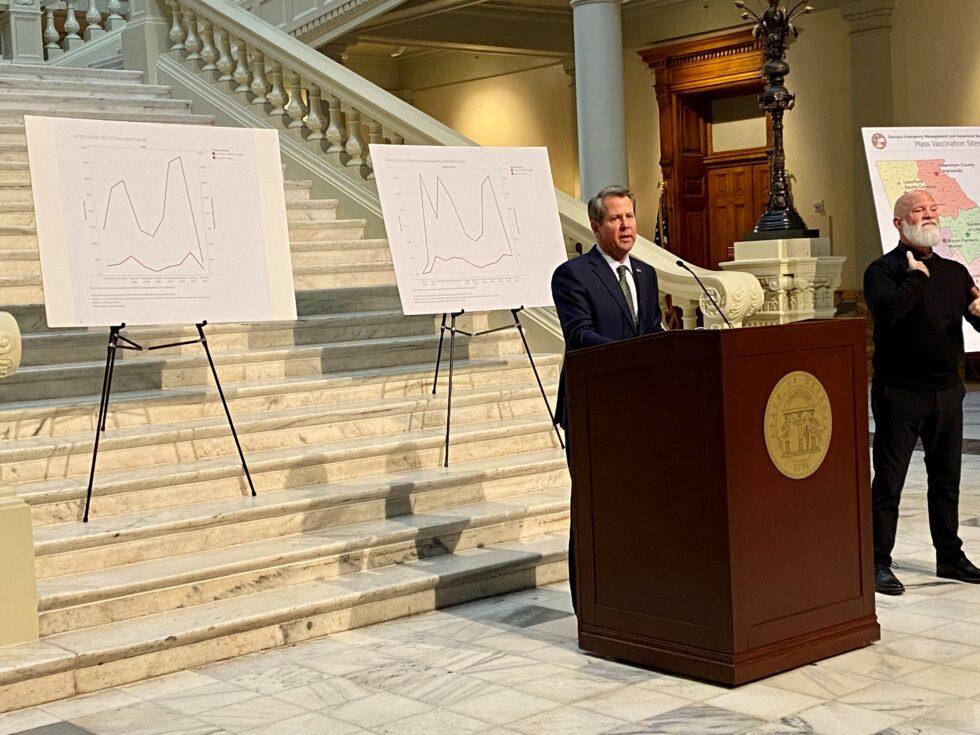 Five more mass COVID-19 vaccine sites are set to open in Georgia later this month as teachers and school workers land on the eligibility list March 8, Gov. Brian Kemp said on Wednesday.
The additional vaccine sites add to four other locations that opened last month in metro Atlanta, Macon, Albany and Habersham County. The new sites will open in Savannah, Columbus, Waycross and Bartow and Washington counties.
The five new sites are scheduled to open on March 17 and administer a minimum of 20,000 doses each week with teachers, adults with behavioral and intellectual disabilities and parents of children with complex medical conditions first in line to receive shots.
"I feel like we're starting to see the light at the end of the tunnel," Kemp said at a news conference at the state Capitol.
Georgians can pre-register for a vaccine appointment at myvaccinegeorgia.com even if they do not yet qualify under the governor's eligibility criteria. They will be notified once they qualify and scheduled for an appointment.
The governor traced his optimism to the more-than 2 million vaccines given so far in Georgia and a coming boost of 83,000 weekly doses from the newly approved Johnson & Johnson vaccine. That will bring Georgia's weekly vaccine shipments to 223,000 doses starting next week.
State officials have faced criticism for Georgia's slow vaccine distribution since the initial two-dose vaccines started rolling out in December. Kemp has pinned the slow pace to tight vaccine supplies from the federal government.
Batting down criticism on Wednesday, Kemp said more than 860,000 Georgians ages 65 and older have received at least one dose of the vaccine so far, marking about 60% of that vulnerable population.
"I believe that we have done more than most any other state to protect those that are most vulnerable to COVID-19 with the limited supply that has been given to us by the federal government," Kemp said.
He added state officials are now set to helping local school districts work through how to divvy up vaccines to teachers and staff starting next week. State School Superintendent Richard Woods is set to meet with about a dozen district superintendents about vaccine distribution on Thursday.
The new vaccine sites and shipments come as COVID-19 positive case rates and hospitalizations continue to drop after a spike over the winter holiday season.
Roughly 823,000 people had tested positive for COVID-19 in Georgia as of Wednesday afternoon, with nearly 192,000 more reported positive antigen tests indicating likely positive results. The virus has killed 15,349 Georgians.
The new mass-vaccination sites will be open at the following locations:
Gulfstream Aerospace: 500 Gulfstream Road, Savannah, GA 31408
Columbus Civic Center: 400 4th Street, Columbus, GA 31901
LakePoint Sports Complex: 261 Stars Way, Emerson, GA 30121
Sandersville Word of Life Church: 1214 South Harris St., Sandersville, GA 31082
Waycross Mall: 2215 Memorial Drive, Waycross, GA 31501
The four mass sites already open include:
Delta Flight Museum: 1220 Woolman Place SW, Hapeville, GA 30354
Habersham County Fairgrounds: 4235 Toccoa Highway, Clarkesville, GA 30523
Macon Farmers Market: 2055 Eisenhower Parkway, Macon, GA 31206
Albany branch of the Georgia Forestry Commission: 2910 Newton Road, Albany, GA 31701
This story comes to GPB through a reporting partnership with Capitol Beat News Service.
Secondary Content
Bottom Content