Section Branding
Header Content
Lawmakers Brief: Kemp Announces Overhaul of Citizen's Arrest Statute
Primary Content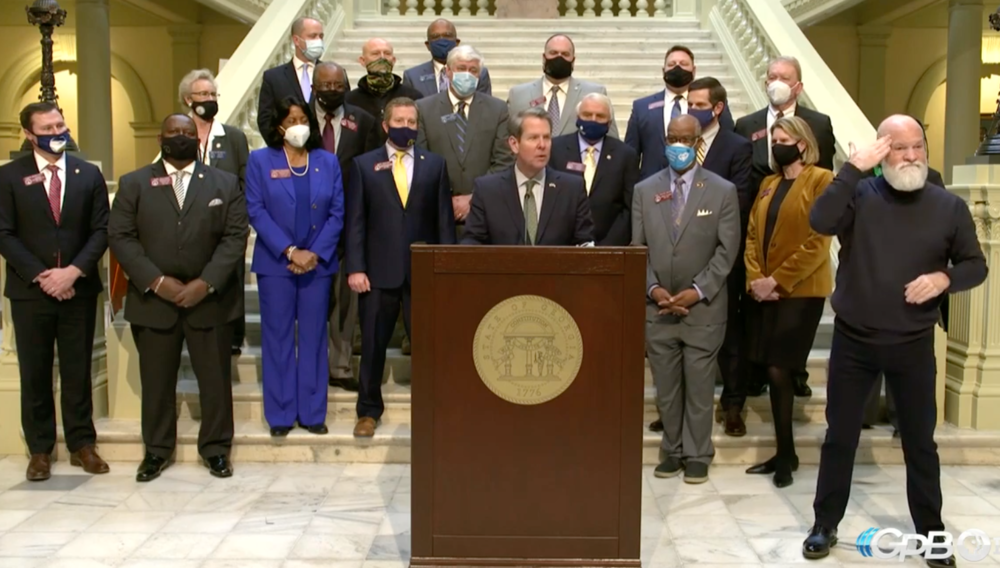 Gov. Brian Kemp announced legislation to overhaul Georgia's citizen's arrest law at the Georgia Capitol on Tuesday.
The bill is in response to the murder of Ahmaud Arbery on Feb. 23, 2020. The 25-year-old Black man was pursued and fatally shot while jogging near Brunswick, Ga., in Glynn County. The men later charged in the killing claimed they were making a citizen's arrest.
The death of Arbery contributed to an uproar over similar killings of Black people that sparked protests and riots across the U.S. The outcry also prompted a change in Georgia's laws and lawmakers passed hate crimes legislation last year.
At Tuesday's press briefing, Kemp said he wanted to close all "dangerous loopholes that could be used to justify future acts of vigilantism."
"This bill repeals the current Civil War-era statute to prevent the terrible consequences of a vague and outdated law and it clarifies when a citizen, business owner, or law enforcement may reasonably detain an individual," Kemp said.
"Ahmaud was the victim of a vigilante style of violence that has no place in Georgia and some tried to justify the actions of his killers by claiming they had the protection of an antiquated law ripe for abuse," Kemp added.
The measure appears to have broad bipartisan support including Democratic State House Representative Calvin Smyre and several statewide civil rights organizations. 
 "I support the repeal of the Georgia Citizen's Arrest statute that has been on the law books of our state since 1863," Smyre said. "The citizen's arrest law is outdated and ripe for abuse by those untrained citizens where 911 is widely available for calling law enforcement to respond. As with the 2020 Anti-Hate Crimes Act, now is the time to remove this cloud over our state; we should not allow citizens to take the law into their own hands and senseless violence to take place. We must act now."
Kemp also said that this does not change the legality of self-defense in Georgia.
Kemp is expected to work with lawmakers from both political parties to ensure that the legislation will pass this year.
Secondary Content
Bottom Content