Section Branding
Header Content
Prominent Pro-Trump Lawyer And Mercer Grad Lin Wood Calls Mercer Students 'Brainwashed'
Primary Content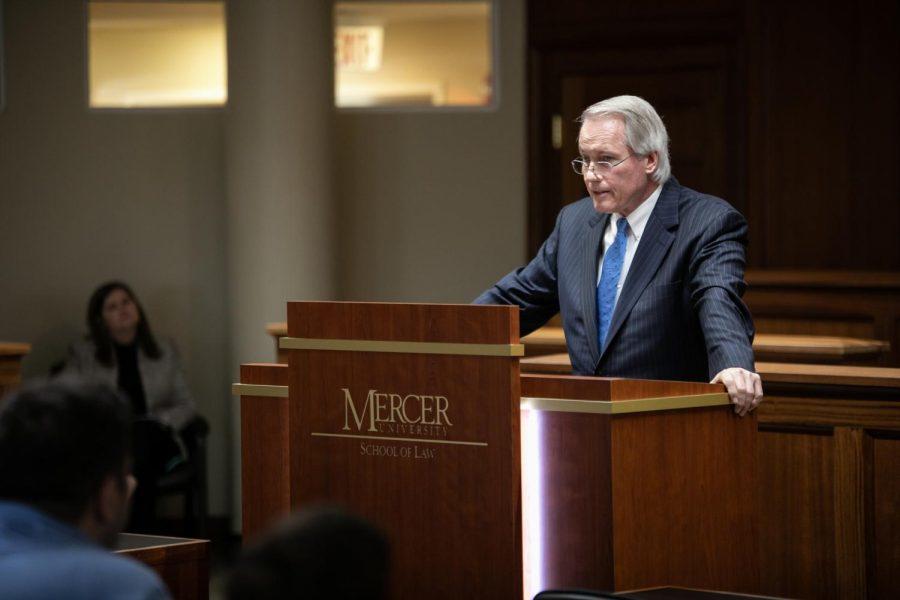 In January 2020, Mercer Law School graduate L. Lin Wood spoke to a group of law students as a "Legal Legend."
One year later, he was banned from Twitter after spreading several baseless conspiracy theories and inciting violence.
Wood, who received both his bachelor's and law degrees from Mercer, is a conservative lawyer and ally of former President Donald Trump. He has garnered a large social media following, particularly over the last year.
Mercer's Walter F. George School of Law named a courtroom after him when he pledged $1 million over a 10-year period in 2016. Now, some students and faculty are advocating for his name to be removed due to his controversial internet presence.
Wood's posts have included calling for the execution of former Vice President Mike Pence — although Wood later said this was "rhetorical hyperbole" — and claiming without evidence that an Apple software update would "shut off the emergency broadcast system" to prevent Trump from communicating with the American people.
He also believes that the election results confirming Joe Biden as president are false and that Trump rightfully won the election. No evidence has been provided to support those claims.
Following his ban on Twitter as a result of promoting violence and then evading his suspension by posting on a different account, he posted frequently on the social media platform and far-right haven Parler during its final days.
"Trust Trump. But in the final analysis, you must trust the Lord. When some see chaos, you will see a plan," Wood said in a Jan. 10 post on Parler. "Trump was re-elected in a landslide victory. He will serve 4 more years. But he has a sworn duty to clean up the mess created over years by third party bad actors, Communists & traitors. He will."
But Wood has not always been this incendiary, according to Mercer Law School Dean Cathy Cox. At the beginning of Trump's presidential term (more specifically, at the time of Wood's donation to the law school), she said Wood still supported Trump, but not in the same way he does today.
After the law school received pressure from students to address Wood's controversies, Cox hosted a Zoom call Jan. 22 to explain the situation. Unbeknownst to the participants of the call, however, Wood was listening in.
The dean spent several minutes discussing her history with Wood and thoughts regarding his behavior. She mentioned that they have had a friendly relationship for many years despite their differing political beliefs. After Cox, a Democrat, was elected Georgia Secretary of State, she said Wood congratulated her on the new position. He has even represented her in a case.
"I have observed noticeable changes in his conduct and behavior over the last year that concern me for his wellness. What I have observed is not what I believe to be characteristic of him," Cox said in the call. "Since the summer, his Twitter account just went from the super-charged Trump supporter to the angry Trump supporter to the insane to the violent. I have never seen things like that come out of him before."
Cox also said that Wood had a strained relationship with his family during her explanation. After hearing this claim, he responded to her in the call.
"I challenge you because you are not telling the truth," he said. "You have slandered me in this meeting. I'm ashamed that you would do that behind my back in front of people who are my colleagues. I think you and Mercer University needs to stop and think twice about what you are doing because I think you are jeopardizing the integrity of your school and the integrity of our profession."
In the wake of the "heated" call, Wood took to Telegram, a social media platform that many former members of Parler now use, to rebuke the school and the law students who were on the Zoom call.
"These kids do not respect America and freedom," Wood wrote. "They do not respect their elders. They have been brainwashed to accept the media propaganda. They do not think for themselves. They do not do their own research. If they had, they would know that the election was a fraud. They would know that freedom is vastly superior in every way to tyranny."
Katherine Twomey, a first-year law student, attended the call to gain more information about Wood and his relationship with Mercer. She told The Cluster that she is uncomfortable with his statements on social media and the way he presented himself online.
"We're already being trained to a high standard of professionalism, and I think what concerns me the most about Mr. Wood's speech on the call is how he kept defending some of his more incendiary social media posts as 'rhetorical hyperbole,'" Twomey said. "And that just didn't exactly sit right with me."
Twomey said that she felt that Wood's characterization of Mercer Law students in his Telegram post was unfair.
"I think we're getting a great education," she said. "People that I've been around and interacted with are very inquisitive. I don't think that questioning the actions of a colleague, even to his words, if that sounds like disrespecting your elders or what have you, is necessarily negative. I mean, I think we're being trained to be inquisitive professionals. And I think that that's what happened on the call."
Since Wood's Telegram post about the Zoom call, his supporters have flocked to Mercer's social media posts — all of which have been unrelated to Wood — in droves to defend him against the potential removal of his courtroom dedication.
"I stand with Lin Wood. I have seen the evidence that others have provided regarded (sic) the election," one comment reads on a post about the debate team. "I've seen numerous facts and know from a Christian standpoint we are under attack."
Cox said in the Zoom call that there are currently discussions underway about revoking Wood's courtroom dedication, but that the decision will ultimately be in the hands of Mercer President Bill Underwood and the board of trustees. The university, however, has made no move in support of or against the law school alumnus, and it is not currently clear what Lin Wood's legacy at Mercer will be.
"We have heard from people expressing a range of opinions on Lin Wood's donor recognition at the law school, but no action has been taken relative to that recognition," the university said in a statement to The Cluster. "We have nothing further to say about the matter at this time."
Wood has expressed frustration towards his alma mater and told The Atlanta Journal-Constitution that he hasn't ruled out suing Mercer.
"Maybe Cathy Cox will have another Zoom meeting and fall on her sword and admit what she did was wrong and talk about what a great career I have had, including through the year 2020 and into 2021," Wood told the newspaper. "So there are a lot of ways to resolve it, but I can't resolve it until they tell me what they want to do."
Regardless of the outcome, Mercer Law students have been left to consider their school's alumnus and how he has used his platform as a Mercer Law graduate.
"Words matter, and the way we use words matters," Twomey said. "I think it's our responsibility as professionals and in our personal lives to make sure that the way that we're using our words and the audiences to which we're directing them — those words are intentional."
This story comes to GPB through a reporting partnership with The Cluster, a student newspaper at Mercer University.
Secondary Content
Bottom Content