Section Branding
Header Content
'A personal hero': Georgia Reacts To Hank Aaron's Death At 86
Primary Content
Former WSB-TV sports director Chuck Dowdle interviewed Braves legend Hank Aaron dozens of times. He shares his memories of Aaron with GPB's Rikki Klaus.
Hank Aaron smashed baseballs — and he smashed racial barriers. The Atlanta Braves legend and American icon died Friday at the age of 86.
Aaron broke Babe Ruth's all-time home run record in 1974 — a once-unimaginable baseball feat — and held the record for more than three decades. He was inducted into the Hall of Fame in 1982, having finished his career with 755 home runs. 
"Those moments that I had back then taught me a lesson," Aaron once told GPB. "No matter what you take for granted, you try to do the very best you could to be sure that you made things worthwhile."
"I would just want to be remembered as somebody who just tried to be fair with people," he told the Atlanta Journal-Constitution in 2006.
Boxing legend Muhammad Ali once said this of Aaron: "The only man I idolize more than myself."
Former President Jimmy Carter released a statement following Aaron's death, saying: 
Rosalynn and I are saddened by the passing of our dear friend Henry Aaron. One of the greatest baseball players of all time, he has been a personal hero to us. A breaker of records and racial barriers, his remarkable legacy will continue to inspire countless athletes and admirers for generations to come. We send our love to Billye and their family and to Hank's many fans throughout the world.
Atlanta Mayor Keisha Lance Bottoms remembered the baseball figure and said, "This is a considerable loss for the entire city of Atlanta. While the world knew him as 'Hammering Hank Aaron' because of his incredible, record-setting baseball career, he was a cornerstone of our village, graciously and freely joining Mrs. Aaron in giving their presence and resources toward making our city a better place."
Gov. Brian Kemp tweeted, "Heartbreaking news. Hank Aaron was an American icon and a Georgia legend."
Atlanta Braves chairman Terry McGuirk released a statement, honoring the "home run king" — highlighting his accomplishments off the field.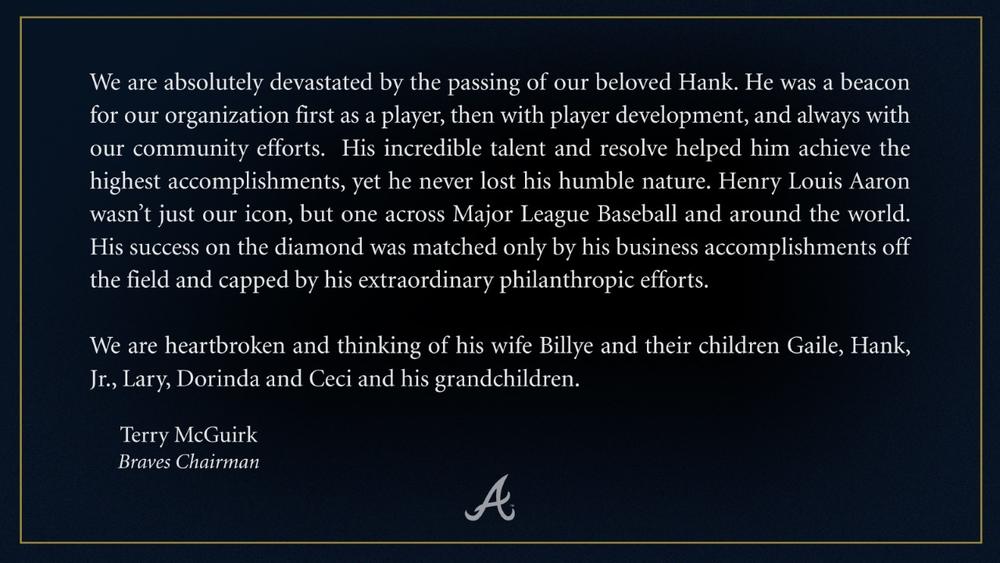 Former President Barack Obama said, "Hank Aaron was one of the best baseball players we've ever seen and one of the strongest people I've ever met."
Aaron was thrust into the record books on April 8, 1974. He had been walked in the second inning when he came to the plate again on that fateful night shortly after 9 p.m. He stared down Los Angeles Dodgers pitcher Al Downing. The first pitch went into the dirt. A cascade of boos rained down from Braves fans in Fulton County Stadium.
"Downing has to ignore the sound effects," sportscaster Vin Scully said.
Then came a high fastball over the middle of the plate that Aaron ripped into, sending it over the left-center field wall for home run No. 715. Dodgers players shook his hand as he rounded the bases. Two jubilant young men ran onto the field and greeted him, too.
Aaron had faced constant death threats as he neared Babe Ruth's record; he would later say he believed the two guys were about to harm him. Instead, they were joyous fans who added to the moment. When he touched home plate, Aaron was mobbed by his teammates — and his parents.
"What a marvelous moment for baseball. What a marvelous moment for Atlanta and the state of Georgia," Scully said. "What a marvelous moment for the country and the world — a Black man is getting a standing ovation in the Deep South for breaking the record of an all-time baseball idol."
Scully continued to describe the scene. "He threw his arms around his father and, as he left the home-plate area, his mother came running across the grass, threw her arms around his neck, kissed him for all she was worth," the announcer said.
Aaron's place in history beyond the baseball field was never lost on him, saying he and other Black pioneers knew they "were making progress in trying to make equality."
In 1957, he hit an 11th-inning home run to win the pennant for the then-Milwaukee Braves. He would often reflect on that homer, while putting into the historical context of an unjust America — coming at the same time whites fought against integration of schools in Little Rock, Ark.
"That was the thing that was so ironic about that: Here I was a Black kid who hit the home run and was carried off the field by white teammates on their shoulders — and yet a little Black kid [in Little Rock] was escorted into school by Marshalls," he said during a 2016 interview with the Academy of Achievement.
Reflecting on that history, Aaron said, "It's sickening when you see things like this happening."
"Baseball was my livelihood," he added. "I had the ability to play baseball. That was given to me by God, but I had to apply my own intuition to it in order to make myself a little bit better."
Secondary Content
Bottom Content