Section Branding
Header Content
Hear What Georgia's Representatives Said About Impeachment
Primary Content
U.S. representatives from Georgia spoke on both sides of Wednesday's impeachment proceedings, the Democrats in favor and the Republicans against.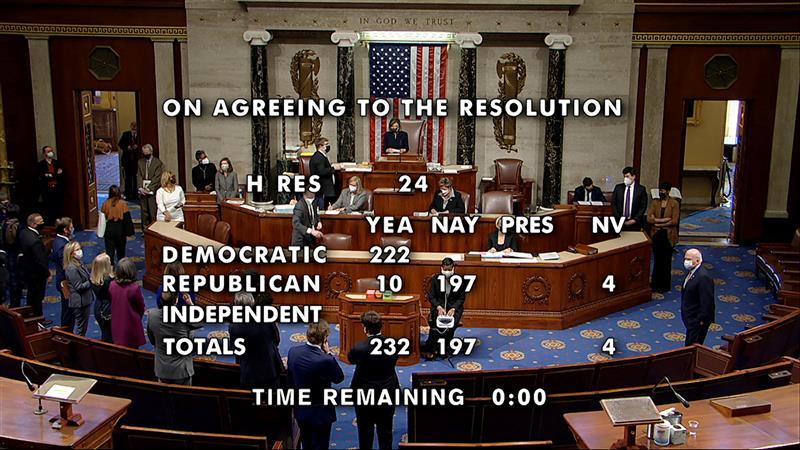 U.S. representatives from Georgia voted along party lines in Wednesday's impeachment proceedings against President Donald Trump for "incitement of insurrection" — six for impeachment and eight against.
The article of impeachment ultimately passed, making Trump the first president in American history to be impeached twice.
Georgia's congressional Democrats invoked history and duty in explaining their votes in favor of impeaching Trump.
Hank Johnson referred to the passing of the Civil Rights Act, saying current members of Congress would likely say they would have "stood on the right side of history" then.
"Today we're going to see exactly what side of history you all are going to be on," Johnson said.
Carolyn Bourdeaux, meanwhile, spoke directly to Georgia's election results, which Trump sought to overturn.
"Joe Biden won Georgia," she said. "The idea that our election was fraudulent is a lie. Our president used this lie to incite a violent mob to attack the Capitol."
Instead of impeachment, Georgia Republicans, such as the newly elected Andrew Clyde, called for an investigation of the insurrection at the U.S. Capitol.
"No evidence was presented, no witness testified, no cross-examination was conducted, no due process was afforded," Clyde said. "And that sets an extremely dangerous precedence for the future."
Republicans also called for "healing," which Buddy Carter said impeachment would not achieve.
"This is very serious and concerning effort during such a tense and fragile time in our country," he said. "I urge my colleagues to consider how this will further entrench people during such a tense time."
Seven representatives in the Georgia delegation spoke during the floor debate and the preliminary debate earlier Wednesday morning. Hear what they said:
Republican Earl "Buddy" Carter
Carter spoke about healing and said his "thoughts and prayers" are with law enforcement officers who were on duty during the insurrection. He called the mob's actions "nothing short of pure anarchy" but said impeachment would not help.
Democrat Carolyn Bourdeaux
Citing a civics class she teaches, Bourdeaux said that "our democracy is not self-executing. It requires people of good faith and ethics to make it work." She also affirmed President-elect Biden's win in Georgia, calling claims of fraud a "lie."
Republican Marjorie Taylor Greene
Taylor Greene, a follower of the QAnon conspiracy theory, wore a mask that read "censored" as she spoke during the widely televised hearing. She compared the violent insurrection to protests for racial justice. 
Republican Andrew Clyde
Clyde called impeachment a "shameful final act of political retribution" and criticized the lack of hearings with witnesses and evidence that would normally accompany impeachment proceedings, which he said would set a "dangerous" precedent.
Democrat Lucy McBath
Like many of her Democratic colleagues, McBath invoked history in her short remarks. She also said of Trump that "the president's actions have laid bare his contempt for our Constitution." McBath called for his removal.
Democrat Hank Johnson
Johnson recalled the late Rep. John Lewis' fight for civil rights, saying he was "certain that every member of Congress would say" that they would have "stood on the right side of history" and supported the Civil Rights Act. He called the impeachment vote a chance to "see exactly what side of history you all are going to be on."
Democrat David Scott
The final Georgian to speak kept his remarks short. He said throughout history, many have moved too late to save their countries. "Let us not this day move too late to save our great nation," he said.
Secondary Content
Bottom Content